Orthopaedic Trauma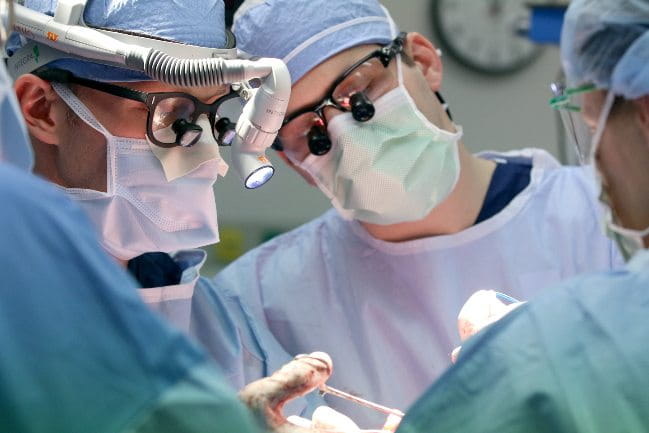 The MUSC Health Orthopaedic Trauma service provides state-of-the-art care for patients who have been acutely injured or are suffering from complications of previous injuries such as infections, nonunions, or malunions.
MUSC Health is an American College of Surgeons designated Level One trauma center and is the primary health care facility for major trauma for a large portion of eastern South Carolina including the lowcountry, metro Charleston, and the beach and coastal communities of South Carolina. MUSC Health has dedicated staff and facilities to treat the most complex and severely injured patients. We are part of a multidisciplinary team that is available 24 hours a day to treat patients with all types of acute injuries.
MUSC Health has three fellowship-trained orthopaedic trauma surgeons, Langdon Hartsock, M.D. and Kristoff Reid, M.D. We have a full time PA, Stacey Rothwell, and a junior and senior orthopaedic resident who rotate through the service. We have a dedicated OR for surgical treatment of fractures and follow up care is done at one of three outpatient locations including downtown, West Ashley, and Mount Pleasant. In addition we have specialists in every area of orthopaedic surgery available for consultation as needed. We have on-call surgeons for hand injuries and for spine injuries at all times. MUSC Health is also a pediatric trauma center and we have pediatric orthopaedic surgeons available to treat children as well.
In addition to major trauma, we also treat injuries such as hip fractures, wrist and shoulder fractures, ankle and foot fractures, and sports injuries. We have a surgeon available at all times to provide acute treatment and we have the most advanced diagnostic equipment available. We can rapidly evaluate and treat work-related injuries, falls, and sports injuries.
Common conditions we treat include injuries sustained in motor vehicle collisions such as major fractures of the lower extremities, pelvis, and spine. Injuries sustained from falls such as hip fractures, wrist and shoulder fractures, and ankle and foot fractures. We coordinate care with MUSC Health endocrinology for patients who have fractures related to osteoporosis so that treatment for osteoporosis can be started to try to prevent future fractures.
We also treat problem fractures such as infected fractures, unhealed fractures (nonunions), and fractures which have healed with a deformity (malunion). These problems often require special diagnostic studies and a team approach with other specialists to have a successful result. MUSC Health has the capability to provide this team approach in an effective way by having a single electronic medical record and easy communication between team members.
We welcome the opportunity to assist referring physicians and patients with any questions.