Volunteer Services at MUSC Health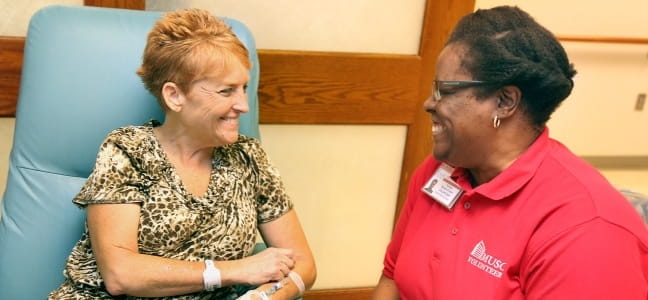 COVID-19 Update: Thank you for thinking of your local community, we appreciate all the support we are being offered. We are so grateful for the outpouring of generosity we have received from individuals and groups wanting to give back to our patients and staff.
At this time we have suspended our traditional volunteer programming for the safety of our patients, staff and family members.
If you would like to donate, please visit HERE for donation guidelines.

At MUSC Health we value our volunteers. Our volunteers are an important part of our Care Team. Volunteers serve in a variety of roles from providing directions, to companionship for our patients, to support for our clinical team, to assisting hospital staff with administrative tasks. Our dedicated and compassionate volunteers help fulfill our mission of providing the best quality healthcare for the patients and families we serve.
Thank you for your interest in volunteering at MUSC Health.
Below are the dates the application will be available, during that time a link will be available to apply.
2020 Application Dates
We will be accepting applications on the following dates:
August 10- August 14
September 8- September 11
October 5- October 9
November 2- November 6
Orientation
Upcoming Orientations:
March 31st 9 am - 1 pm
Fall orientations will be held in the 2 West Amphitheater in the University Hospital.
Learn About Our Programs
Adult volunteer opportunities are offered in three categories as well as specialty placements and Hollings Cancer Center opportunities.
Changing what's possible in health care by providing access to the inherent healing powers of the arts to improve the health and well-being of the community.
Provide positive, energetic students who are possibly interested in health care with an environment and an opportunity to learn, help others, build friendships, and give back.
The Medical University Hospital Authority (MUHA) recognizes the value of visitors and developing future healthcare workers. Therefore, MUHA will collaborate with a variety of partnerships to enhance the awareness and training of those interested in health careers through career exploration and development. Students and/or individuals governed by the Visitor and Career Exploration Programs policy include those participating in facility tours, job shadowing, observing, mentoring and clinical sponsorship, as deemed appropriate.
Coastal Connections is a free, volunteer-based program that connects qualified patients in MUSC Health's hospitals and outpatient locations to local resources.
Palliative care is special treatment for patients suffering from a serious illness. Palliative care providers work with your doctor to ease symptoms and suffering and to improve quality of life.
Patient and Family Advisory Program (PFAC)
The Patient and Family Advisory Councils (PFAC) are a partnership of family representatives and hospital staff members working together to meet the needs of patients and families.
Certified therapy dogs and their handlers are available to visit patients various times during the week.
There are a variety of volunteer opportunities available to adults and students over the age of 16 at our hospital.
We Are Always In Need of the Following Volunteers:
Information Desk
We need volunteers to greet and welcome patients to MUSC Health. We have availability at our multiple information desks within our downtown campus and our East Cooper Medical Pavilion in Mount Pleasant.
Volunteer Requirements
Our Application Process
We spend a lot of time developing the new volunteers and therefore, we only bring on new volunteers during certain times of the year. See application acceptance dates and orientation dates above. Upon receipt of your application, you should be contacted within five to seven days. Acceptance into the program is contingent upon the completion of our on-boarding requirements.
We provide volunteers training and ongoing support. New volunteers are required to complete general orientation. In addition to your overall orientation you will receive an orientation and training in your particular area of service.
Commit to a minimum of one three to four hour shift per week on the same day at the same time.
Fulfill a minimum of 100 volunteer hours per year.
Recovery and Trauma volunteers must be at least age 21, and have HEP-B documentation.
Prospective volunteers must complete a health screening, background check, and formal orientation to MUSC Health's policies and procedures, as well as orientation to the assigned unit.
Complete application, criminal background check, interview, pre-placement health screening, general orientation, and orientation to selected volunteer area.