Internal Medicine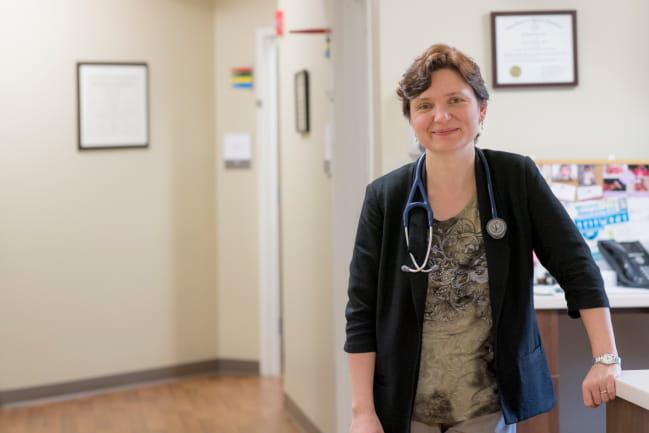 Internal medicine is a specialized field of primary care that focuses on the health care needs of adults age 18 and older. The internal medicine providers at MUSC Health Primary Care are dedicated to working with you at every step of your health and wellness journey. We get to know your preferences, so you can have confidence in your care plan.
Internal Medicine at MUSC Health: Why Choose Us?
Our internal medicine providers offer:
Convenience: We have dedicated internal medicine practices in downtown Charleston and Mount Pleasant. We also have internal medicine and family medicine providers in our MUSC Health Primary Care practices across the Lowcountry. Our practices offer:

Same-day appointments
Extended hours at select locations
Online care options, including e-visits and video visits
MyChart electronic medical records for 24/7 access to medical information, scheduling, prescription refills, and other health care needs

Care throughout adulthood: Our partnership with you grows as your medical needs become more complex with age. Our internal medicine services include:

Women's health services for osteoporosis, menopause, autoimmune disease, and other conditions
Men's health services for prostate problems, heart disease, and other conditions
Care for multiple, complex conditions, such as a combination of diabetes, and high blood pressure
Geriatric services for older adults
Palliative care for serious, life-limiting illnesses

Personalized treatment: We take your concerns seriously and work with you to develop a care plan that addresses your specific needs. Our internal medicine practices are each certified as a Patient-Centered Medical Home, reflecting our commitment to provide individualized care.
Advanced care for chronic conditions: If you have a chronic condition, our internal medicine providers work closely with disease specialists at MUSC Health, South Carolina's top academic medical center. Our internal medicine providers coordinate your treatment with specialists, serving as advocates to ensure you receive the best possible care.
A dedicated team of experts: Your care team includes doctors, pharmacists, social workers, and disease specialists working together to provide high-level care. Meet your care team members.
The latest treatments: Because MUSC Health is an academic medical center, patients have access to new therapies and clinical trials not available elsewhere.
MUSC Health Primary Care – Internal Medicine Locations
You receive exceptional care at all MUSC Health Primary Care practices. The University Internal Medicine - Rutledge Tower and University Internal Medicine - East Cooper locations specialize in internal medicine.
University Internal Medicine Locations
UIM Rutledge Tower
Rutledge Tower
135 Rutledge Avenue
Floor: 8
Charleston, SC 29425
UIM East Cooper
East Cooper Medical Pavilion
1600 Midtown Avenue
Floor: 3
Mount Pleasant, SC 29464