Tele-ICU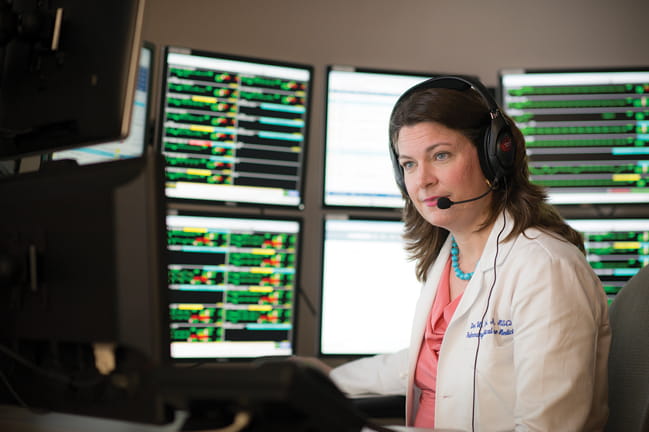 Remotely Connected
Tele-ICU Operations Center Opens to Serve Partner Hospitals in South Carolina 
By Lindy Keane Carter
In the summer of 2015, the MUSC Health Tele-ICU operations center in Charleston, SC will go live. In partnership with Advanced ICU Care, the center will help to deliver comprehensive, around-the-clock ICU patient monitoring provided by board-certified intensivists, nurse practitioners, and critical care registered nurses. Through real-time, two-way videoconferencing and streaming of the patients' health metrics from the bedside, these medical professionals will provide specialized care and consultation to clinicians, patients, and families in ICUs across the state. Two community hospitals will be the first to receive these services.
Critical care administrators at MUSC Health have had a longstanding interest in supporting ICU needs across the state, even prior to the 2013 telehealth funding from the South Carolina legislature, explains Dee Ford, M.D., MUSC Health Tele-ICU director. "With this operations center and our interprofessional team education program, hospitals can be certain that patients' needs are being matched to the level of care they need," she says. "We believe that this will benefit community hospitals because ICU care is complex and costly."
The operations center will assist with the care of critically ill patients in partner hospitals' ICUs by providing:
24/7/365 access to board-certified intensivists;
Two-way audiovisual communication;
Continuous, sophisticated vital sign monitoring technology that alerts intensivists and nursing staff to adverse patient changes; and
In-room cameras with superior zoom capability that not only allow for inpatient assessment, but give precise visualization of IV pump or ventilator settings.
MUSC Health will also offer an outreach program for the partner hospitals. "ICU Innovations," supported in part by a Duke Endowment Foundation award, provides quarterly on-site case-based interprofessional team education, collaborative protocol development and implementation, recurring clinical case conferences, and ad hoc discussions with MUSC Health's interprofessional team for unique dilemmas. "Our goal is to ensure teamwork in these ICUs and provide quality and process improvement guidelines that are applicable to each hospital," says Ford.
The MUSC Health-Advanced ICU Care partnership was launched in August 2013 and created a new model of providing ICU care to South Carolina patients. Advanced ICU Care, based in St. Louis, MO, is the nation's largest tele-ICU provider. This collaboration was made possible in part by the South Carolina legislature, which provided financial support to MUSC Health to expand telehealth services throughout the state. In April 2015, the legislature proposed additional funding for telehealth.
"Since our ICUs are often at full occupancy, we can't always provide timely transfers from community hospitals," says Ford. "With the tele-ICU, we can provide the right care for South Carolina's most severely ill patients by providing 24/7 support to community physicians and nurses. Patients and their families will know they are receiving top-quality care from their local clinical team supported by MUSC Health's tertiary care expertise."