Nursing Excellence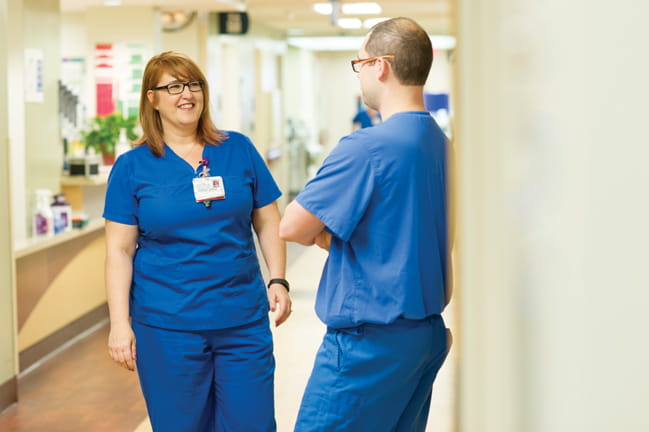 The Highest Acknowledgement
MUSC Health Nurses Take the Top Prize in Nursing Excellence With Magnet® Recognition
By Lindy Keane Carter
The MUSC Medical Center has achieved the ultimate credential for high-quality nursing care. In September, the hospital received Magnet Recognition® from the American Nurses Credentialing Center (ANCC), a status held by only 7 percent of all U.S. hospitals.
"Achieving this designation is about the MUSC Medical Center's continual process to improve patient care," says Marilyn Schaffner, Ph.D., RN, Chief Nursing Officer. "But it's also about recognizing and celebrating the excellent nurses at MUSC Health."
"From the very beginning of our Magnet journey, there has been full support from the Board of Trustees, administration, and the entire medical team," states Patrick J. Cawley, M.D., MHM, FACHE, Chief Executive Officer, MUSC Health, and Vice President for Health Affairs, MUSC. "What this designation means for our patients is that they will be cared for in an environment that attracts top-rate providers and promotes the most advanced nursing standards."
The Magnet® designation is not an award. It is a performance-driven recognition credential of quality patient care, nursing excellence, and innovations in professional nursing practice. The program's roots go back to the 1980's when the American Academy of Nursing appointed a task force to study the lack of nurses in the face of growing demand. Task force members noticed that certain hospitals attracted and retained excellent nurses while so many other hospitals faced severe shortages. They found strong cultural similarities among these hospitals, regardless of size or location, and isolated the variables that made them attractive to nurses. Those variables (entitled the "Forces of Magnetism") were quality of nursing leadership, quality improvement, autonomy, interdisciplinary relationships, and professional models of care. These are the basis of today's Magnet® program domains: transformational leadership, structural empowerment, exemplary professional practice, empirical quality outcomes, and new knowledge, innovations, and improvements.
Schaffner got the ANCC's phone call on September 14. She was surrounded by almost 100 people, many of whom were the nurses who had been preparing for the Magnet® review for more than ten years. Within seconds, the room erupted in celebration. Eventually, Schaffner was able to hear the highlights being shared by the Chair of ANCC's commission on Magnet® recognition. "She said the reviewers were most impressed by our professional practice model—that is, the core values defined within it—the autonomy of our nurses to participate in decisions about care, and our interprofessional collaboration, among other things," says Schaffner.
In 2002, hospital leadership began investing in the expensive and time-consuming Magnet® journey that requires publications, consultations, educational materials, application and site visit fees, and staff. The price tag is high—six figures in 2015—but research shows that Magnet® hospitals consistently provide the highest quality of care. The Magnet® credential is recognized by consumers as a quality indicator, by physicians and nurses as a measure of work environment, and by U.S. News & World Report as a factor in its annual ranking of the nation's best hospitals. Magnet® hospitals have 7.15percent fewer patient safety-related incidents, according to a Gallup study, and higher nursing retention. The drive was interrupted by external factors, but in 2011 a significant investment was made with the creation of a position solely dedicated to achieving Magnet®. Andrea Coyle, MSN, MHA, RN, was named Nursing Excellence Manager and charged with achieving the credential. Over the next four years, she and collaborators from many disciplines throughout the medical center laid the foundation for meeting the Magnet® application's 69 standards in its five domains. "To even be considered, we first had to outperform the national benchmarks in quality indicators, nurse engagement, and patient satisfaction," says Coyle.
While Schaffner and Coyle mapped out their plan for this complicated journey, they knew one thing had to be heard loud and clear every step of the way: the voice of the bedside nurse. Thus, in 2014 when the committee to redesign nursing's governance structure was being formed, 21 nurses from all levels (direct care and administration) were invited to contribute; 60percent of them were bedside nurses. Their committee created a new structure that as of January 2016 gives every one of MUSC Health's 2,700 nurses a voice in how they deliver care to their patients in their units. The new MUSC Health Nursing Shared Governance promotes a culture that supports evidence-based systems and empowers all registered nurses to take ownership of nursing practice, processes, and outcomes.
In this new governance structure, every inpatient unit has a council of three to six elected nurses—and in some cases non-nurses—who participate in one or more of four hospital-wide councils based on Magnet® domains and a fifth that MUSC Health created: Healthy Work Environment. At these hospital-wide meetings, the communication is two-way. The representatives share best practices and solutions that have worked in their units and hear the same from others. They take these, as well as professional practice mandates from the hospital and state, back to the units. Outpatient units will begin participating in the shared governance structure in July.
Nurse Autonomy
As a result, silos are dissolving, solutions are spreading, and nurses are seeing that they are empowered to directly change their practice and affect nurse-sensitive clinical indicators. Nurses now independently remove Foley catheters with a standing physician's order, which has lowered urinary tract infection rates. Likewise, nurses in the intermediate-care neurological unit who need to confirm by X-ray that a nasogastric tube has been accurately placed in the stomach now order the X-ray with a standing physician's order. In the past, according to Tina Daigle, BSN, RN, CNRN, SCRN, CSRN, clinical leader for the Neuro Intermediate Unit, "Time would go by while we waited for an order to be placed in Epic from the doctor for an X-ray, then waited for the X-ray to be taken, then waited for the interpretation." Meanwhile, nurses could not administer medications or nutrition. "Thanks to a process improvement project from a nurse in our unit, we can now place a standing order to expedite the X-ray," says Daigle. "It's usually done within 30 minutes. Then we page the doctor to read it. This practice has significantly reduced the time a patient must wait."
Innovation
The culture change includes stressing to all nurses, not just the seasoned, that innovation is important. New hires can expect to be asked to think about process improvement, to advance clinical inquiry, and to pursue professional development. "Now we start new graduates with a project to hardwire into their minds 'You can make a difference,'" says Daigle. It was a new graduate nurse in Daigle's unit who created a paging protocol as her process improvement assignment that has expedited communication in MUSC Health's three hospitals. Nurses' pages now begin with "FYI", "Standard", or "Stat", followed by the relevant update. Physicians who are unable to respond in a given amount of time understand that the nurse who paged them will move on to another physician for an answer. The result: clarity of priority for the physicians, faster responses, and faster delivery of care.
Evidence-Based Practice
There has been a transition to implementing evidence-based practice and interdisciplinary collaboration. Nurses in the Surgical Trauma Intensive Care Unit (STICU) worked with physicians, respiratory therapists, and a pharmacist to review the literature and establish a protocol for the best time and way to remove a patient from sedation.
Christopher Hairfield, BSN, RN, CMSRN, a nurse in the Medical/Surgical ICU who chaired the Nurse Alliance (the previous governance council) and co-chaired the Shared Governance Design Committee, says this push to review what has been published and then apply it has changed his practice. "Talk about culture change," he says. "Once, I heard two providers disagree on the best approach for a patient and then heard the nurse say 'What does the literature say?' That's a powerful phrase to hear from nurses." Nurse-led research is supported by the medical center's Center for Evidence-Based Practice and Values Institute, which helps clinicians develop evidence-based guidelines and order sets and analyze best practice evidence for use in decision-making processes, such as time restriction of laboratory orders and integration of IV infusion pumps.
The Road Ahead
Nursing leadership is now working toward the next Magnet® milestone: redesignation in four years. The ANCC's standards won't change dramatically, explains Coyle. "But what they expect to see when you go for redesignation is more robust outcomes." Magnet® hospitals must outperform national benchmarks on nurse-sensitive indicators, such as patient falls, incorrect use of restraints, health care–acquired pressure ulcers, central line–associated blood stream infections, and ventilator-acquired pneumonia.
"As health care partners, we serve the community," says Coyle, "so it's our obligation to do so with the highest quality care so our patients have the greatest possible outcomes. I think we owe this to ourselves, but especially to the people we serve."