Creative Arts Therapy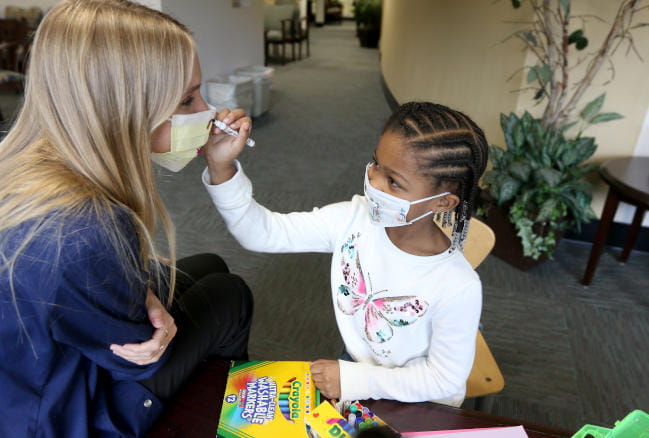 Creative arts therapy services offer a breadth of expertise in clinically creative interventions that are substantiated by ongoing research. Under the creative arts therapy continuum, MUSC currently offers art and music therapy with the hopes to integrate other modalities such as dance/movement and drama therapy in the future.
The creative arts therapies help children and adults of all ages to identify, explore and transform emotional, psychological, physical and spiritual difficulties. Providing patients with an outlet for expression within a therapeutic relationship, services can enhance the healing process in an innovative and safe manner.
The Arts in Healing creative arts therapists work directly with the patient's clinical team to find the best approaches to healing. Whether the patient needs individual, group or family therapy, our therapists customize a treatment plan designed to improve psychological, physical, cognitive and social functioning. Through this unique program, patients are recovering from a multitude of ailments, learning new coping skills and discovering their strengths. The program can benefit any patient, at any age, with any diagnosis.
Creative arts therapy offers complementary approaches to the patient's traditional medical or psychiatric treatment to achieve the following therapeutic goals:
Promote self-expression, communication and emotional well-being
Decrease feelings of depression and anxiety
Develop coping skills for stress, trauma and loss
Enhance family communication and improve relationships
Provide a means for nonverbal communication and emotional release
Normalize a patient's experience and hospital stay
Build physical and mental strength, flexibility and awareness
Support pain management
Stimulate and organize thought processes.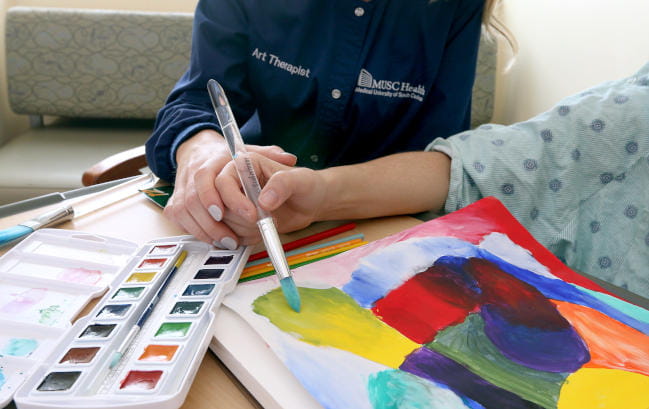 What is Art Therapy?
The American Art Therapy Association defines art therapy as "an integrative mental health and human services profession that enriches the lives of individuals, families and communities through active art-making, creative process, applied psychological theory and human experience within a psychotherapeutic relationship. Art therapy, facilitated by a professional art therapist, effectively supports personal and relational treatment goals as well as community concerns. Art therapy is used to improve cognitive and sensorimotor functions, foster self-esteem and self-awareness, cultivate emotional resilience, promote insight, enhance social skills, reduce and resolve conflicts and distress and advance societal and ecological change." Learn more about art therapy. 
How Does Art Therapy Help?
Because patients often feel scared, nervous or upset during hospital visits, art therapy offers them the ability to make choices and regain control. Through the therapeutic process, patients and families are also able to learn short and long-term coping skills that help them through their health care experience and can be carried with them throughout their life. Visual and symbolic expression gives voice to experience and empower transformation through purposeful art making using modalities ranging from paint, clay, collage and beyond.
Art therapy uses art and psychotherapeutic techniques in assessment, treatment and research, providing consultations and integrated services to allied professionals. Art therapists work with people of all ages and all ability levels.
What Kind of Training Do Art Therapists Have?
Art therapists are masters or doctorate level mental health professionals trained in both art and psychotherapy. Coursework from an approved university includes human development, psychological processes, psychiatric diagnoses, spiritual, multicultural and artistic traditions as well as the healing potential of art. In addition to coursework, training requirements for art therapists include 1,700 hours of supervised clinical work with 700 hours of a supervised practicum during graduate training and 1,000 clinical hours post-graduation. Graduates must subsequently pass a comprehensive examination administered by the Art Therapy Credentials Board (ATCB) to earn the ATR-BC credential. Credentials are maintained by completing at least 100 continuing education hours every five years.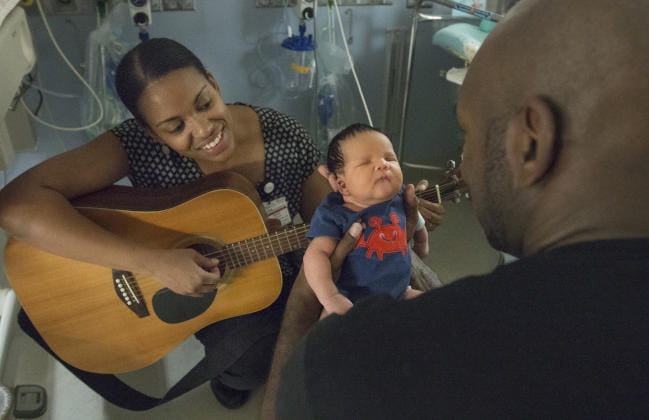 What is Music Therapy?
The American Music Therapy Association gives the definition that "Music Therapy is the clinical and evidence-based use of music interventions to accomplish individualized goals within a therapeutic relationship by a credentialed professional who has completed an approved music therapy program." Learn more about music therapy. 
How Does Music Therapy Help?
Music therapists work with the medical treatment team to assist with the healing process. Our therapists use live or recorded music with patients and families to assess for emotional well-being, physical health, social functioning, communication abilities and cognitive skills through musical response. Through various evidence-based assessments, music therapists design treatment plans for individuals, groups and families to reach therapeutic goals. Interventions can incorporate but are not limited to improvisation, receptive music listening, song writing, lyric analysis, imagery and learning through music.
What Kind of Training Do Music Therapists Have?
To begin the journey to become a music therapist, individuals must earn a bachelors, masters or doctorate degree in music therapy from an approved university. Specific curriculum requirements include courses in music, music therapy, biology, psychology and social and behavioral sciences. Upon completing the academic program at either the bachelor's or master's level, a 6-month internship is required at an approved clinical training site. Graduates must subsequently pass a comprehensive examination administered by an independent certifying body, the Certification Board for Music Therapists (CBMT), to earn the MT-BC credential. Music therapists must have the minimum entry-level credential, MT-BC (Music Therapist, Board Certified), to practice and must maintain these credentials by completing at least 100 continuing education hours every five years.
Referral for Creative Arts Therapy Services
Referrals are made by any staff member on the clinical team via an "Arts in Healing" order in EPIC. For questions about creative arts therapy referrals for yourself, loved ones or your patients, please call 843-792-1168 or email artsinhealing@musc.edu. Creative arts therapy services are complimentary for all patients and families actively undergoing impatient treatment at MUSC.
Creative Arts Therapy Internships
MUSC is currently offering comprehensive internships for art therapists and music therapists. Throughout the internship experience, interns will gain experience in multiple areas of the health care environment to assist in the transformation from student to skilled creative arts therapy professional.

Information about the creative arts therapy certification process, coursework requirements and professional career planning can be found on modality-specific national association websites.
Apply for a Music Therapy Internship