Triple Threat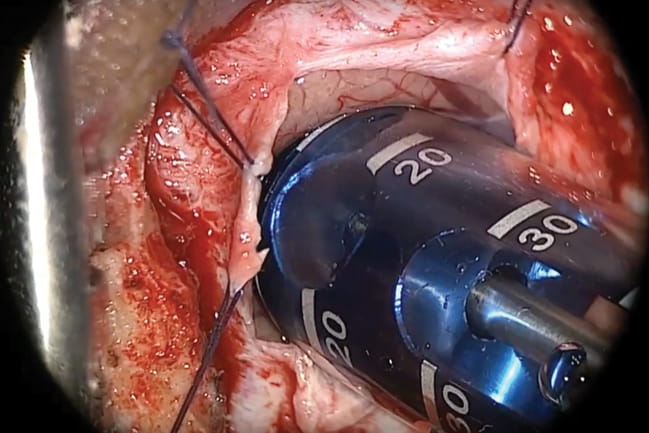 All three minimally invasive techniques to evacuate hematoma after intracerebral hemorrhage are available at MUSC Health
by Kimberly McGhee
MUSC Health neurosurgeons Alejandro M. Spiotta, M.D., Jonathan R. Lena, M.D., and Raymond D. Turner, M.D., now offer all three minimally invasive surgical (MIS) options for evacuation of hematoma after intracerebral hemorrhage (ICH), the most deadly and debilitating form of stroke. Reducing hematoma volume after ICH could help improve survival and reduce disability. However, trauma to brain tissue caused by open surgical approaches outweigh any of the benefit over medical management gained by hematoma reduction. As a result, most patients with ICH are medically managed, but as many as half die from the disease and most become too disabled to live independently. MIS techniques for hematoma evacuation were developed to improve the odds for these patients and, if proven effective, could swing the balance from medical management toward surgical intervention.
In contrast to open surgical approaches that require the neurosurgeon to make a large window in the skull and to dissect through healthy brain tissue to reach the hematoma, the newest technique — minimally invasive parafascicular surgery — necessitates only a tiny hole in the skull large enough to fit a 15-mm surgical tool called an obturator that gently parts brain tissue and makes way for the placement of the NICO Brain Path sheath. The obturator is then removed and the sheath acts as a corridor through which the hematoma can be accessed and evacuated.
Brain Path is the third-generation MIS technique offered by the neurosurgical team for this purpose. MUSC Health served as a site for the trials of two earlier MIS techniques for hematoma evacuation. The first involved a combination of MIS and clot lysis using tissue plasminogen activator (MISTIE II trial), and the second used a suction device (Apollo; Penumbra; INVEST trial) to evacuate the hematoma under endoscopic guidance. A definitive answer as to which of these three techniques achieves the best outcomes in these patients awaits the results of the MISTIE III, INVEST and ENRICH trials, but optimism is growing that hematoma reduction using MIS techniques could begin to reduce ICH-related mortality and disability.
"It is very rare for a center to have experience with all three of these techniques," says Spiotta. "We provide patients a lot of options."