Otolaryngology Clinical Trials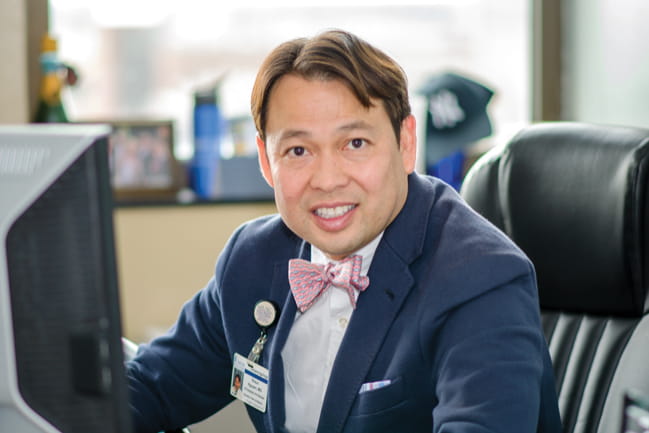 A Nose for Research
MUSC's Otolaryngology Clinical Trials Program Draws Large Industry Investment
by Sver Aune
The clinical trials program for common ear, nose and throat (ENT) disorders in the MUSC Department of Otolaryngology-Head and Neck Surgery is among the top three academic ENT programs in the country for industry-sponsored research. Current investment in the program is at nearly five million dollars due to an emphasis on new devices and pharmaceuticals in addition to traditional surgical interventions.
During any given year, there are 15 to 20 clinical trials of all phases running in the department. Industry sponsors are always eager to gain new treatment indications for devices and drugs already approved by the FDA for other disorders, allowing several current trials to start in phase 3. 
Partnering with industry in this way gives MUSC Health otolaryngologists an edge in clinical trials, according to Shaun A. Nguyen, M.D., professor of otolaryngology, who leads the ENT clinical trials program. Nguyen was the first physician at MUSC Health to become a Certified Principal Investigator and was one of the first physicians in the country to be inducted as a fellow by the Academy of Physicians in Clinical Research.
"We have world-renowned surgeons, including Paul R. Lambert, M.D., Terrence A. Day, M.D., and Rodney J. Schlosser, M.D., and the latest clinical trials in chronic sinusitis, head and neck cancer, hearing loss, Meniere's disease, obstructive sleep apnea and snoring," says Nguyen. "This gives our patients access to the best expertise and latest treatments."
Four clinical trials now in phase 3 at MUSC are helping patients with disorders that affect breathing while asleep or awake.
The THN3 trial (NCT02263859), sponsored by ImThera Medical, Inc., is recruiting patients with moderate to severe obstructive sleep apnea (OSA) for treatment with the aura6000 device. During sleep, the device stimulates four tongue muscles controlled by the hypoglossal nerve to more efficiently control the symptoms of OSA. The new device promises to provide an alternative to cumbersome continuous positive airway pressure masks.
A minority of patients who snore have OSA. For the rest, Zelegent, Inc.'s SILENCE study, which began recruiting patients in 2017 at MUSC and other institutions, is testing a new minimally invasive medical device to treat snoring by shortening, suspending, and stiffening the patient's soft palate.
MUSC is also a trial site for a drug that may help people who have chronic sinusitis with polyps. Sponsored by Sanofi, the SINUS-52 (NCT02898454) trial is testing a new monoclonal antibody that blocks the type of inflammation from chronic sinusitis that leads to nasal polyps. The drug may prevent polyps from returning in patients who have already had surgery to remove them.
In addition to a large investment from industry, this flurry of clinical research is helping Nguyen and his colleagues train the next generation of clinical investigators. The department's three-month research rotation and yearlong clinical research fellowship program — one of the nation's first research training programs in otolaryngology — have attracted medical students and physicians from around the world.
"Our fellows gain a background in outcomes research and clinical trials," says Nguyen. "That combination is what makes our program so unique."