Women's Pavilion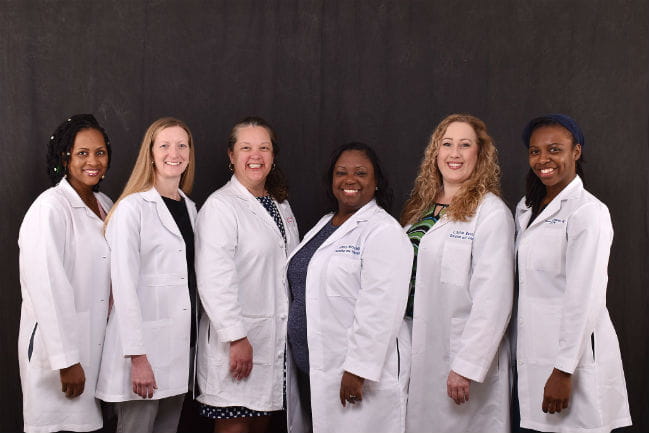 Breastfeeding and COVID-19
Information from the Center for Disease Control regarding breastfeeding and COVID-19
Women's health conditions continue despite new demands on our healthcare system due to the COVID-19 virus. MUSC Health OB/GYN's are committed to providing safe access to nationally recognized care to you and your family during this unprecedented time. Through our virtual care network you are able to connect directly with our care team members who can help with diagnosis and treatment.

Select appointments available. Call 843-665-9581 to schedule a virtual visit.
Welcome to the Florence Women's Pavilion
Congratulations on your pregnancy! We share your excitement about this special event in your life. The Women's Pavilion is designed to educate and prepare expectant moms for pregnancy, labor and delivery, and caring for newborns. Labor, Delivery, Recovery (LDR) rooms are equipped with special beds for moms that are designed to convert to different positions as labor progresses. After your delivery, a certified lactation consultant will visit you and assist with any breastfeeding questions you may have.
A pediatrician will examine your newborn and discuss your questions or concerns. Your nurse will check on you periodically to help meet your needs. These checks, also called Hourly Rounding, take place every hour until 9 p.m., then every two hours until 6 a.m. We strive to offer the tools and knowledge you need, the care and support you want and the special attention you appreciate to feel comfortable and confident at every stage.
Prenatal Education
Childbirth Education Class
Our childbirth preparation class is designed to prepare the mother-to-be and her labor companion for the birthing experience. Classes are held the second Tuesday of every month from 6:30 to 8:30 p.m. in the Floyd Conference Center and are FREE to attend, but reservations are required. To register for class, please call 843-674-4525.
Breastfeeding Preparation Class
We offer breastfeeding preparation classes the first Tuesday of every month from 6:30 to 8:30 p.m. at the Floyd Conference Center. This class shares methods to promote lactation and tips for a successful breastfeeding experience both during your hospital stay and beyond. This class is free to attend, but reservations are required. To register for class, please call 843-674-4525.
Maternity Orientation/Tour
You and your family are invited to drop by anytime to see our spacious Labor and Delivery rooms. An experienced labor and delivery educator will be your host. Walk-ins are welcome for tours.
Visitation
The Women's Pavilion provides a family-centered environment to welcome your new arrival. Family and friends may visit between 7 a.m. and 9 p.m. During labor, up to two visitors are allowed in the patient's room. For C-Section delivery, one support person is allowed in the operating room. During RSV (respiratory syncytial virus) season (October through May), no children under six are allowed to visit. One visitor can stay at night.
Safe Sleep
Our hospital is a certified Gold Safe Sleep Champion for our commitment to the best practices and education on infant safe sleep. The ABCs of Safe Sleep protect your baby from risks associated with suffocation or strangulation. Your infant's sleep area can have an effect on your infant's risk for Sudden Infant Death Syndrome (SIDS) and other sleep related causes of death.
"A" is for Alone: Always let the baby sleep alone, never in a bed with another person where the baby could be smothered.
"B" is for on the baby's Back: An infant should be placed to sleep on his or her back, not on his or her side or stomach.
"C" is for Crib: Always put your child to sleep in a crib with only a firm mattress and tight-fitting sheet.
For more information please visit https://cribsforkids.org.
Neonatal Special Care Nursery (NICU)
The Women's Pavilion provides intensive care services for high-risk and premature babies in the caring environment of our Neonatal Special Care Nursery.