MEDUCARE Medical Transport Service
MUSC Health's MEDUCARE Medical Transport Service is available for referred patients who need immediate medical intervention because of severe, life-threatening or potentially disabling conditions.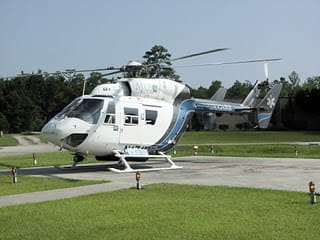 MEDUCARE transports patients by ambulance and helicopter, 24 hours a day, 7 days a week. MEDUCARE can help referring physicians determine which mode of transportation and medical team is best for each patient's needs.
MEDUCARE ambulances are used for transports to and from referring hospitals and within the MUSC Health system. Ambulances are available for critical care, advanced life support and basic life support. Critical care for neonatal, pediatric and adult patients using the MEDUCARE Critical Care Team allows the patient early access to advanced transport technology in a mobile intensive care unit (ICU) setting. The ground team is capable of transporting patients on balloon pumps, complex patients with advanced ventilator management, patients with invasive monitoring lines and almost any type of critical care ICU patient. State of the art technology allows the continued monitoring of a patient, including laboratory tests, administration of medications not offered by traditional EMS and private ambulance transport.
The pediatric/neonatal Critical Care Team includes a nurse (RN), respiratory therapist (RT) and an emergency medical technician (EMT). The adult Critical Care Team includes a critical care paramedic (CCEMT-P), paramedic (EMT-P) and emergency medical technician (EMT). Both teams rotate through the neonatal and pediatric ICUs to remain current on skills and updates to care. The adult team must complete a critical care paramedic course, complete 120 hours of at the bedside practical critical care experience in an academic medical center and maintain a minimum of 8 hours per month in each of the ICUs at MUSC Health.
You can rest assured that when our critical care team arrives, we are literally bringing the ICU to the patient.
Arrangements for Emergency Admission & Transport
To arrange for emergency admission to MUSC Health, contact the appropriate MUSC Medical Center staff physician by calling MEDULINE at 843-792-2200 or 800-922-5250.You will be connected by conference call to the attending physician, the Admit/Transfer Center and MEDUCARE.
MEDUCARE can make arrangements for emergent helicopter service, fixed wing air service, wheelchair van transportation and ground ambulance transportation. If you need to speak to the MEDUCARE Communication Center, call 843-792-3311 or 800-423-1330.