Patient Guide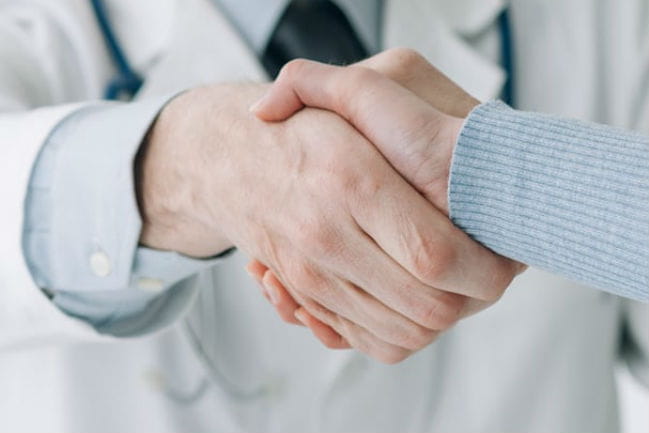 We realize that cancer treatment can be a difficult process to navigate. We hope the information below will better prepare you for what to expect when you're treated by our radiation oncology team
Getting Started
To determine whether you quality for radiation treatment, we will schedule an initial consultation with you to obtain basic information. For the consultation, bring identification and insurance information. We take care of the rest. Try to come at least 30 minutes before the consultation.
Consultation
At check-in you will complete initial paperwork. Our nurse, Jeanie, will bring you back to an exam room. We will check vitals and briefly review medical history. You will then meet Dr. Wooten. Dr. Wooten views his role as a patient educator. He will review and explain about your cancer. At this point, he will discuss radiation therapy and review other treatment options. Don't forget to ask any questions that you may have.
If selected for radiation treatment, you will be given a return appointment for treatment planning. There are many differences in radiation treatment based on both cancer type and radiation type. This will be explained during the consultation. The following process is a generalized overview for external beam radiation therapy.
Treatment Planning Session
After the consult comes the radiation treatment planning session. Typically, there is nothing needed to prepare for your treatment planning session. The planning session consists of a computerized tomography (CT) scan. At CT scan we will position you for treatment. A CT scan done in this position allows the radiation to be accurately planned and delivered. We sometimes mark the skin with semi-permanent ink to guide us in positioning a patient. If so, it is important not to wash these marks off during radiation.
The planning session takes 20 minutes or less. Following the planning session, our team will complete design of a customized radiation plan. It takes approximately 1-2 weeks to finish planning the treatment. Once the plan is complete, a therapist will call to find a treatment time that works. Now radiation treatments begin.
First Day
Most treatments last 10-20 minutes. This is from the time you enter the building to the time you are leaving. Treatments are daily Monday through Friday. Saturday and Sundays are rest days. Patients keep the same appointment time throughout treatment. At each treatment, you will check in at the front desk. A therapist prepares you for treatment. You are set-up in the same position as the treatment planning session. Following set-up we use imaging and/or surface guided radiation therapy to make sure you are accurately positioned.
The set up process takes the majority of the 10-20 minute total treatment time. The radiation itself is typically only given for a few minutes. The radiation treatments are very much like a targeted x-ray. You won't feel, see, hear, smell or taste the radiation. Also, when done with external beam radiation, you are not radioactive.
Treatment
Treatment length varies typically between 1-9 weeks of daily radiation treatments. This depends on the type of cancer and type of radiation. At least once each week you will sit down with Dr. Wooten for a weekly check. At this weekly check, you will discuss treatment. He will also educate and manage any side effects of therapy. These weekly checks are on Monday. Dr. Wooten encourages you to bring family or caregivers on these days. It is a great opportunity to ask questions.
There is no need to order studies during radiation to check if the radiation is working. These are done after treatment is finished. The daily imaging during radiation treatment are used for positioning. At your last treatment, we provide a date for your first follow-up visit. You will also celebrate your completion of therapy!
Follow-Up
The first follow-up visit is one month following treatment. No lab tests or imaging studies are ordered at this time. Prior to the next follow-up visit, we order lab tests and/or imaging studies.