Interview with Robert Harrington, M.D.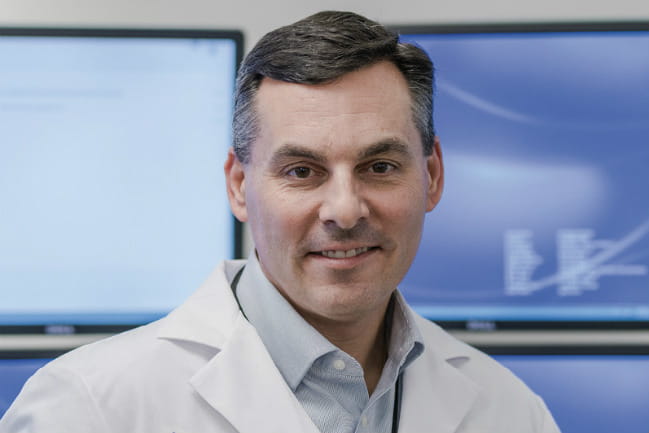 Robert Harrington, M.D., joined the MUSC family in October and serves as Chief Medical Officer of the Affiliate Network. He will serve as the liaison between the medical staff here at MUSC and the medical staff of our partner hospitals. He will also serve a critical role in developing further strategic partnerships. Harrington received his degree from Temple University – Lewis Katz School of Medicine and performed his residency in family medicine at the Medical Center of Delaware – Christiana Hospital. Progressnotes spoke with Harrington in January.
PN: What attracted you to MUSC?
I've known Pat Cawley, M.D., Michael Hawkins, M.D., and Danielle Scheurer, M.D., MSCR, for a number of years. One of the reasons I was attracted to MUSC was the quality of those three people and the opportunity to work with them. In addition to that, I was very intrigued by the position. Getting involved in a program such as this at the grassroots level and building the future of affiliations here at MUSC was exciting to me. Things changed dramatically in December when MUSC announced we were buying four hospitals. This has certainly increased the speed at which I'm getting engrained into the MUSC family. I've been in this position for four months now, and I am impressed by the quality of the people I run into every single day. It's been a tremendous experience to be a part of this.
PN: What will you be doing in your new role at MUSC?
There are really two aspects to my role at MUSC. One role is to interface with the affiliate partners' medical staff, and the other is to help design how a strategic affiliate relationship looks. For example, if a community has an interest in developing a neuroscience program but does not know how to achieve it on their own, they may ask us to partner with them on various levels to help develop that program. First, we would identify what services the program would include, such as neurosurgery, general neurology or physical medicine and rehab. Then we can figure out the best way we can partner on those particular services and determine who will staff it, who will run it, who will do billing and collection and other facets of running a program. We will be offering that type of program in four service lines: oncology, heart and vascular, neuroscience and children's and women's health.
PN: What are the greatest strengths of the MUSC Affiliate Network?
Our mission as an enterprise and as a health system is to promote the health and welfare of South Carolinians across the state. For years, we have been focused on the peninsula and have achieved some incredible things locally. We now have a vision that we can be a statewide leader, not just a local or regional player. I think our Affiliate Network gets to the core of that mission by delivering the expertise and specialty services we have here at MUSC across South Carolina.
PN: How has your previous experience helped shape your vision for MUSC Health?
I've spent my entire career in the community hospital setting, and I think that lends itself well to what we're trying to do here. Community hospitals operate differently than academic medical centers, and having expertise from a community hospital perspective on the team is important as we go out and begin to have conversations with potential partners. We can sit at the table with them and understand how they operate and know that their priorities may be different than those things that are important to us at an academic medical center.
Another critical piece, especially as we go through the acquisition of the four hospitals, is integrating those new physicians into the MUSC system. I've spent the better part of my career managing multi-site, multi-state physician practices. Being able to understand the challenges associated with integration and with remote operation of those physician practices is another strength I bring to the table.
PN: How can MUSC Health continue to grow as a health care system?
Our philosophy is that health care should be delivered locally whenever possible. Community hospitals who are not affiliated with larger health systems are struggling right now because they don't have a lot of buying power, they don't have a lot of leverage with the payers and they don't have a lot of expertise in some of the new technologies. We need to develop a set of community-focused specialty services that complement the primary care base and allow people access to the specialty services here at MUSC through a community network. One of the ways we will deliver our expertise throughout the state is through continued growth of our Telehealth programs. We are already giving communities that traditionally had no access to some of these services ready access to the experts here at MUSC. This keeps care local. I also think the affiliate program is core to our ability to continue to grow through partnering with community hospitals across South Carolina.
PN: What are some of your immediate and long-term goals for the Affiliate Network?
My immediate goal is to build strong relationships with all of the key stakeholders. I think that will serve me well as we get up and running. I want to build a strong level of trust internally at MUSC such that the Integrated Centers of Clinical Excellence chiefs and department chairs don't feel like we're selling something we can't deliver. I want to help them through the process of developing and articulating what it is that we can deliver so that we can truly under-promise and overdeliver as it relates to our partners. The secondary goals for me are to develop our four service line offerings, and potentially more after that. Ultimately, to have a menu of services that we think are valuable to community hospitals and that we know we can deliver.
PN: In which areas would you like for us to be world leaders?
I think Telehealth is certainly one where we are already ahead of the crowd, and I think that we should continue to grow this program and leverage our expertise here as much as we can. I'd like to see us be a leader in the way we partner with community hospitals. To me, our development of these affiliate relationships and the strength of those relationships is something that we can excel in.