New Director for the Division of Cardiology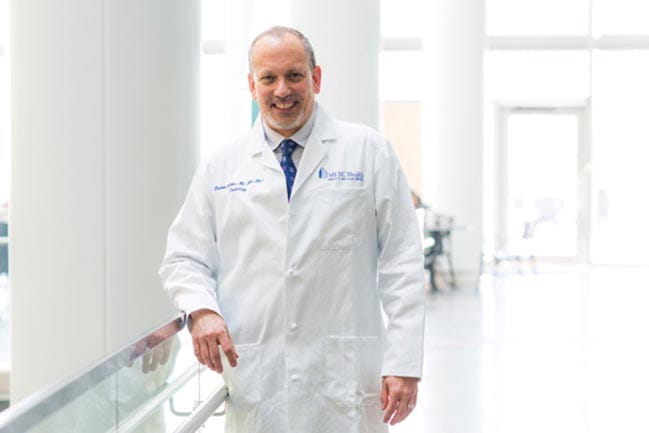 The MUSC Department of Medicine welcomed Thomas G. DiSalvo, M.D., MPH, MBA, on November 1, 2015 as the new Director of the Division of Cardiology. Previously, he was an Associate Professor of Medicine at Vanderbilt University Medical Center and Medical Director of the Vanderbilt Heart and Vascular Institute. He also served as an Assistant Professor of Medicine at Harvard Medical School and Massachusetts General Hospital, where he completed fellowships in Clinical Cardiology, Clinical Epidemiology, and Heart Failure/Cardiac Transplantation. His residency was completed at Johns Hopkins Hospital. DiSalvo is nationally known for his research in heart failure and is the author of numerous book chapters and more than 80 articles in medical journals. He succeeds Michael R. Gold, M.D., Ph.D., the Michael Assey Chair in Cardiology.
"Dr. DiSalvo has extensive experience in cardiology and academic medicine and it has been an absolute pleasure to work with him since his arrival," says Don C. Rockey, M.D., Professor and Chair of the Department of Medicine. "He is fundamentally committed to excellence in our tripartite mission of patient care, education, and research, and we will all benefit from his energy and enthusiasm."
DiSalvo cites the division's robust clinical activities, its widely regarded clinical faculty, and MUSC's strong core research facilities as factors in his decision to accept the appointment. He has been charged with growing the clinical and research capacity of the division and will recruit many new clinicians, physician-scientists, and Ph.D. scientists. "The medical center also is committed to recruiting a surgeon dedicated to ventricular assist devices and heart transplant surgery," says DiSalvo. "As we are the only provider of heart transplants in the growing state of South Carolina, expansion of this program is vital."
As for research, DiSalvo says there has been strong support for many of the research endeavors that provide the platform for clinical and technological innovation and for discovery science. Thus, he has broad-ranging plans to develop areas of research that will link to MUSC Health's clinical mission. One example is the role of genomics in cardiovascular risk stratification, prevention, and diagnostic care for specific diseases. "We're committed to building a program in translational genomics that will serve patients across the state," he says.
DiSalvo's research has focused on the prognosis of advanced heart failure, clinical outcomes of heart failure, selected aspects of the clinical pathophysiology of heart failure (including a recent focus in epigenetics), cardiac transplantation, and cardiovascular health services.
DiSalvo and his wife, Sandra, an entrepreneur who is developing a business that administers on-site vaccinations, have a six-year-old daughter.