Maestro and Mentor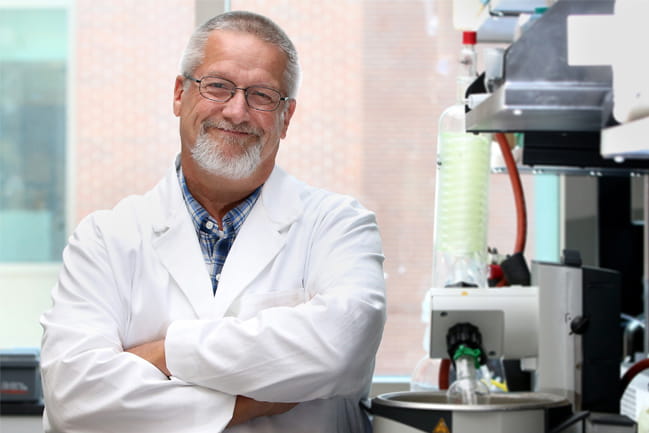 MUSC's Patrick M. Woster joins Medicinal Chemistry Hall of Fame
by Brandon Young
Patrick M. Woster, Ph.D., SmartState Endowed Chair in Drug Discovery and chair of the Department of Drug Discovery and Biomedical Sciences at the MUSC College of Pharmacy, was inducted into the Medicinal Chemistry Hall of Fame at the 2019 National Meeting of the American Chemical Society in San Diego, California. Woster was one of only four researchers worldwide inducted this year. He joins an elite group of fewer than 100 scientists, three of them Nobel laureates, previously honored with Hall of Fame membership for their contributions to the field of medicinal chemistry and training of future medicinal chemists. Medicinal chemistry uses a combination of chemistry and biology techniques to discover new pharmaceuticals to better human health.
"It's a great honor to be inducted into this group of eminent scientists, many of whom have been mentors and researchers that I have admired throughout the years," said Woster.
Induction into the Medicinal Chemistry Hall of Fame requires nomination by two ACS division members and selection by the executive committee. Receipt of this award validates a successful career for Woster, who came to MUSC in 2011. Woster has remained committed to the field of chemistry, as evidenced by his 25 years on the executive committee of the ACS Division of Medicinal Chemistry.
The work of medicinal chemists is crucial to the development of new drugs, according to Woster.
"Medicinal chemists begin the drug discovery pipeline," explained Woster. "They optimize chemical structure to maximize potency and efficacy, but also make compounds orally active and ensure they reach their target within a patient."
Woster acknowledges that great science cannot be done in isolation. He has benefitted from a 30-year collaboration with Robert Casero, Ph.D., at Johns Hopkins University. They were the first to produce small-molecule inhibitors of lysine-specific demethylase 1 and to show that they help to reexpress tumor suppression factors.
"I've enjoyed the collaborative nature of research, and science cannot be done alone," said Woster. "You must have great collaborators like Bob to be successful."
Woster has also been an inspirational mentor for the next generation of medicinal chemists.
"I've really enjoyed working with graduate students," said Woster. "They are kind of like your kids in a way, and it's extremely gratifying to see them do well."
Woster's commitment to science and training are also held in high esteem at MUSC.
"Pat is an outstanding role model in the College of Pharmacy," said Phillip D. Hall, Pharm.D., dean of the MUSC College of Pharmacy. "His tremendous success as a scientist illustrates the pairing of hard work with a profound and curious mind, which is an inspiration for his students and the faculty he mentors. His wit and warmth brighten the lab and the classroom, and we are blessed to have him as a leader. We're very gratified he is getting this richly deserved recognition."
Induction into the ACS Medicinal Chemistry Hall of Fame acknowledges Woster on the national stage for an outstanding career not only as a scientist but as a colleague, collaborator and mentor.