MUSC Appoints New Chair of Pediatrics, Andrew M. Atz, M.D.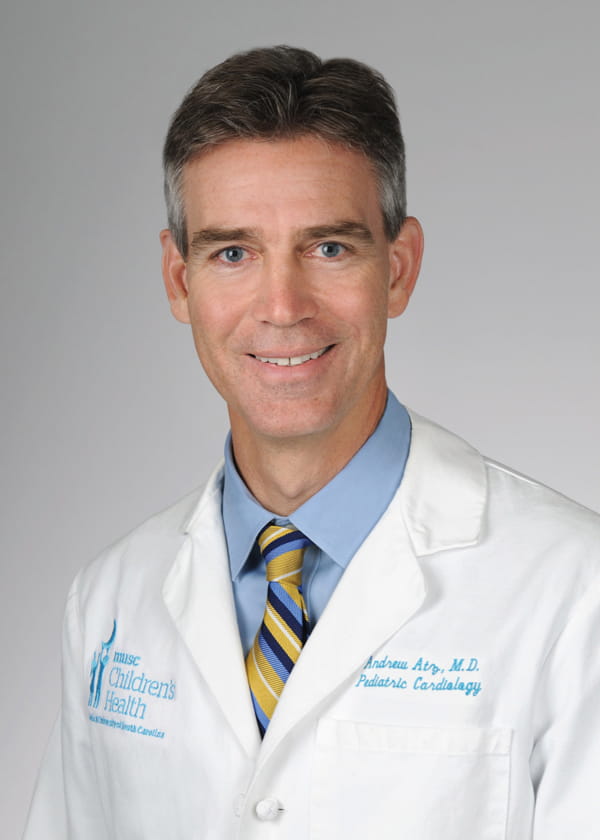 "I say the word team a lot because I really do believe in it," says Andrew M. Atz, M.D., who was appointed chair of the Department of Pediatrics in May 2017, having served for a year as interim chair.
Atz joined the department in 1998 after completing residency and fellowship training at Johns Hopkins University, Harvard Medical School and the Children's Hospital Boston. He has served as director of pediatric intensive care, vice chair for clinical research and, most recently, as chief of pediatric cardiology.
During his tenure as chief, pediatric cardiology rose in the U.S. News & Reports World Report rankings, a success that Atz attributes to teamwork. "In the most recent rankings, we were number 11 in the country, the highest we have ever achieved, which I attribute to collaborative teamwork," says Atz. Five other pediatric specialties — nephrology, cancer, urology, gastroenterology & GI surgery, and neurology & neurosurgery — also ranked in the top 50.
Atz believes that focus on teamwork will serve him well as chair of a department as diverse as pediatrics, with at least 17 different divisions and 25 specific programs. "It is important that all members of the team realize that they can perform their clinical and research missions and that each of those missions is just as important a piece in the overall puzzle," says Atz. He credits the collaborative atmosphere at MUSC Children's Health for the high number of residents who decide to remain after they complete their training.
Atz is assuming the helm as two new children's health facilities approach completion. The MUSC Shawn Jenkins Children's Hospital, an inpatient facility that will offer sub-specialty care, such as transplant and cardiac surgery, to the state's sickest children, will open in 2019. An outpatient facility will open in North Charleston in early 2019 to better serve Lowcountry families. In addition to providing convenient and accessible care, the dual campus will offer an opportunity for residents. "It will give us an exciting new diversity in our training mission," says Atz.
Teamwork was also integral to the design of the MUSC Shawn Jenkins Children's Hospital. Nurses, physicians and family members all helped create a truly healing space. That sometimes meant rethinking the way care was delivered. For example, Atz was persuaded to a new ICU design by a mother's plea for greater privacy.
"As an old ICU doc, my greatest comfort is being able to stand in the middle of an ICU and look 360 degrees and see patients in every direction. That is, however, not the best for families or the best for healing because it leaves them out in the open with a lot of noise and distraction," says Atz. "A heartfelt letter came from a parent about how important it was to have walls to provide privacy, and so we decided to go with glass walls. It's a classic example why we should continue to listen to all the stakeholders, including the people we treat."
Most of all, Atz believes in teamwork when it comes to the state's children's hospitals. "Where children's health is concerned, it is not about competition. It's about collaboration," says Atz. "Formed in 1994, the South Carolina Children's Hospital Collaborative is a nonprofit association of the state's four children's hospitals. Through a variety of initiatives, we are elevating the quality of care provided to all of the children of South Carolina."