Practice Makes Perfect Medicine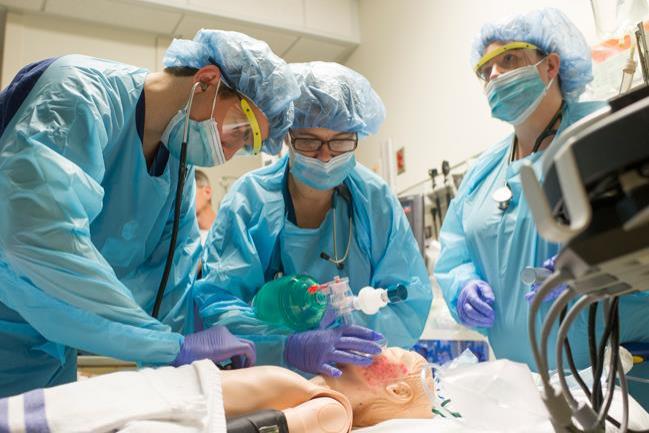 Digital Exclusive: Practice Makes Perfect Medicine 
Simulation Sharpens Nursing Skills for Optimal Safety & Efficiency
By Lindy Keane Carter
Simulation activities for health care providers are on the rise at MUSC Health. In 2014, the Medical Center's nursing leadership launched an initiative to increase the use of this technology in orientation, training, and competency validation. A new position was created in the Nursing Professional Development Department to maximize the use of simulation and other resources. Melanie Cason, Ph.D., RN, CNE, is the Clinical Simulation Program Coordinator. Her expansion of courses and her support of the hospitals' nurse educators has led to a doubling of simulation use from 1,031 hours in FY 2014 to 2,044 hours in FY 2015. Eleven new simulation courses have been created, seven of which are nurse-focused, including Continuous Renal Replacement Therapy for Critical Care Nurses, Trauma Nurse Specialty Course, Trauma Nurse Boot Camp, and CAUTI Super-user Training.
A state-of-the-art Simulation Center located on the first floor of the College of Nursing building with 14 training rooms, 32 low- and high-fidelity manikins, and other medical equipment is the home of most of this training. But increasingly, the manikins are being loaded on gurneys and moved into hospital units so that these drills can occur in real work environments, known as in situ (on site) simulation.
Many of the Medical Center's 34 Nursing Professional Development Facilitators (NPDF's) have seized this opportunity to use simulation, particularly the in situ drills. "The introduction of in situ or near situ has been an invaluable resource for our nurses," said Lisa Langdale, MSN, RN, Director, Clinical Excellence Education. "Since it occurs in or near the nurses' work environment, they have more access to training. Also, in situ enables them to apply the training with the actual equipment, such as Continuous Renal Replacement Therapy machines, or patient scenarios specific to their practice, such as mock codes or identification of cardiac arrhythmia."
"In situ is the hot topic in the industry," said Cason. "It cuts costs and identifies processes in the unit that aren't working. In an actual work setting, team members have to know where their code cart is, find supplies, and be able to identify one another's roles. Often, they identify simple interventions that improve patient care." For example, they may discover that certain medications or supplies have expired.
The in situ training tools include:
Laptop computers and Surface Pro 3 tablets loaded with simulation scenarios that enable the instructor to check the staff off on manikins and actual patients.
High-fidelity (computerized) adult and child manikins that simulate human physiology. They can breathe, moan, even talk.
Low-fidelity manikins with basic physiological functions.
Madeline Gehrig, RN, an NPDF in the Pediatric Emergency Department (ED), uses low- and high-fidelity manikins for competencies and in situ mock codes and mock traumas. For example, she sets up a child manikin in the Pediatric ED trauma bay (sometimes unannounced) and then goes to the nurses' station to give a simulated EMS encode that alerts the trauma team of physicians, nurses, and patient care technicians. In this high-stakes exercise in a small room, the challenges (on top of giving actual patient care) are team communication, keeping the noise level down, finding the supplies, and crowd control. Gehrig doesn't interrupt the scenario for teaching, which might occur at the simulation center. The team keeps going and they debrief afterward while everyone is still there. "Debriefing is very instructive because everyone hears the perspectives of others," said Gehrig. "For example, in one scenario, one of the physicians felt he was speaking loudly enough while calling out medication orders. However, the recording nurse felt the orders and assessment were not being said clearly and concisely."
Shawn Crowley, RN, an NPDF in the Adult ED, helps ED nurses prepare for the Trauma Nurse Specialist (TNS) program by beginning in the simulation center to do a consistent patient assessment on all patients. Crowley has started using in situ training every month to help bridge the gap for newer nurses who were unable to attend the TNS training and to review how to chart during certain circumstances.
Brenda Swant, RN, an NPDF for the Medical/Surgical Intensive Care Unit, Post Anesthesia Care Unit, and Preoperative Unit, uses the simulation center for several classes for nurses, including Medical Emergency Team Code, Continuous Renal Replacement Therapy, Peripheral Ultrasound, and Essentials of Critical Care Orientation.
Advantages for the trainers include the ability to offer a full range of learning opportunities, customize the training, and offer detailed feedback, and evaluation. Simulation training and assessment at the medical center has improved interactive learning and increased interdisciplinary collaboration, said Cason. She will be gathering patient safety statistics for comparative analyses over time.