Targeting Sepsis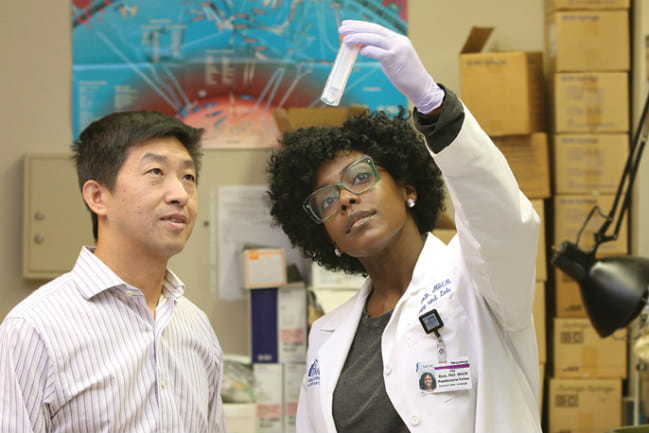 Nanocarrier delivery of microRNA 126 improves survival in a mouse model of sepsis
By Kimberly McGhee
One in three patients who die in the U.S. dies of sepsis, according to the Centers for Disease Control and Prevention. It is one of the leading causes of death in intensive care units and, with an estimated price tag of $20 billion in 2011, the most expensive condition that hospitals treat.
Researchers at MUSC found that nanocarrier delivery of microRNA (miRNA) 126, an miRNA known to protect against sepsis, doubled survival in a preclinical model. Their findings were reported in an article published online on September 23, 2018 in Inflammation.
"The exciting part is that we can use nanoparticles as a delivery system to carry microRNAs. It's feasible—we can do this," says Hongkuan Fan, Ph.D., senior author of the article and an assistant professor in the Department of Pathology and Laboratory Medicine at MUSC who studies vascular dysfunction in sepsis.
Sepsis is an overreaction of the body's immune system to an infection. Cytokines flood the bloodstream in an attempt to fight the infection but also cause blood vessels to become leaky. White blood cells escape from the vessels, causing inflammation and damage to surrounding tissue, ultimately leading to multiorgan failure and death.
MicroRNAs are noncoding RNAs that are being assessed for therapeutic use in cancer and other diseases because they can prevent messenger RNA from creating proteins that can harm the body. Previous research by Fan's group has shown that an miRNA — miR-126 — is protective against sepsis. It is a major component of the fluid-filled sacs produced by endothelial progenitor cells. Fan's group has also shown that these cells, which regenerate the lining of blood vessels, help protect against the vascular damage caused by sepsis.
One obstacle to the clinical use of miRNAs, however, are ribonucleases (RNases), whose job it is to seek out and destroy them. Naturally occurring miRNAs are protected from RNases by a fluid-filled sac that covers them or a protein to which they are attached, but those introduced therapeutically have no such protection.
"If we were to just put an unprotected microRNA into the body, then it would immediately get chewed up by RNases," explains Joy N. Jones Buie, Ph.D., MSCR, a postdoctoral fellow at MUSC and the first author on the article. "So that's why you have to have some type of vehicle system to deliver the microRNA."
The MUSC team showed that a proprietary nanocarrier (DEAC-pGlcNAc; Marine Polymer Technologies [Burlington, MA]) could deliver miR-126 effectively in a mouse model of sepsis, protecting it against damage by RNases. Its small size prevented its elimination by the liver, and its electrical charge was such that it was easily taken up by cells. The miR-126/nanocarrier complex more than doubled the proportion of mice alive at seven days vs. untreated mice in a preclinical model of sepsis (almost 67 percent vs. 25 percent).
"Based on this and our previous studies, we know that targeted delivery of miR-126 has some therapeutic effect in a preclinical model of sepsis," says Fan. "Something is working, and that is exciting in a condition as severe and complicated as sepsis."