Interview with New Dean of the College of Medicine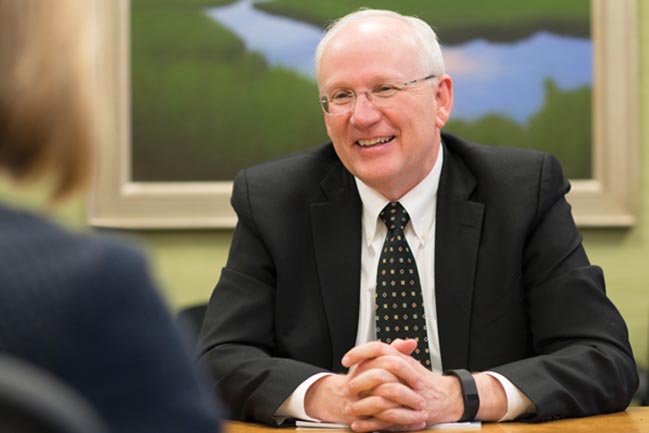 Interview with Raymond N. DuBois
College of Medicine Announces New Dean
On March 1, MUSC welcomed Raymond N. DuBois, M.D., Ph.D., as the new Dean of the College of Medicine. DuBois is a senior academic medical center administrator and physician-scientist internationally known for his groundbreaking work in cancer research. Previously, he was Executive Director of The Biodesign Institute at Arizona State University (ASU), which focuses on health solutions, sustainability, and biomedical science through 14 research centers. He was also a Professor of Medicine in the Mayo College of Medicine and directed an NCI Program Project Grant at the Mayo Clinic Cancer Center in Arizona. Prior to his ASU appointment, he served as Provost and Executive Vice President and Professor of Cancer Medicine and Cancer Biology at the University of Texas MD Anderson Cancer Center, where he oversaw all research, education, training, and faculty development, as well as the global academic programs. He began his research career at Vanderbilt University Medical Center in 1991 and eventually became the Director of the Vanderbilt-Ingram Cancer Center in 2005. He is Past President of the International Society for Gastrointestinal Cancer and Past President of the American Association for Cancer Research. He is also a founding scientific advisor for Stand Up to Cancer, a charitable foundation supporting translational cancer research, and currently serves as President and Chair of the American Association for Cancer Research Foundation.
The DuBois laboratory studies the molecular mechanisms by which inflammation affects the biology of cancer. This research led to the discovery of COX-2 as a target to selectively inhibit key pathways associated with inflammation and cancer.
PN: Can you tell us what attracted you to this position?
RD: This is my opportunity to make an imprint on an academic medical center. We're training the upcoming generations of doctors, biomedical scientists, and health care workers, and we need to make sure that we improve that process as much as possible. MUSC is already an incredible resource for the state, but we have only skimmed the surface of its potential impact. I feel lucky to be a part of its future growth and eminence. As for personal reasons, my wife was born and raised in the Greenville-Spartanburg area and has family here in Charleston.
PN: This is a time of dramatic change for medicine. How would you describe your charge from President Cole?
RD: Well, previous deans were directly responsible for overseeing the clinical operations as well as academic research and training. Now there's a CEO in place to oversee the entire health system, and though I'll be helping manage some aspects of clinical care from the academic side, I'll be focused on research, education, training, and other parts of the College of Medicine. I personally found this new structure very attractive because that's where my strengths are.
PN: Are you planning to teach?
RD: I would like to – as a guest lecturer, I hope. At ASU, I was a guest lecturer for an undergraduate biochemistry class. My favorite course to teach is the history of medicine. While at Vanderbilt I taught medical students in GI Physiology.
PN: And of course you'll continue your research here.
RD: I will. My role as the PI in a basic science cancer research lab is extremely important to me, which is why I'm pleased to have an appointment at the Hollings Cancer Center where we can continue our investigations into inflammation and cancer. I'm excited to begin collaborations with the outstanding oncology researchers at Hollings. Even though I've moved into an administrative position, I've found that maintaining a robust research presence helps me keep a finger on the pulse of research trends and breakthrough discoveries. In addition, when scientists come to me with issues, and ideas, I often understand what they are describing, because I, too, am keeping an active lab going.
During the transition here, I spent a lot of time working with ASU senior scientist Dr. Dingzhi Wang, who will also be moving to MUSC and coordinating our lab move here, shipping our research equipment, moving the grants, and getting new protocols in place. By June 2016, we hope to be fully operational.
PN: Please describe the specific focus of your research.
RD: In the broadest sense, my research is focused on early detection and cancer prevention. I'm particularly interested in finding better ways to detect cancer earlier by understanding the molecular details required for normal cells to change into early stage colorectal cancer cells. I'm convinced that we can harness the power of the immune system and create approaches to prevent cancer (immuno-prevention), if we understand better how those early, premalignant lesions develop and how we can stop them before they have a chance to become full-blown cancer.
My lab is best known for our discovery of one of the key targets responsible for the progression of colorectal cancer, and, importantly, that this target is inhibited by aspirin and other nonsteroidal anti-inflammatory drugs. Our discoveries have led to the development of drugs now being examined to better treat colorectal and other cancers. We are very excited that recently the U.S. Preventive Services Task Force recommended aspirin for use in patients who have Lynch syndrome and are at high risk for colorectal cancer. Aspirin use has been shown to result in as much as a 50 percent decrease in overall cancer incidence in that population. So, our work was instrumental in helping understand the underlying basis for the target for the drug and how it affects the tumor microenvironment in the colon.
PN: What do you see as MUSC's research strengths?
RD: I'm really impressed by MUSC's interest in developing cancer as a clinical and research area. I would love to continue to help that develop, recruit new people, and mentor those already here. In terms of cancer biology and some of those areas, there's a group in lipid signaling that is outstanding. MUSC has also taken a leadership role in pulmonary fibrosis research; there's some interesting work in inflammation and joint disease; and there's a strong group here in addiction sciences and psychiatry. So, clearly those are wonderful areas to continue to enhance. There's not as much strength across the country in those areas, so I was particularly excited about that. Frankly, I need to learn more about what all of the faculty are doing and help contribute to the strategic plan going forward.
PN: Tell us a little about your family.
RD: My wife, Lisa, is a career freelance journalist and writer. We have been married for 35 years. Our daughter is a journalist working in Nashville and our son is studying law here at the Charleston School of Law and plans to establish a career in sports management.