Progressnotes | Fall 2018
MUSC Ranked State's Number 1 Hospital Fourth Year in a Row
U.S. News & World Report releases annual national rankings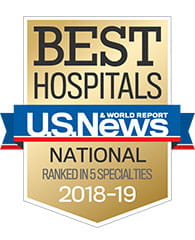 MUSC Health was named by U.S. News & World Report for the fourth year in a row as the number one hospital in South Carolina, and one of the country's top 25 hospitals in the treatment of ear, nose and throat (ENT) disorders, gynecology and cancer. MUSC's nephrology and orthopedics specialties also received national recognition, placing within the country's top 50 hospitals for those services. MUSC was high-performing in gastroenterology & GI surgery, geriatrics, neurology & neurosurgery, pulmonology, rheumatology and urology.
"For the fourth year in a row, MUSC has been named the number one hospital in South Carolina, once again being recognized for the high-quality care and tremendous value that we provide our state," says Patrick J. Cawley, M.D., MUSC Health CEO and MUSC vice president for health affairs, university. "Rankings certainly aren't why health care providers do what they do every day, but I would say that they provide further validation of how hard we are working to put patients and their families first." U.S. News & World Report unveiled the 29th edition of the Best Hospitals rankings. Designed to help patients with life-threatening or rare conditions identify hospitals that excel in treating the most difficult cases, Best Hospitals 2018-19 includes consumer-friendly data and information on 4,500 medical centers nationwide in 25 specialties, procedures and conditions. In the 16 specialty areas, 158 hospitals were ranked in at least one specialty.
"Making these lists means we are finding new ways to deliver and improve patient care. We're tearing down barriers to accessing that care, successfully training the health care leaders of tomorrow and integrating our research discoveries in real-time whenever possible. The citizens of our state can take great pride and comfort in the knowledge that their only public, statewide hospital system is consistently cited as one of the best in the country," Cawley says. 
New Physicians
MUSC welcomes new physicians.