Rehabilitation Center
Welcome
The entire rehabilitation staff welcomes you!
We appreciate the trust you have placed in us to meet your rehabilitative needs. It is our goal to provide quality care during your stay. We encourage you to share any special needs or concerns you may have during your stay at MUSC Health Florence Rehabilitation Center. Please speak with a staff member or feel free to call 843-661-3944.
Sincerely,
The Staff and Administration
What Makes Us Different?
The only facility in the region offering all private rooms with bathrooms
The only inpatient facility that is hospital affiliated (MUSC Health Florence Medical Center)
The only facility in the region accredited by CARF (Commission on Accreditation of Rehabilitation Facilities)
Mission
Our mission is to enable those we serve to achieve their maximum physical, psychosocial and vocational independence utilizing an interdisciplinary approach. This approach includes patients, family and professional staff.
The services include:
Rehab physicians (physiatry)
Medical consultations
Physical therapy
Occupational therapy
Speech and language pathology
Rehab nursing
Vocational independence
Nutrition
Case management
Further, we are committed to helping you transition about any special needs, as well as connecting you to community services that can assist you in returning to home, work, and play activities.
Accreditations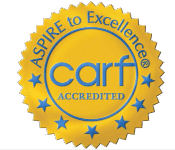 Commission on Accreditation of Rehabilitation Facilities (CARF)
The Joint Commission
Services
Helping patients and their families overcome disabling injuries and diseases is a challenge we face every day. You, too, will face many challenges during your recovery. We are here to share in your challenges, to help you return to a more independent way of life and to reach your potential. We understand your challenges are unique and your needs are personal. Therefore, your rehabilitation program will be tailored to your individual needs.
Our team of skilled medical and rehabilitation specialists will be by your side every step of the way to help you reach your goals. Because we see rehabilitation as a family achievement, we expect participation from your family and/or significant other. We'll make special arrangements for them to participate in your rehabilitation.
The goal of our comprehensive inpatient program is to improve the functional abilities of the patients served and their capability to function in their personal environments. The program is appropriate for those with medical needs and who have severe functional limitations.
Our areas of specialized expertise
Amputation
Brain injury
Fracture of femur/hip
Major multiple trauma
Neurological disorders
Polyarthritis
Open heart surgery
Spinal cord injury
Stroke
The Team Approach
Florence Rehabilitation Center utilizes a team approach toward patient care, and sees you, the patient, as the most important member of the rehabilitation team. Your participation is vital. Your family and/or significant other play a key role in the recovery process.
By understanding the implications of your disability, treatment and recovery goals, we can help you make a smooth transition back to the activities of daily living. Helping you through the rehabilitation process will be a team of specialists who are experienced, talented professionals working toward a common goal – your recovery. You will meet the members of your team during the first few days of the evaluation process to design a rehabilitation program appropriate to your needs. The team will meet once a week, or more often if necessary, to evaluate your progress.
Members of the rehabilitation team Include:
Case manager
Intake coordinator
Medical director/Physiatrist
Occupational therapist
Other consulting physicians
Patient care technician
Physical therapist
Registered dietitian
Rehabilitation nurse
Speech language pathologist
Support staff
Therapy Scheduling
Patients should expect therapy five to seven days of the week. Your schedule will be provided to you once the evaluation process is complete.
Visiting Hours
Family and other caregivers are an integral part of a successful rehabilitation program. Florence Rehabilitation Center does not have set visiting hours. Caregivers who choose to stay with their loved ones are welcome. Sleeping cots will be provided as needed. Because the individualized treatment programs are so intensive and patients cannot miss scheduled therapy, we strongly discourage unplanned visitation before 4 p.m. for friends and others not involved in the rehab process.
Spiritual Care
Florence Rehabilitation Center recognizes the importance of pastoral support during a patient's hospitalization. In fulfillment of our mission, a nurse or case manager will call a priest, minister or rabbi at the request of the patient and/or family.