The Better to Hear You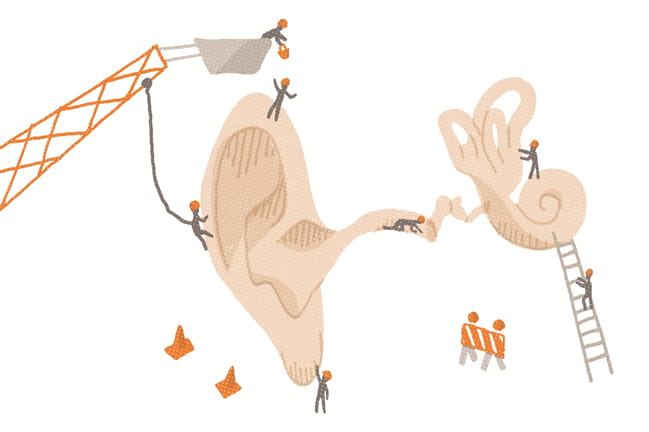 Otolaryngologists Offer Innovative Therapies to Improve Hearing 
by Lindy Keane Carter

Approximately 15 percent of American adults ages 18 and over report some trouble hearing, according to the National Center for Health Statistics. Hearing loss has many causes – aging or noise-damaged nerves, problems with the ear bones, fluid in the ear space itself, for example – and many therapies, the most well-known being hearing aids and cochlear implants. MUSC Health otolaryngologists implant almost 150 adults and children with cochlear devices per year, says Paul R. Lambert, M.D, Chair of the Department of Otolaryngology–Head & Neck Surgery, making MUSC Health one of the highest-volume cochlear implant centers in the southeast. 
Less well-known, perhaps, are the updated devices and approaches that technological advancements have made possible. "We have so many more ways to restore hearing today compared to even five years ago," says Lambert. Four fellowship-trained surgeons at MUSC Health are making these innovative therapies available to patients in the clinic and through clinical trials. These specialists include Lambert, Ted A. Meyer, M.D., Ph.D., Associate Professor of Otolaryngology and Director of the Cochlear Implant Center; Theodore R. McRackan, M.D., Assistant Professor of Otolaryngology; and Habib Rizk, M.D., MSc, Assistant Professor of Otolaryngology.
For example, for patients who have severe hearing loss in one ear, bone conduction implants (osteointegrated processing devices) are an effective option. The device is placed in the bone behind the deaf ear where it picks up sound and transmits it through the skull to the working ear. For the vast majority of patients, this device enhances hearing and thus safety and communication.
When damaged bones of the inner ear (the hammer, the anvil, or the stirrup) are the culprit, the implantation of titanium prostheses can achieve partial hearing restoration. This technology and procedure has existed for about ten years, but some patients' anatomical features have presented placement challenges to the surgeon. Lambert is working with a prosthesis manufacturer to develop new ways to use current implants and design new implants. The findings of one comparative study led by Lambert reported a novel use of total titanium prostheses in the journal Otology Neurotology(December 2015).
MUSC Health, one of the few academic medical centers in the country conducting clinical trials in Otolaryngology, is at the forefront of investigating new drugs and devices. Trials that are enrolling patients include:
Phase 3 trial for tinnitus. The gel being studied in this trial (AM-101, Auris Medical, Inc., Chicago, IL) has the potential to be the first drug to gain approval treating acute inner ear tinnitus. It is administered in one treatment cycle, comprising three intratympanic injections into the middle ear over three to five days. The study started in 2013 and is ongoing with more than 300 patients enrolled worldwide.
Phase 2 trial for Eustachian tube dysfunction (ETD). Dilation of the Eustachian tube is being studied for patients who have the symptoms of ETD, i.e., the feeling of blockage in the ear, earaches, and clicking, popping, or distorted sound. This study assesses the safety and efficacy of the ExprESS device (a balloon dilator developed by Entellus Medical, Inc., Plymouth, MN). MUSC Health is one of three sites in the nation that offer this procedure. The study began in 2015 and will end in the last quarter of 2016.
Phase 3 trial of a steroid-containing thermosensitive gel (OTO-104, Otonomy, San Diego, CA) for Ménière's disease opened in February 2016. Initial findings of the phase 2b study were reported by Lambert in 2015 at a professional meeting in Rome, Italy. (For more information, see "Groundbreaking Clinical Trials" in the Year in Review 2015).
For clinical trial enrollment information, contact clinical research coordinator Jack Muus at muus@musc.edu.
"I am incredibly proud of our physicians who are not only busy clinicians and surgeons who provide exceptional patient care, but also strive to advance the field through innovation and research. We have a wonderful history of collaboration with otolaryngologists in South Carolina and beyond and we look forward to advancing scientific discovery together in the future," says Lambert.