Art Collection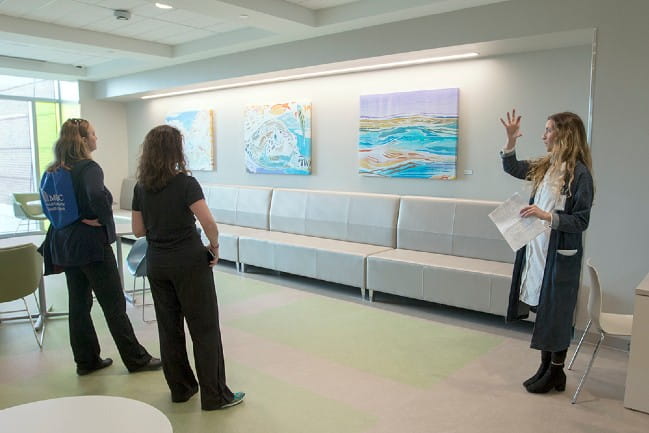 About
Artistic talent within our community makes it possible to transform the healthcare environment into bright spaces that creates dialogue, reduces stress and anxiety, and promotes health and healing of our community. Comprised of folk art, abstract and conceptual art along with representational works, the Arts in Healing Art Collection includes a mix of sculptures, paintings, photography, quilts, sweetgrass baskets, and Catawba poetry.
The Arts in Healing Art Collection team is responsible for the selection and installation of art acquisitions, act in an advisory capacity in the curation of MUSC spaces, and support artwork donations and philanthropy related
Art Walks
Arts in Healing is excited to offer Art Walks to patients, families, employees, and community members! MUSC's Art Collection and rotating exhibitions are reflective of MUSC's commitment to wellness, compassion, innovation, collaboration, and inclusion and diversity.
Current Art Walks can be scheduled across MUSC's Charleston Campus including, but not limited to, Shawn Jenkins Children's Hospital and Pearl Tourville Women's Pavilion, Ashley River Tower, Hollings Cancer Center, and Main University Hospital. Outside of our Charleston campus, Arts Walks are also available at MUSC Children's Health R. Keith Summey Medical Pavilion and MUSC West Ashley Medical Pavilion.
Schedule a personalized Art Walk today! Contact artsinhealing@musc.edu
Artwork Acquisitions & Donations
Art acquisitions and donated artworks makes it possible to transform the healthcare environment into bright spaces that promote health and healing of our patients, families, employees and community members.
Please keep in mind that artwork proposals and donations are carefully reviewed as several factors need to be considered to support our mission. A few questions the Art Collection team considers before accepting a proposal or donating artwork are:
Does it fit into an existing art theme for a specific space?
Is it soothing, engaging, educational, uplifting, visually appealing?
Could it be interpreted as alienating, confusing, or inappropriate?
Is there funding to frame and/or display this piece safely and in line with MUSC's infection control and sustainability requirements?
Does the artwork exhibit commercially trademarked images, logos, and products?