Stereotactic Body Radiation Therapy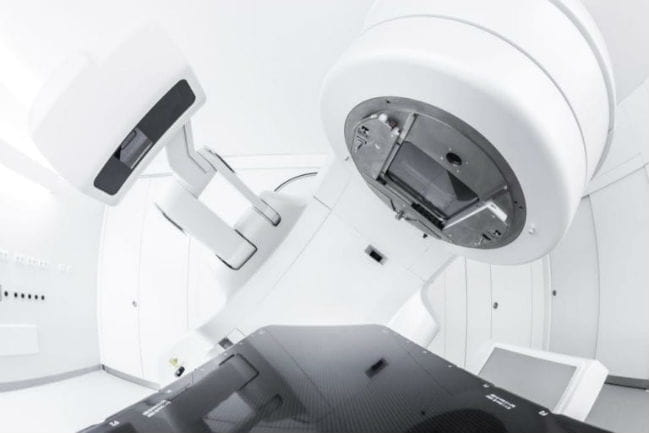 Stereotactic body radiation therapy (SBRT), also known as stereotactic ablative radiation therapy (SABR), is an alternative form of radiation therapy which improves outcomes while decreasing treatment time. SBRT is made possible through recent technological advances allowing the 'pinpoint' accuracy of modern radiation planning and delivery techniques. SBRT involves a very precise delivery of intense radiation dose so this approach is used only for small tumors.
Benefits of SBRT over Traditional Treatments
Decreased total treatment time.
Better chance of tumor control.
Fewer side effects (compared to surgery and traditional radiation).
Treating metastatic tumors in patients previously thought incurable.
SBRT involves less total treatment time; reducing a traditional course of 30 to 45 daily radiation treatments to one to five daily outpatient treatments. Although fewer treatments are given with SBRT, the radiation is more effective than traditional radiation due to a higher biological dose to tumor. The higher biological dose improves cure rates for cancers beyond results achieved with conventional radiation therapy. For example, two-year control rates for lung cancer with traditional radiation treatment range 30-40%. Compare this to the 80-90% control rates from SBRT which is a level of control comparable to surgical resection of lung tumors but with much less risks.
Candidates for SBRT
SBRT is particularly effective for treating small (up to six cm), well-defined tumors and in many cases is a good alternative to surgery. SBRT is used for many different body areas and for many different types of tumors. Some of the cancers treated include; primary lung cancer, cancers that have spread to the lung, pancreatic cancers, primary and metastatic liver cancers, kidney tumors, bone metastasis, adrenal glands and prostate cancers. SBRT can also be used for select stage IV patients with oligometastases (spread of a few tumors up to three to five) throughout the body.
The list of indications for SBRT continues to grow. It can also be useful for patients on immunotherapy to help 'boost' the body's immune system against cancer. SBRT may be an option for treatment to patients who have received a full dose of radiation therapy and develop a localized recurrence of a cancer.
What to Expect with SBRT Treatment
From a patient's perspective, treatment with SBRT looks very similar to traditional radiation therapy but with fewer treatments. There will be a few extra steps when performing the planning session, such as monitoring respirations for a lung cancer and doing a 4D-CT scan. Set-up and treatment will take longer with SBRT due to extra set-up steps, imaging and monitoring for quality assurance of radiation delivery. On SBRT treatment days, you will be positioned carefully and image guidance will be used to verify setup including daily CT scans. Treatments are usually every other day but the entire course of therapy is typically completed in 10 days.
Dr. Wooten and his medical physicists are present for each treatment. You will also see Dr. Wooten at least once a week. You will be awake during the procedure and will not notice effects during radiation. The treatment time is typically between 20 to 30 minutes with the majority of time devoted to ensuring proper set-up and positioning. The 'beam on' time, when radiation is delivered, is typically only a few minutes. You will not be radioactive following treatment and it is safe for you to be around others. After finishing treatment you may resume normal activities.
Although rare, side effects during SBRT can occur; however you will be instructed on these before treatment. For example, a mild fatigue and a dry cough can occur with lung SBRT. Dr. Wooten will follow you closely during and after treatment for potential side effects.
Where Can I Get SBRT?
SBRT uses advanced radiation techniques, special equipment and training at a level not available at all radiation oncology practices. Physician experience and expertise with SBRT is needed to make good judgments recommending and planning for SBRT. Dr. Wooten has nearly 10 years of experience and trained with a pioneer in the field of SBRT. We use the most up to date techniques including imaging with PET, MRI and CT. We also use techniques to manage respiratory motion such as gating. We are proud to be the first in the area to verify position and respiratory gating with surface guided radiation therapy (SGRT). Following treatment with SBRT, we will carefully follow you to assess response to treatment and to monitor for potential side effects.