MUSC Health Welcomes Dr. Eugene Hong as New Chief Physician Executive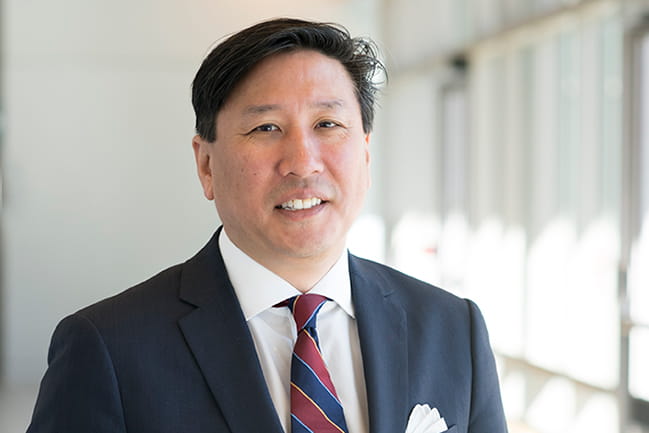 Eugene S. Hong, M.D., began as the new Chief Physician Executive for MUSC Physicians and MUSC Health in March. In this position, he oversees the practice plan and serves as a senior leader in the health system. Hong is a leading authority on concussions, cardiac issues in athletes, overuse injuries and sports-injury prevention and has worked for decades as a team physician. He comes to MUSC from Drexel University in Philadelphia, PA, where he was an endowed chair and professor in the Department of Family, Community and Preventive Medicine. At Drexel, Hong had a long and distinguished record of leadership, serving as chief of the division of primary care sports medicine, chair of the Drexel University Physician Board and associate dean for primary care and community health. As associate dean, he oversaw the creation of a successful accountable care organization (ACO) lookalike that brought $3.8 million into the practice plan. Progressnotes spoke with Hong in January, as he was preparing to make the move to Charleston.
PN: What are the greatest strengths of the practice plan at MUSC and the major challenges it faces?
The major strength of any practice plan is the people — not just the physicians but also the administrators, the staff and everybody who helps deliver patient care, train the next generation of health care providers and advance scholarship. I really enjoyed the people I met during the interview process and I am looking forward to being a member of the MUSC team. Some of the challenges being faced by MUSC are similar to those faced by other health care organizations — alignment and engagement. Is everybody rowing in the same direction? Is everybody on the bus and, if so, are they in the right seats on the bus? Engagement is a challenge facing many academic medical centers (AMCs). It is very important to address physician morale and wellness at a systems level. My number one, two and three initial plans for addressing these challenges are to listen, listen and listen.
PN: How did your experience as an associate dean at Drexel help prepare you for your new position?
One of my modest successes in that position was that we created an ACO lookalike between the hospital and the academic physician group. Payment reform was happening to us and, though we didn't know which way it was going, we tried to read the tea leaves and prepare for what we thought was coming down the pike with this ACO lookalike. That entailed engaging the administration and providers in a shared effort. It was an interesting experience for me as the one trying to pull this thing together, getting everybody in the same room and then having the same conversation. We were able to bring different parts of the health system together and work collaboratively. Over the past five years, this ongoing effort has brought $3.8 million into the academic practice plan. It's about building sustainable change, something that's not easy to do in big organizations. In this case, I think we had some modest success. This experience taught me the importance of working collaboratively, and that is a lesson I think that will serve me in my new position. I really think we can get further along if we move together as an organization.
PN: What attracted you to MUSC?
Nobody across the country knows exactly where health care is going and where reform is going. But some of the things that attracted me to MUSC are the things MUSC is already doing, such as forming an ACO. I also really like that MUSC has already formed its ICCE clinical service lines. That's progressive. So I see MUSC as doing some things that I would consider more progressive for an AMC.
"We can get further along if we move together as an organization." — Eugene S. Hong, M.D.
PN: How can MUSC Health continue to grow as a health care system?
A key component for growth in an AMC is what I call "academic entrepreneurship." It's really thinking like an entrepreneur in an academic health system setting. To elaborate, it means identifying opportunities, developing and initiating strategies and taking calculated risks. We want to create value, and specifically overage, that can then be invested back into the enterprise.
PN: Can you say something about your clinical practice and research in sports medicine?
Coming into the Chief Physician Executive role, I plan on continuing to see patients and staying clinically active. I love clinical care, and my own clinical practice has been in sports medicine. As far as the research goes, I've talked nationally and taught in national CME courses on the issues of concussions and mental health in athletes. One area of my research is improving the evaluation and management of sports-related concussions. Another area focuses on the mental health of athletes. We have published the largest cohort study of depression in college athletes in the literature and still follow that cohort. We found that the prevalence of depressive symptoms in college athletes was comparable to that in the non-athlete population. Athletes are not at decreased risk for mental health issues such as depression. They have their own set of unique challenges that may put them at comparable risk of mental health issues.
PN: Can you describe your work as a team physician?
I've been a team physician for a couple of decades now at various levels. For me, being a team physician is a form of community medicine. You take care of a group of people — not just athletes but also coaches, staff and administrators associated with that particular team and community — and you address not just individual issues but also population health issues. My position as a team physician has been incredibly rewarding for me — certainly a privilege and a pleasure.
PN: Would you like to say a few words about your family?
I like to say that I married upward. My wife, Mindy Hong, is a lifelong educator. She has been a headmaster of an independent school and is currently running her own educational consulting company. We have two daughters, Katherine and Audrey, and two Weimaraner dogs, Sadie and Welly, who all help keep me grounded and humble.