Interview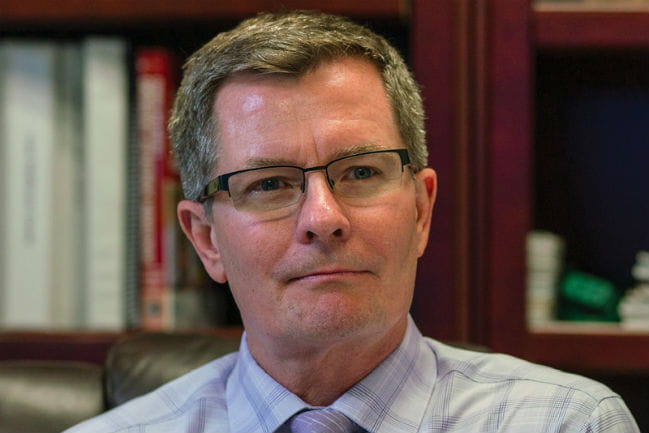 MUSC welcomes Terry Kowalenko, M.D., professor and chairman of the Department of Emergency Medicine
Dr. Kowalenko oversees clinical care, education, research and financial/operational performance of the Department of Emergency Medicine at MUSC. Prior to joining the MUSC Health family, he served as a professor of Emergency Medicine at the Oakland University William Beaumont School of Medicine and as Chairman of Emergency Medicine at Beaumont Hospitals, Royal Oak, Troy and Grosse Pointe. He was Director of Continuous Professional Development for the University of Michigan Medical School and held faculty appointments at the University of Michigan/St. Joseph Mercy Hospital and the Wayne State University-Detroit Medical Center/Sinai-Grace Hospital. He also served as an attending physician in emergency medicine at Henry Ford Hospital. Dr. Kowalenko is an active researcher of workplace violence, quality measures and board certification. Progressnotes chatted with Dr. Kowalenko in May 2019.
What first attracted you to MUSC?
Part of what drew me to MUSC was the fact that the Department of Emergency Medicine is new, which gives me the opportunity to help grow and shape it. I was also attracted to the philosophy of the institution of expanding their footprint throughout the state, and I saw a real opportunity for the department to follow suit.
I was president of a 1,000-physician medical group for a couple of years, and MUSC also offered me the position of associate chief of the ACT [acute, critical and trauma] ICCE. That is intriguing because beyond emergency medicine, I can envision the whole system and where we fit within it.
Additionally, I recently became a CMS Quality Payment Program clinical champion. CMS picks 10 to 12 clinicians every two years to serve as consultants regarding quality payment programs, and I'm in the second cohort. I felt like MUSC would be a very good place to help share that experience.
What is your vision for the Department of Emergency Medicine?
My vision is for us to become a premier department that provides outstanding patient care. I am a very patient-centric individual because of two experiences that changed my outlook. One was trying to navigate through the complex health system when my dad was diagnosed with a brain tumor and died within nine months. The other was my son suffering a traumatic head injury. Being on the other side of the bed changed my view of medicine.
I'll be working with the chairs to help our patients navigate the system. When patients come into our emergency department, they think they're already in the hospital. But if you asked anybody who works in the hospital, they would say that they were in the emergency department, not the hospital. I think that we need to start seeing it more from the patient's perspective.
At Beaumont, mine was the first department to start a patient family advisory council (PFAC). We started meeting every month and would talk to families about issues surrounding the department. When we were designing the new department, they suggested ideas regarding aesthetics, comfort and convenience, like having phone chargers in every room. Little things like that helped us gain a patient's perspective, and I intend to do the same here.
I work very hard to build relationships so that we can work together to do what's best for our patients, and I view success based on my faculty's accomplishments. I'm a proponent of faculty development and mentorship. I'd like to expand our education and research portfolios and give as many opportunities as possible for faculty to have a regional and national presence in clinical research and education.
Additionally, security and workplace violence have been my areas of interest and research for the last decade. I am on the workplace violence committee at MUSC, and I'm hoping to help make our workplace as safe as possible.
What drew you to your research focus of security and workplace violence?
I was president of the Michigan College of Emergency Physicians when we received a letter from a member who had been stalked by the mother of a patient. He was curious as to what we could do about it and if others were having this experience. We realized that we didn't have much information, so we designed a survey of Michigan physicians and published our results about their experiences. Some years later, I was introduced to Donna Gates, Ph.D., who was also doing work on violence. She was the principal investigator and I was the coinvestigator on a grant that looked at workplace violence, and we wrote several papers on it. I've continued working on this ever since.
What are the greatest strengths of the department as it enters its third year?
I think the greatest strengths are the people. I am incredibly impressed with the faculty, residents, fellows, nurses, technicians, clerks and all the people that work there. They are incredibly dedicated and hardworking. There are a lot of challenges to our environment, and the fact that they have stayed strong and worked through these challenges demonstrates their commitment to this department.
What are the challenges and your initial priorities?
I think the biggest issues we currently have are related to MUSC's growth. I am working with my own faculty and other department leaders so we can continue to support patient throughput. We continually look at space to best support quality patient care, our staff and operational efficiencies.
I also want to align department goals with those of the institution and to be cognizant of faculty wellness. Burnout is prevalent among all specialties, but emergency medicine has consistently been in the top three for several years. Hopefully, improved wellness will translate into better patient satisfaction and more compassionate care.
Breaking down silos is critical to the success of any medical organization. It's important for us to engage our patients and our staff to make this a premier destination for emergency care. We will work on innovative approaches to improve the patient experience and throughput to ensure we are a resource to not just Charleston, but the entire state. As a tertiary or quaternary care center, we care for the most complex patients. We hope to work with all of the MUSC and non-MUSC facilities to provide the best possible care to all of our patients.
What would you like Progressnotes readers to know about you?
I'm honest, hardworking, dedicated, a team player, very patient-centric, and I believe strongly in building relationships. As a son of immigrants, English was not my first language. I was the first in my immediate family to attend college. I've worked in and around Detroit and Ann Arbor as well as in Africa, where I helped start the first emergency medicine residency in sub-Saharan Africa. I love my family and the outdoors. I hope to help the citizens of South Carolina and promote the success of MUSC.