A Robotic Revolution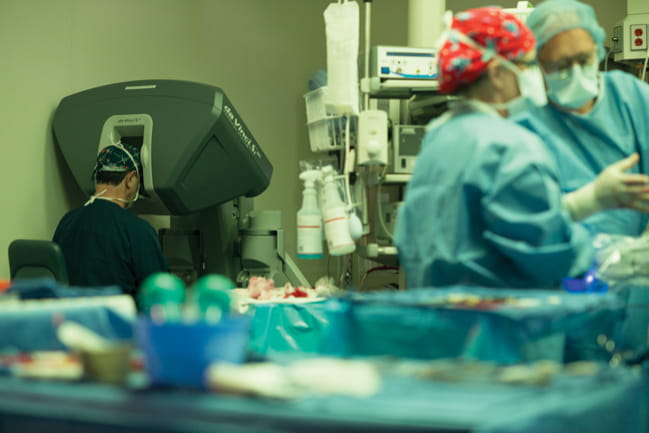 Robotic mitral valve repair, now available at MUSC Health, achieves similar outcomes to open surgery with less pain and a quicker recovery for select patients
by Kimberly McGhee
MUSC Health cardiothoracic surgeon Marc R. Katz, M.D., MPH (seated at the console in the photograph above), is the first to offer robotic mitral valve surgery, the least invasive of all mitral valve repair techniques, to patients in South Carolina. Katz has more than 15 years of experience with the da Vinci robotic system (Intuitive Surgical, Sunnyvale, CA) — he had the third robot in the U.S., was an investigator on the clinical trials that led to its approval and has been engaged in each of its developmental iterations.
In appropriately selected patients, and when performed at high-volume centers such as the MUSC Health Heart and Vascular Center by surgeons experienced in the technique, robotic mitral valve repairs achieve results at least as good as those attained by other minimally invasive techniques1 or via open surgery but with less pain, a shorter hospital stay, a quicker recovery, and a more rapid resumption of normal activities.
"Patients return to work when they feel like it after robotic repair," explains Katz. "For most, that's within a week or two instead of the eight to 12 weeks required after open heart surgery."
Open surgeries require that the breast bone be split to gain access to the heart and then be rewired back together. In contrast, for robotic mitral valve surgery, the surgeon makes several small portholes — approximately half an inch long — into which the robot's arms are docked and a small camera is inserted.
The da Vinci SI System available at MUSC Health provides high-definition 3D visualization of the valve and has wristed robotic arms that are capable of greater dexterity than human hands.
Because the endoscopic camera can be positioned near the valve, it provides excellent visualization. "The scope is sitting right next to the valve and so the valve looks like it is ten feet tall," says Katz. "Due to that better visualization of the valve, we can achieve excellent mitral valve results."
Guided by those images, Katz, seated at a console, directs the robot's arms, which have seven degrees of freedom of movement, to replace any ruptured cords (i.e., the fibrous strings that control the opening and closing of the valve) and to place an annuloplasty ring around the valve to help give it shape and support.
"The robot does what the surgeon's hands do," says Katz. "It translates the normal motions of the surgeon's hands in through tiny incisions in the chest."
The mitral valve's job is to keep blood flowing in the right direction through the heart. Connecting the left atrium and left ventricle, the valve opens as the atrium fills with blood to enable the blood to pass into the left ventricle and then clamps shut to prevent backflow. As the mitral valve degenerates, this seal becomes leaky, leading to backflow of blood into the atrium. When the leak is severe, backflow may reduce both the supply of oxygenated blood to the body's organs, causing shortness of breath and other symptoms, and result in a backup of fluid in the pulmonary vessels, which can lead to pulmonary hypertension. The resulting stresses on the heart can cause congestive heart failure.
In the past, the mitral valve was replaced with a prosthetic and surgery was reserved largely for those who had already developed congestive heart failure. Due to improvements in mitral valve repair techniques, current guidelines recommend surgical mitral valve repair in those with severe regurgitation, even if they have not yet developed symptoms. Indeed, more than 90 percent of degenerative mitral valves are suitable for repair, and better short- and long-term results are achieved with repair than with replacement.2 Although not appropriate for patients who require additional procedures, such as multiple valve repairs or bypasses, robotic mitral valve surgery can offer a new lease on life to patients with isolated mitral valve leaks. The surgery restores mitral valve function and, unlike replacement, does not require long-term anti-coagulation.
"Following surgery, many patients feel physically much better because they are no longer affected by the symptoms of their valve disease," says Katz. To learn more or to refer a patient, contact Betsy Hyland at 843-876-4842.
To watch an interview with Dr. Katz about robotic mitral valve surgery, visit the MUSC Health Medical Video Center and select cardiology from the dropdown menu of specialties.
References
1 Mihaljevic T, et al. J Thorac Cardiovasc Surg 2011;141:72-80.e1-4.
2 Enriquez-Sarano M, et al. Circulation 1995;91:1022-1028.