MUSC Welcomes New Chairs
Department of Surgery Welcomes New Chair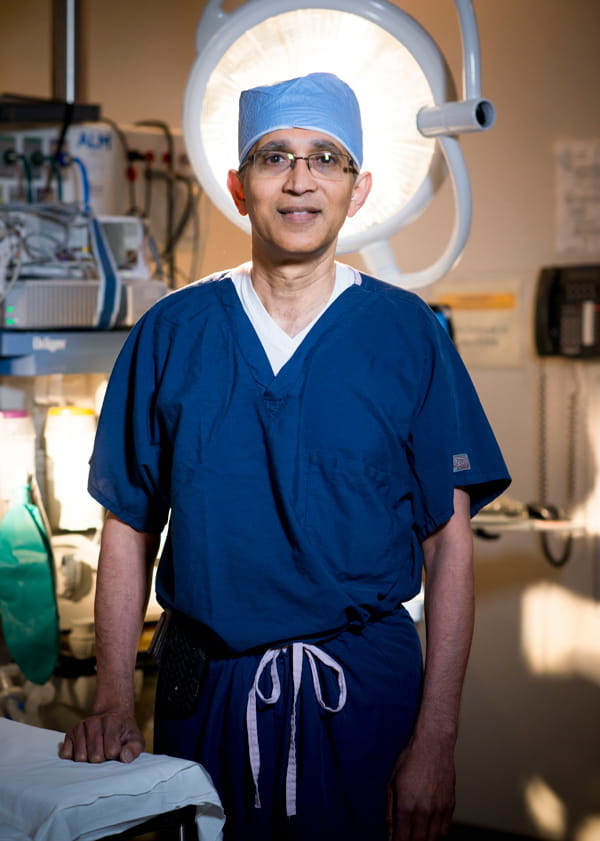 Prabhakar K. Baliga, M.D.,  Chief of the Division of Transplant Surgery at the Medical University of South Carolina (MUSC), has been named the 20th Chair of the Department of Surgery. Baliga is also the Director of the Kidney Transplant Program and Medical Director of the Transplant Service Line. He came to MUSC in 1992 following a fellowship in transplant surgery at the University of Michigan. Baliga obtained his medical degree at the Madras Medical College in 1984 and completed his internship and residency in surgery in 1990 at Tulane University Hospital Systems.
Baliga fills the position previously held by David J. Cole, M.D., President of MUSC, and most recently held by Interim Chair David B. Adams, M.D.
Bruce Elliott, M.D., Interim Vice President of Medical Affairs, states, "After interviewing some extraordinarily well-qualified candidates, we were impressed that the most qualified candidate was right here among our own, which attests to the quality of the faculty in the Department of Surgery."
Cole and Baliga have worked together for 20 years. "Dave Cole has created such a great legacy for this department. It's recognized at a national level for excellence in several domains," says Baliga. "He's a man with tremendous vision who broadened the horizons of the department and established an organizational structure and foundation that allows a newcomer to build to the next level. I'm sure there will be many times I'll seek his wise counsel."
The Department of Surgery, which comprises the divisions of Cardiothoracic Surgery, General and Trauma/Acute Care Surgery, GI/Laparoscopic Surgery, Pediatric Surgery, Plastic Surgery, Surgical Oncology, Transplant Surgery, and Vascular Surgery, has 66 faculty members. The graduate medical education program comprises 73 interns, residents, and fellows.
Baliga cites several challenges to the field of surgery in today's health care setting. "The environment we're working in is collaborative. We're no longer individual practitioners. We're dependent on others for best outcomes, which in turn affects how we're paid, another change, plus we must balance our academic mission of education and research with declining clinical revenue," he says. As for training the next generation of surgeons, Baliga says his goal will be to ensure that MUSC graduates are outstanding citizens and safe surgeons. "A safe surgeon in the sense that he or she not only pays attention to the outcomes, but also delivers care efficiently and has a strong sense of the cost of everything that is associated with the surgery, because that's the new era in which these surgeons will be practicing."
Best-practice preparation for all of South Carolina's surgery residents will soon be enhanced with the 2015 rollout of the South Carolina Surgical Quality Collaboration, made possible by a $3.8 million grant from the BlueCross BlueShield of South Carolina Foundation. Cole and Baliga were among the state's health care and surgical leaders who initiated the three-year program that will benchmark surgical outcomes and create approaches that will improve quality and safety for South Carolina citizens.
The MUSC Department of Surgery will continue to be a resource to all South Carolina physicians, says Baliga, particularly for complex cases and continuing medical education, and he invites the medical community to invest as well. "It's becoming more challenging to support our academic mission and use innovative techniques," he says. "It's important for the community to take pride and be involved and join us in developing the next generation of health care providers."
Baliga and his wife, Kamashi, have two sons. One is a graduate of Georgia Tech University and the other is a graduate of Colorado State University.