We're Growing - MUSC Buys Four New Hospitals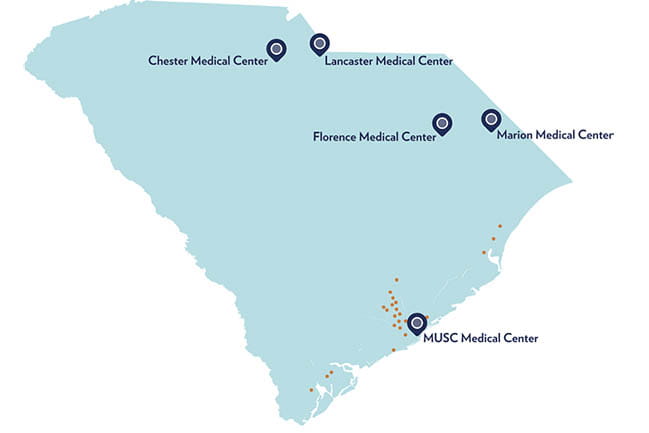 Facilities in Chester, Florence, Lancaster and Mullins, SC join MUSC Health network
The Medical University of South Carolina (MUSC) closed the purchase of four community hospitals from subsidiaries of Community Health Systems, one of the largest publicly traded hospital companies in the United States. The following hospitals were officially acquired March 1.
Chester Regional Medical Center, an 82-bed licensed facility
Carolinas Hospital System in Florence, a 396-bed regional acute-care facility
Springs Memorial Hospital in Lancaster, a 225-bed all-private-room facility
Carolinas Hospital System-Marion in Mullins, a 124-bed acute-care facility providing a variety of inpatient and outpatient services, as well as a 92-bed nursing center.
"As the state's leading academic health center, we must be prepared for the future," said David J. Cole, M.D., FACS, MUSC president. "MUSC is committed to providing the best health care possible for our communities and state through strategic partnerships and our emerging MUSC Health network."
In 2017, the four hospitals combined delivered care through more than 129,000 emergency department (ED) visits, 159,000 outpatient visits (excluding ED visits), 18,800 hospital admissions and 339,000 clinic visits with physicians. With the addition of these four hospitals, MUSC now employs more than 16,400 team members throughout the state.
"This transaction is the first time MUSC has acquired other hospitals," said Charles W. Schulze, CPA, chairman of the MUSC board. "The additions will increase the size and scale of the MUSC Health network, and in today's environment, larger, more efficient health care systems can deliver greater value to patients and have a positive impact on population health."
"We look forward to welcoming the patients, families and employees of these hospitals into the MUSC Health network," said Patrick J. Cawley, M.D., MUSC Health CEO and vice president for Health Affairs, University. "Through affiliations with other hospitals and health systems across South Carolina, and through our robust telehealth network, MUSC's clinical outreach allows us to serve the citizens of our state no matter where they are. The purchase of these four hospitals is the natural extension of our mission to preserve and optimize human health in South Carolina."
Although MUSC is a state-assisted organization, state appropriations for the university and hospital authority are less than three percent of their combined annual budget. As a result, MUSC works diligently to fulfill its mission through prudent financial management, dedicated philanthropic support and strategic business growth. Roughly 60 percent of all MUSC Health patient care revenues are generated from statewide communities outside the tri-county area, while the remaining 40 percent of patient care revenues are driven by services delivered within the tri-county market (Charleston, Berkeley, and Dorchester counties).