MUSC Health Alliance Welcomes Chief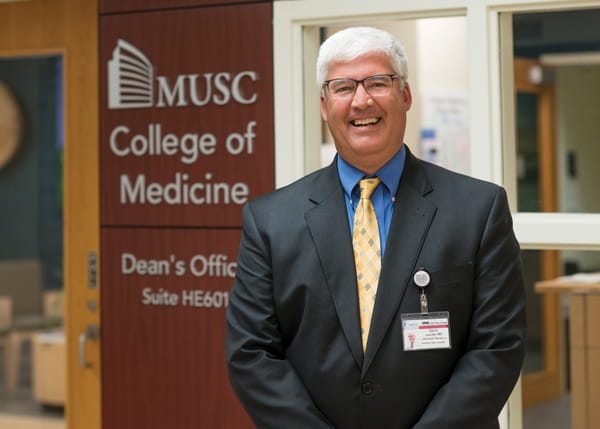 David S. Louder, III, M.D., MBA, has joined MUSC Health as Chief of the MUSC Health Alliance. In this position, Louder directs the expansion of MUSC Health's regional relationships with community physicians to create an integrated model of care delivery. Previously, he served as Vice President, Physician Partnerships, at Carroll Hospital in Westminster, MD, where he also served as Executive Director of Carroll ACO, LLC (an accountable care organization) and Executive Director of Carroll PHO, LLC (a clinically integrated network). Louder, a neonatologist, has also held academic appointments in Pediatrics at the University of Texas Health Sciences Center and the University of Maryland School of Medicine. He was an officer in the U.S. Air Force Medical Corps for 20 years and retired as a Colonel in 2009. He obtained his medical degree at the University of Virginia and his Master of Business Administration at the University of Massachusetts.
"Dave brings a wealth of leadership experience following his career in the U.S. Air Force Medical Corp, which included managing Population Health within a major command structure in Washington, D.C.," said Bruce M. Elliott, M.D., Chief Physician Executive, MUSC Physicians and Chief Physician Executive, MUSC Health. "His civilian experience in developing a new successful clinically integrated network, as well as developing a Medicare ACO in an academic health system and then in a private hospital system, provides MUSC Health with a very talented individual with substantial knowledge and expertise."
The MUSC Health Alliance is not a business-as-usual network, stated Patrick J. Cawley, M.D., MHM, FACHE, Chief Executive Officer, MUSC Health, and Vice President for Health Affairs, MUSC. "This model is about fundamentally changing and aligning behind value and quality," said Cawley. "Dave and MUSC Health see clinical integration as an inclusive program that comprises multiple health care organizations in each community."
Louder's first order of business has been setting up the MUSC Health Alliance as an ACO to enable MUSC Health and its affiliates to coordinate high-quality care for their Medicare patients. "I'm here to facilitate the collaboration of organizations and physicians to improve the quality of care and reduce cost to the system," he said. "And also, by the way, to improve the experience of providers as well." As Medicare forces health care into value-based arrangements, it's critical for MUSC Health Alliance to operate with a payment and care delivery model that aligns with Medicare's model. "So, the time is now," Louder said. He has been on the road visiting MUSC Health affiliates throughout South Carolina to discuss with their representatives the benefits of operating as a clinically integrated network in this era of accountable care.
Louder also has responsibility to provide leadership to MUSC Health's Primary Care Integrated Center for Clinical Excellence, so he will be developing a four-year strategic plan that will explore expansion possibilities and develop consistent processes across the four MUSC Health entities that deliver primary care.
Louder and his wife, Claire, are the parents of two sons.