Welcome to MUSC Medical Center
On behalf of the Human Resources Department, we would like to welcome you to the MUSC Medical Center, we are very excited to have you join us as we "Change What's Possible" in the healthcare industry.
As you start the MUSC onboarding process, you must complete the following steps (all of which will also be communicated by email with your onboarding assistant):
Accept your offer letter and complete the onboarding form located in the Employee Portal.
Complete the Time Sensitive Background Check using the information provided in the email from your Onboarding Assistant.
Clear Employee Health by attending your scheduled appointment and providing the required documentation, for more information visit EHS Clearance Requirements.
Submit a picture for your Badge ID, see below for instructions.
Attend the New Care Team Member Orientation and required training.
The I-9 and W-4 forms will be turned in on Day 1 of orientation. The I-9 forms are required by federal law to be turned in on Day 1 of Orientation with 2 forms of acceptable documents. WE CANNOT ACCEPT COPIES
Submitting a Badge Picture
Preferred method: Employees can submit a photograph to MUSC Department of Public Safety prior to orientation. The photo must meet the following requirements for approval and be submitted no later than 12-noon on the Friday before the scheduled orientation:
Color photo.
Background must be a solid color, preferably of a lighter shade.
Must be a frontal view, cropped from the shoulders up to include the full head. No side views.
No other person or objects in the photo (eyeglasses are acceptable, no sunglasses or hats).
Format can be BMP, JPG, or PNG. A photo taken with a smart phone and emailed from the phone will meet the required format (please choose "actual" or "original" for message size if prompted).
Please email the photograph to badge-photo@musc.edu and include your full legal name, department name, and anticipated orientation date. (For example: Jane Mary Doe, Department of Medicine, attending orientation on 9/21/15.)
If your picture does not meet the above guidelines, you will receive an email from Public Safety requesting a new picture. If your picture does meet the requirements, you will not receive any communication from Public Safety and your badge will be at orientation.
Alternative method: You may also stop by Public Safety located at 101 Doughty Street, Charleston, SC 29425 after you Employee Health Screening appointment. They will take your picture and your badge will be available at orientation.
Failure to do either one of these methods will result in the employee receiving a temporary badge and needing to go to Public Safety after orientation to receive their badge.


Orientation
Human Resources facilitates the New Care Team Member Orientation which provides required information about the institution and practices on Day 1, with check in starting at 7:30. The Day 2 orientation, for benefits eligible employees, will provide an overview of employee insurance and retirement benefits.
Parking for Orientation
Please park in the Hagood Surface lot located at 305 Fishburne Street, Charleston, SC 29403. Temporary parking passes will be passed out at check in on day 1 of orientation. Parking validation is not guaranteed if you park in one of the garages.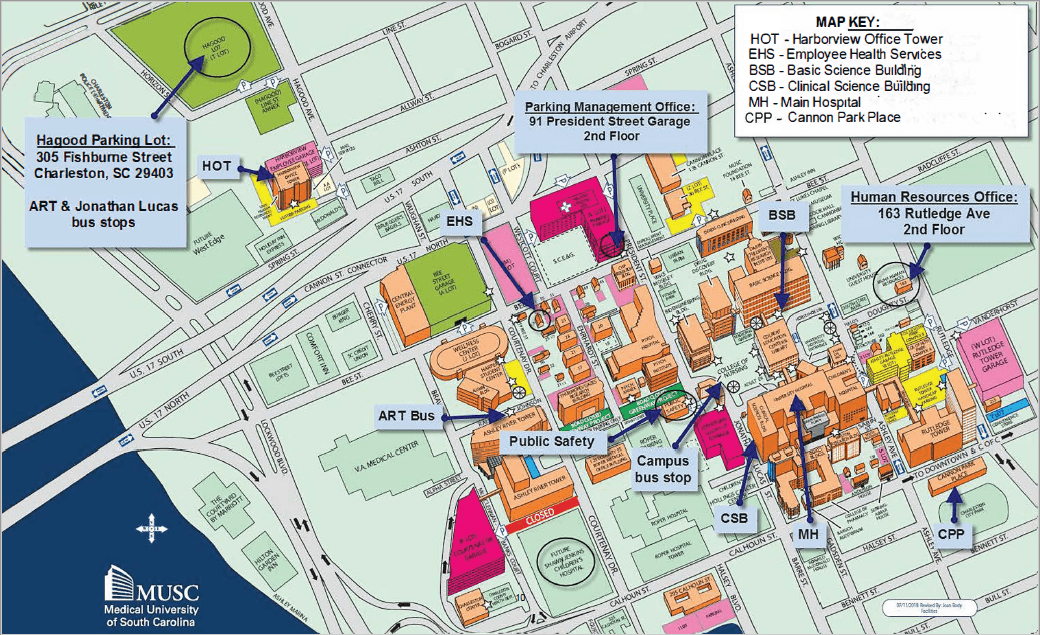 For your parking assignment and registration, you will need to visit parking Management, more information.
New Care Team Member EPIC Class Schedule (PD)F
Print the schedule in your welcome letter as it outlines the first week of orientation/classes you may be required to attend. If you have any questions, please call one of the contacts listed on the schedule or your HR Onboarding Assistant.
If you will be working in an outpatient setting such as Rutledge Tower, Family Medicine, Storm Eye, Hollings Cancer Center, Women's Health, please print the Outpatient Clinics Orientation Schedule for new employees and bring to orientation. View a complete listing of outpatient locations (PDF).
Benefits
Congratulations on accepting a position at MUSC! 
When it comes to electing your benefits, the Benefits staff is available to assist you in making the best decisions for you and your family. To facilitate this process, the staff presents the morning of day two of Organizational Orientation in which an overview of your benefits will be explained. You will have the opportunity to ask questions in helping you make informed decisions.
We offer the full suite of insurance benefits including health, dental, vision, disability, and life. Additionally, we administer seven different retirement plans. 
Additionally, we administer seven different retirement plans. For a listing of all benefits, visit our Benefits website.