Genetic Risk Factors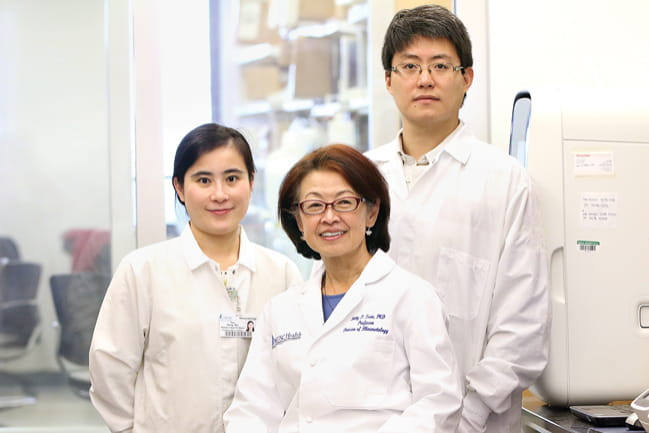 Uncovering Hidden Genetic Risk Factors
Risk factor for autoimmune disease found in an underexplored genomic region
by Katharine Hendrix
The March 2017 issue of Nature Genetics published findings by a team of MUSC researchers that a variant (p.Arg90His) in neutrophil cytosolic factor 1 (NCF1, a regulatory subunit of the phagocyte NADPH oxidase) is associated with increased risk for several autoimmune diseases, including systemic lupus erythematosus (SLE), rheumatoid arthritis (RA), and Sjögren's syndrome. The amino acid substitution causes reduced reactive oxygen species (ROS), highlighting the risk of reduced ROS in developing autoimmune diseases.
Their journey started several years ago, when the team was genotyping DNA samples from Chinese, European-American, and African-American SLE patients. An impressively strong signal in the Chinese sample at the rs73366469 locus (GTF2IRD1–GTF2I intergenic region at 7q11.23) caught their attention.
"This was the strongest signal I'd ever seen in autoimmune disease," says Betty Pei-tie Tsao, Ph.D., MUSC professor of medicine, Richard M. Silver Endowed Chair for Inflammation Research and senior author. But the signal was only moderate in the European-American sample and nonexistent in the African-American sample. "A true risk gene should be the same in all populations," says Tsao. The team concluded that the true risk factor lay elsewhere.
But explaining this unusually strong signal wasn't going to be easy. The team had been using the Immunochip for fine-mapping — a widely used tool for conducting genome-wide association studies. However, because rs73366469 did not show linkage disequilibrium (LD) with any single-nucleotide polymorphisms (SNPs) in the Immunochip, they hypothesized that the SNP containing the true underlying risk factor was not included in it.
That's when the going got tough. "This is a very complex genomic region. The NCF1 gene has two, nearly identical twins — NCF1B and NCF1C — that are nonfunctional pseudo-genes," explains Tsao. "This makes working in this region very difficult. That's why the next-generation sequencing method that the 1000 Genomes Project uses doesn't pertain to this region."
Realizing that next-generation mapping techniques would limit their ability to find unique sequences among all the copies and duplications in this region, the team set up their own novel polymerase chain reaction (PCR) assay.
"We had to do it the old-fashioned way, which was very time consuming and labor intensive," says Tsao. "To genotype the region correctly, we used PCR to selectively amplify the NCF1 copies and conduct copy number variation tests. Then, we only used samples with no copy number variation to examine the NCF1 variant. This method ensured that what we identified as an NCF1 variant was truly a variant."
It took several years and multiple experiments in various ethnic populations before they finally identified the SNP, p.Arg90His, as the genetic variant causing SLE susceptibility. That SNP was also associated with increased risk for other autoimmune diseases, including RA and Sjögren's syndrome.
This work points out an important unmet need in genetic mapping.
"This was a labor of love. The lead author, Dr. Jian Zhao, devoted years of his life to this project," says Tsao. "But, for the future, we need to develop a more efficient platform to screen complex genome regions for variants. For many diseases, we've identified some, but not all, variants. It's likely there are more hiding in these complex regions."