Hearing Loss Study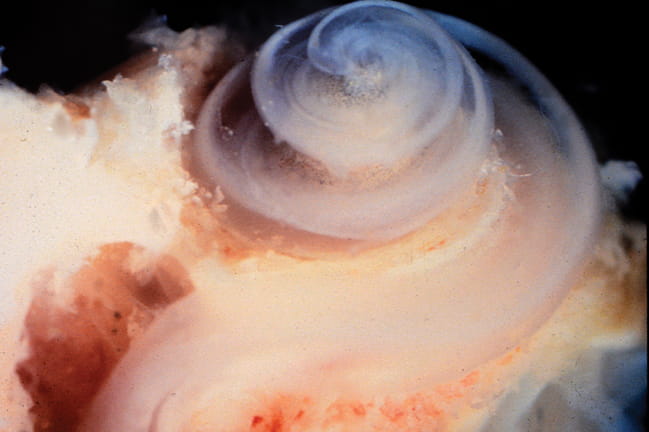 Hearing Matters
New Study Seeks to Identify Mutations Responsible for Age-Related Hearing Loss
By Kimberly McGhee
Currently, more than 28 million Americans have impaired hearing, and approximately 75 percent of these persons are over the age of 55. Nearly 30 years ago, hearing scientist John H. Mills, Ph.D. brought together a multidisciplinary team of MUSC researchers including audiologists, histopathologists, biochemists, and electrophysiologists to study the causes of age-related hearing loss. Since its inception, this National Institutes of Health–funded program, currently directed by Judy R. Dubno, Ph.D., Professor and Director of the Hearing Research Program in the Otolaryngology-Head and Neck Surgery, has included projects headed by investigators from both Dr. Dubno's department and the Department of Pathology and Laboratory Medicine.
Hearing losses can occur from a variety of causes, including environmental factors such as exposure to noise and ototoxic drugs, making it difficult to distinguish these factors from the effects of age. However, early studies with laboratory animals conducted at MUSC under carefully controlled conditions identified a metabolic component to age-related hearing loss that is associated with a decline in the endocochlear potential. The endocochlear potential is an electrical potential of 80-100mV in the cochlea that acts like a battery to drive auditory transduction. These early studies with laboratory animals also pointed to a genetic component for age-related hearing loss and, along with more recent laboratory animal and human studies, have shown that hearing loss in older adults is a consequence of accumulated environmental stresses to the cochlea and an intrinsic genetically controlled aging process. As much as 60 percent of hearing loss in older adults can be attributed to heritability.
In parallel with laboratory animal studies, the research team has collected audiometric data and DNA samples from more than 800 research participants aged 55 years and older and has been able to stratify their hearing loss into metabolic and non-metabolic phenotypes. Taking advantage of this large human database, Bradley A. Schulte, Ph.D, Vice Chair for Research in the Department of Pathology and Laboratory Medicine, is now conducting a whole-exome sequencing (WES) study to identify genetic variants associated with metabolic hearing loss. The recent acquisition of a high-throughput sequencing platform (Illumina HiSeqTM2500) has enabled this next-generation sequencing to be performed at MUSC.
Approximately 100 genes implicated in metabolic hearing loss have been identified through a combination of studies in laboratory animals and in adults with normal and impaired hearing. These candidate genes will be the initial focus of the WES. Once relevant mutations are identified, the team will attempt to localize the proteins involved to specific tissues and cell types in the mouse and human inner ear using histochemical and biochemical techniques. Ultimately, gene knockout animal models will be developed to better determine how the mutations affect hearing.
Schulte plans to sequence genes from 400 research participants by the end of the year and hopes to identify some relevant gene mutations over the next two years. "If we see a good correlation between the results from laboratory animal and human studies, we will know we have a promising gene candidate and we will go after that variant," says Schulte. Once mutations have been identified, it may be possible to develop therapies to target them—either by correcting the defect through genetic engineering or by modulating protein expression with a novel or existing drug.