MUSC Health Named Comprehensive Stroke Center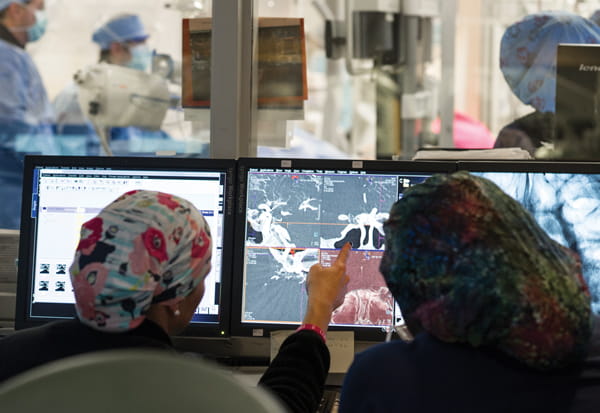 Liftoff
MUSC Health recognized as a comprehensive stroke center
by Sver Aune
In December 2015, the Joint Commission (JC) recognized MUSC Health as a comprehensive stroke center (CSC), its top certification. The new CSC certification is more than a badge of approval from the oldest and largest standards-setting body in health care. "It's really about lifting our quality of care to the highest level, from opening rapid communication channels with emergency first responders to performing neurosurgery for the most complex cases," says Christine A. Holmstedt, D.O., Medical Director for Clinical Stroke Services and Co-Director of the MUSC Health Comprehensive Stroke & Cerebrovascular Center.
To qualify for CSC certification, the Center had to meet an additional eight measures beyond those of a primary stroke center (PSC), demonstrating that it had the expertise, experience, and infrastructure needed to provide the full range of care for patients with either an ischemic stroke (i.e., caused by a clot) or a hemorrhagic stroke (i.e., caused by a bleed). Patricia E. Aysse, MSN, Manager of MUSC Health's Stroke Program, had the job of making sure every paragraph of the commission's 346-page guide to certification was being followed. That required cooperation across the university. "We are so lucky in this organization to have stroke neurologists, interventionists, and emergency department physicians who are supportive of stroke care," says Aysse.
Essential to CSC certification was the availability of neuroendovascular surgeons with the expertise and experience to offer stroke patients advanced treatment options not typically available at PSCs. These include thrombectomy, carotid endarterectomy (i.e., removal of the inner lining of the carotid artery to improve blood flow), and carotid artery stenting (i.e., insertion of a metal mesh to hold the artery open) for ischemic stroke and endovascular coiling and surgical clipping procedures for hemorrhagic stroke, all of which are best performed at a high-volume CSC with advanced neuroimaging capabilities.
"For years, MUSC Health Neuroendovascular Surgery team members have been recognized worldwide as thought leaders in stroke and cerebrovascular disease, pioneering endovascular devices, surgical techniques, and outcomes research," says Raymond D. Turner, M.D., Co-Director of the MUSC Health Comprehensive Stroke & Cerebrovascular Center. "CSC certification is another validation of the best-in-class care and clinical outcomes our program provides for patients in South Carolina and beyond."
As a CSC, MUSC Health is also able to provide round-the-clock neurocritical care for stroke patients, which is not typically available at a PSC. MUSC Health offers a 16-bed dedicated neurocritical care unit and the 24/7 availability of a consulting neurologist.
MUSC Health serves as a resource for the state, not only by treating the most complex cases but by partnering with other hospitals to coordinate stroke care so that patients are treated by facilities offering the level of care they require, as close to home as possible.
"We're helping empower our partners to treat stroke patients closer to home," says Holmstedt. "But when more advanced care is needed, as a CSC we have the education, training, physicians, and technology to treat and care for the most complex stroke patients."
For more about the MUSC Health Comprehensive Stroke & Cerebrovascular Center, visit MUSChealth.org/neurosciences/services/stroke. For more about types of stroke center certification, visit The Joint Commission website.