Division of Infectious Diseases Welcomes New Director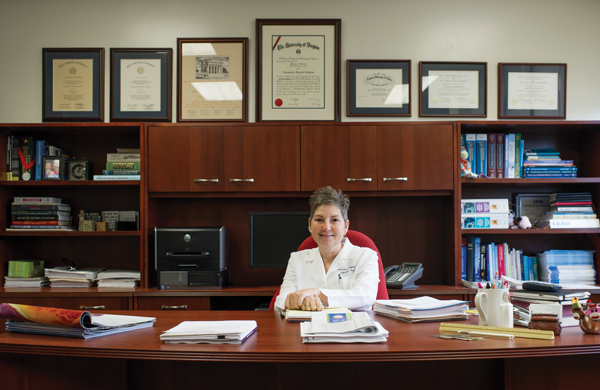 Cassandra D. Salgado, M.D., MS, Professor of Medicine and Public Health, has been named Director of the Division of Infectious Diseases, Department of Medicine. Salgado continues in her role as MUSC Health's hospital epidemiologist, serving as Medical Director of Infection Control. She came to MUSC in 2004 following her fellowship in infectious diseases at the University of Virginia Health Systems. She obtained her medical degree from West Virginia University School of Medicine and completed her internship and residency at that institution. She holds a Master of Science in Health Evaluation Sciences and Epidemiology from the University of Virginia. Salgado is the author of numerous articles about her research, the editor of two textbooks, and editorial reviewer for 20 medical journals.
"Dr. Salgado brings a combination of everything that we look for in a division director, including leadership and a commitment to our core missions of research, patient care, and education," said Don C. Rockey, M.D., Professor and Chair of the Department of Medicine. "I'm absolutely delighted that we were able to recruit her to this position."
The division's work comprises MUSC hospital services, clinical care (inpatient and outpatient), research, and education. Salgado has identified several opportunities for growth to complement existing faculty expertise and guide recruitment. These include expansion of the hospital epidemiology services and outpatient HIV care; research in infection prevention, and control, antimicrobial stewardship, HIV, and the immunocompromised host; and offering academic fellowship training and scholarly activity for residents and medical students.
Salgado foresees opportunities to expand certain services beyond MUSC Health's current hospitals and clinics. "I'm very excited about the direction in which MUSC Health's is going. I hope that our division will be able to find ways to offer our services to more patients at our affiliated sites," Salgado said.
Salgado's research focuses on the investigation of outbreaks, prevention of hospital-acquired infections, and prevention, and control of antimicrobial resistance. In 2014, she received the Lewis W. Blackman Patient Safety Champion Award: Innovation and Research Category for her work in reducing resistant bacteria in patient care areas. Her publications have been cited so frequently by her peer investigators that she was included in the 2015 Thomson Reuters "The World's Most Influential Scientific Minds," a listing of 3,000 scientists worldwide who have contributed markedly high numbers of top-cited papers from 2003 to 2013. In clinical care, her leadership was key to an 80 percent drop in central line–associated bloodstream infections (CLABSI) in MUSC Health's hospitals between 2005 and 2013. MUSC Health's was recognized by the Department of Health and Human Services and Critical Care Societies Collaborative in 2013 for this CLABSI reduction.
On many levels, Salgado is excited about her new position. She looks forward to the numerous opportunities to improve public health that will be provided by MUSC Health's partnering with other health care entities.