Conversation About Palliative Care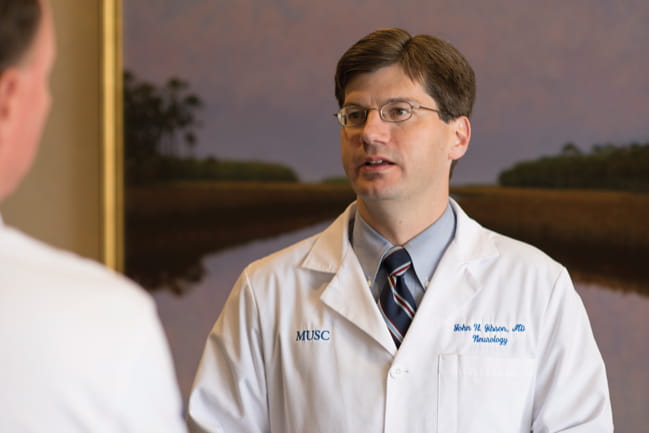 The palliative care program at MUSC Health has expanded rapidly since Patrick J. Coyne, MSN, began as director in July 2015, growing from two physicians and a nurse practitioner to a 16-person interdisciplinary team. Coyne joined MUSC Health from Virginia Commonwealth University, where he ran one of the first palliative care programs in the country for 24 years.
MUSC Health's program now offers palliative care services to both adults and children. Adult services are provided through both an inpatient consult service and an outpatient clinic at MUSC Hollings Cancer Center.
A palliative care fellowship program has been developed to help meet the rapidly growing demand for palliative care providers. In addition, Coyne is training care givers throughout rural South Carolina in palliative care, leading two-day CME-eligible courses at South Carolina Area Health Education Consortium sites.
Progressnotes sat down with three members of the expanded palliative care team — physicians John H. Gibson, M.D., and Jennifer D. Dulin, M.D., and social worker Kate Rogers, MSW.
PN: What do you find most satisfying about working in palliative care?
JD: That it is about the patient, the person. Palliative care does not isolate disease but focuses on the person. Too often in medicine we get fixated on labs, tests, medicines — what can be done — and we forget the patient who is sitting right in front of us. Palliative care brings the individual back into focus. Being a physician is incredibly humbling; being a palliative care physician is even more so. It's amazing that people invite me in and let me take care of them at such a vulnerable time. There is no higher honor.
KR: I think what I find most satisfying is the way that patients open up to our providers and team. It's satisfying — and integral to the work we do — to be given the time to sit down and talk with patients and to meet with families.
JG: I value most the integrated nature of the care. This system provides the resources the patients and families need.
JD: Every morning we round as a team. This includes clinicians — physicians, fellows, and nurse practitioners — as well as social workers, chaplains, volunteers, and our volunteer coordinator. Dietary joins us on Mondays and Thursdays, an occupational therapist is available in clinic on Tuesdays and speech therapy is very supportive. Not only do we round with the team, but the whole team works with the patient and family. Our interdisciplinary team allows us to focus on the whole person — extending beyond the individual patient and including the family. Palliative care takes into consideration everything that's going on with the patient and family and strives to provide them with the care and resources they need.
PN: What are the goals of palliative care?
JG: The outpatient clinic is designed for people who are still pursuing active treatment. It's symptom managing and counseling as they go through the stresses of treatment. We also help them plan for what happens if things don't go the way we hoped.
KR: If a patient is hospitalized in a pain crisis, it can be difficult for him or her to get back to therapy. Palliative care allows the patient to get back to therapy and to have better outcomes than he or she would have had otherwise.
JD: We help manage symptoms as well as help the patients identify goals of care. We "hope for the best, but plan for the rest." Sometimes we alleviate burdens by building relationships with patients, by showing them that they can be less symptomatic, tolerate things and enjoy life. When they are ready, we talk about what they want. Patients sometimes tell us when things have become too burdensome. It's hard to have those conversations with family members or their treating physicians. They don't want to look like they are giving up.
PN: How does palliative care benefit families as well as patients?
KR: We focus not just on the patient but also on the family, whatever the patient defines it to be, as our unit of care. Bringing in the additional disciplines is how we provide that support and we try to gauge the family at every stage of the process.
JD: We provide support and educational resources to the family. Some patients are not able to engage with us because of the advanced nature of their illness or medical status. The family looks to us as a source of information, and we in turn rely on the family as the expert on the patient and his/her desires. We recognize that what the patient is going through is affecting the family, and that what the family is going through is in turn affecting the patient. Including the family helps us provide optimal care.
Pain Control Almost Too Good to Believe
Scrambler therapy (Calmare™ Therapeutics, Fairfield, CT), now available at MUSC Hollings Cancer Center, successfully relieves pain in four of five patients with chemotherapy-induced or diabetic neuropathic pain. Success is defined as a reduction of 30 to 50 percent in pain levels, but Hollings has seen pain reduction rates well above 50 percent in many patients. The therapy is also effective for pain due to failed back surgery or postherpetic neuralgia.
"The device is thought to work by perceiving a nerve firing and then firing against it to block the nerve," says Patrick J. Coyne, MSN, director of palliative care at MUSC Health and one of the first to conduct a pilot trial of the new therapy.
When first approached about the device, Coyne was skeptical of the pain reduction claims made by the manufacturer. He and a colleague set out to test, and likely disprove, those claims in a pilot study. "But damned if the device didn't work," says Coyne. Skeptical of the results of that trial, physicians at Mayo Clinic ran their own study, confirming the device's efficacy. Mayo Clinic now has its own Scrambler clinic. The Hollings Scrambler clinic is the only one in South Carolina or surrounding states.
For Scrambler therapy, electrodes deliver electric currents to affected areas for 30 to 45 minutes per day for ten days straight, excluding weekends. Patients can return for a three-day booster treatment if pain recurs. Scrambler therapy is approved by both Medicare and Medicaid.
"It has turned so many lives around," says Julie Watson, the palliative care RN coordinator who runs the Scrambler clinic at Hollings. "Some patients have such severe pain they can't even be touched or do certain activities. Changes after treatment may include being able to smile without pain, play on the floor with their grandkids, walk the mall, drive their car, take a hike or even go dancing without burning pain in their feet." To meet the high demand for the new therapy in the region, Hollings plans to acquire a second machine and to hire additional clinic staff in coming months.