Jerry A Mansfield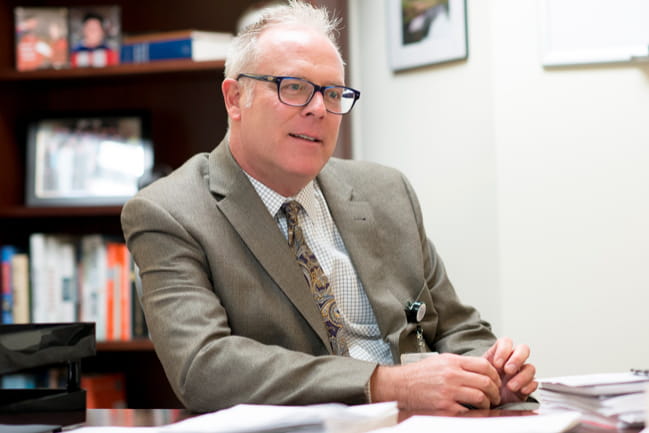 MUSC Health Welcomes New Executive Chief Nursing Officer
Jerry A. Mansfield, Ph.D., RN, NEA-BC, joined MUSC Health in August 2016 as the executive chief nursing officer (ECNO) and the chief patient experience officer.
As ECNO, he will set the strategic vision for nursing and lead the effort for Magnet® redesignation. MUSC received Magnet® designation in 2015 and will apply for redesignation in September 2018. Only 7.7 percent of hospitals nationwide achieve Magnet® and only 3.3 percent earn redesignation.
As chief patient experience officer, he will ensure that patients receive quality, coordinated care across the enterprise. Mansfield thinks MUSC Health CEO Patrick J. Cawley, M.D., MHM, FACHE, described the role best at his interview as "somebody who gets up every morning and is thinking about patient experience as a significant part of his or her role."
Mansfield brings to the new position more than 30 years of health care experience, 11 years at OhioHealth and 20 years at The Ohio State University (OSU) Wexner Medical Center. He began as a bedside staff nurse, but his interest in having a broader impact on the quality of patient care led him into administration. "I wanted to improve the work environment where we practiced," says Mansfield. "My idea was if we improved that, we would help our patients and their families even more."
Before joining MUSC Health, Mansfield served as chief nursing officer (CNO) for two hospitals at The Ohio State University (OSU) Wexner Medical Center. His 20-year record at OSU is testimony both to his versatility and his willingness to embrace innovation. There, he served as the first CNO in a community-based hospital purchased by OSU, the first corporate administrator for quality, research, evidence-based practice and staff development for nursing and the first CNO for ambulatory services.
That taste for innovation will serve him well in his new combined role at MUSC Health. For Mansfield, combining the roles of ECNO and chief patient experience officer makes perfect sense because nursing care lies at the heart of the patient experience. He was attracted to MUSC Health in part because its leadership wholeheartedly agreed with that assessment. "To hear Chief Operating Officer Matt Wain say that 'Nursing is the group that spends the most time with patients in the most settings and thus has the greatest potential to impact the patient experience' edified my choice," says Mansfield.
Another personal goal of Mansfield is to align performance improvement initiatives underway at MUSC Health to improve population health. "I'd like to work with interprofessional teams and use our data analytics to help us understand our patient population better and increase our focus and strategy about those initiatives," says Mansfield. His experience in administration in inpatient, outpatient, for-profit and non-profit settings, along with a doctorate in public health, underpins that commitment.
Mansfield's ultimate aim is simple. "In the end, I want our employees and patients not to hesitate to recommend MUSC Health to family, friends, and community members; there should be confidence that they will have a good experience here," says Mansfield.

"They should feel absolutely certain regarding their choice of MUSC Health to meet or exceed their expectations of health care. Period. End of story."