Not Your Dad's Emergency Medicine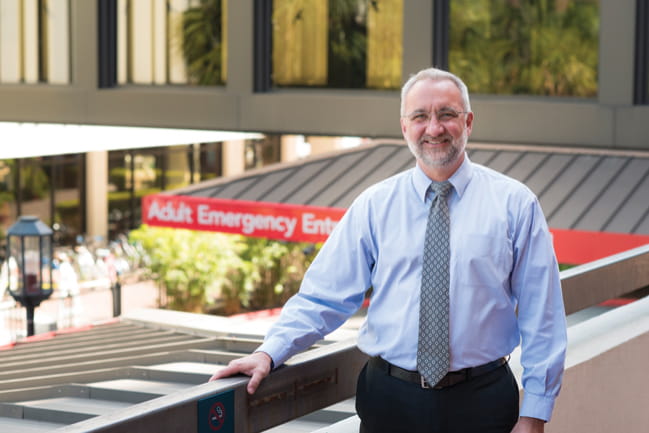 Interview With Emergency Medicine Interim Chair Dr. Edward C. Jauch
On July 1, Emergency Medicine at MUSC Health came of age, transitioning from a division to a full-fledged department. Interim Chair Edward C. Jauch, M.D., MS, sat down with Progressnotes to discuss how the specialty has evolved. Jauch, who has a more than 20-year career in Emergency Medicine and a research interest in neurosciences, is the lead author on the 2013 stroke guidelines from the American Stroke Association (ASA), a past chair of the ASA Stroke Council and the chair of the Stroke Advisory Committee for the South Carolina Department of Health.
PN: How has the definition of Emergency Medicine changed over the years?
The need for acute stabilization and resuscitation was first appreciated on the battlefields of the Korean and Vietnam Wars. Until the 1960s, emergency departments (EDs) in the U.S. were staffed solely by trainees, most of them interns. They weren't necessarily staffed 24/7 and there wasn't an established standard of ED care. But the military experience showed that specialized training and very early and aggressive therapies could actually save lives and reduce mortality and morbidity. Interest grew in creating a unique training experience, and the first programs were launched in the 1970s. Since 1979, the American Board of Medical Specialties has recognized Emergency Medicine and offers a specialty board certification. And so Emergency Medicine has evolved from care being provided by those without specialized training to care being provided by those with three of four years of formalized, dedicated training in Emergency Medicine.
PN: How has Emergency Medicine evolved at MUSC Health?
We have come a long way since the 1980s and 1990s when most of the emergency care in the area was provided by Charleston Memorial Hospital. It wasn't until the 1990s that MUSC dedicated areas to provide emergency care.
Over the past 20 years, Emergency Medicine has evolved into a dynamic academic program. We now have fellowship-trained content experts in many domains, including ultrasound, emergency medical services, global health, event medicine, critical care, and cardiology. We have Nicholas J. Connors, M.D., one of only three toxicologists in the state. These content experts share their knowledge with the community and their colleagues on campus. Each faculty member has a liaison role with another division or department because this is critically important for establishing good transitions in care. A good example is that many pediatric patients will eventually need emergency services in the adult world. Building strong ties with our pediatric colleagues helps ensure that children with life-long conditions, such as autism, cystic fibrosis, congenital cardiac conditions or sickle cell disease, transition seamlessly from pediatric to adult emergency care.
Since 2007, we have been educating the next generation of Emergency Medicine physicians in our residency training program. Although the program has existed for only ten years, it attracts 1,200 residency applicants a year for just six positions. That reflects how well MUSC Health is viewed in the Emergency Medicine community. We have fellowships in ultrasound and global health, and we anticipate a fellowship in emergency medical services (EMS)/ prehospital emergency care in the near future.
PN: How do prehospital management experts interface with the community?
Every EMS or prehospital service that provides acute assessment, care and transport of a patient requires a physician medical director. Up until about five years ago, none of the medical directors for fire departments or emergency services in the Lowcountry had any formal relationship with MUSC Health. This is quite alarming as we offer tertiary and quaternary care and have the only level-1 adult and pediatric trauma centers, pediatric burn center and comprehensive stroke center in the region. Over the past four years, we have very deliberately recruited leading faculty such as David M. French, M.D., who has formal EMS training, was the EMS director at Baylor University and is now the medical director for Charleston County EMS and the consolidated 911 center. Christine M. Carr, M.D., W. Brett McGary, M.D., L. Wade Manaker, M.D., and I also provide medical direction for numerous agencies in the Lowcountry, including the fire departments for Charleston, North Charleston, Mount Pleasant, Sullivan's Island, Isle of Palms, and St. Johns; the Berkley County EMS; several paramedic training programs, and Meducare Air and Ground. Because we are now working with every agency that is engaged in responding to an emergency, we can ensure consistent quality of care for everyone in the Lowcountry. Our new department has recruited another EMS fellowship–trained expert in event medicine, Dustin LeBlanc, M.D., who will help lead our event medicine outreach efforts, including the Cooper River Bridge Run. Many of our physicians also serve at the state level to help drive policies that elevate emergency care across the state and ensure that it is adherent to national guidelines. Since several of us are involved at the national level in establishing best practice, it is easier for us to bring what we know is best science and clinical practice at the national level home to South Carolina.
PN: What do you find fulfilling about a career in Emergency Medicine?
It is a privilege to be part of a patient's moment of need. The opportunity to make the experience for the patients and families as tolerable as possible and to show compassion during a time of crisis is a privilege.
It's also a privilege to be the first point of contact for people who do not normally engage the health care system. Showing empathy and compassion encourages the person to continue to engage health care, and not just in the emergency setting. We have an obligation to make sure that the first contact or the rare contact is a good one. A crisis precipitated by some behavior is an inflection point, a teachable moment. Working with someone addicted to heroin is very difficult, but if you revive that person after an overdose, that is a moment when a physician interaction may resonate more than seeing a billboard that says drugs are bad. We initiate a lot of public health projects here — we screen for HIV and hepatitis C, participate in smoking cessation interventions and screen for domestic violence. Will I solve these challenges in the ED? No, but I can make a dramatic difference by getting those patients engaged in the health care system long term. And if I don't do that, and that patient doesn't see a physician again, then we have lost an opportunity. It's these human interactions and contacts that are a privilege. They offer a great opportunity to make the quality of someone's life better in the long term.