Aspiration as Good as Stent Retrievers for Large-Vessel Clots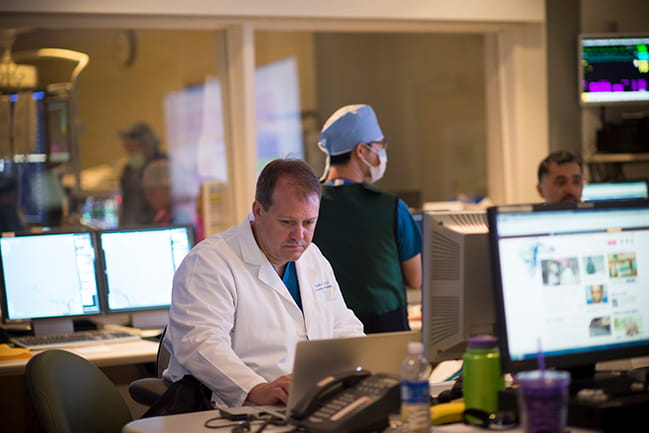 An interview with a principal investigator for the COMPASS trial
Neurointerventional radiologist Aquilla S. Turk, D.O., is one of the principal investigators (PIs) for the COMPASS trial, a head-to-head comparison of the direct-aspiration, first-pass technique (ADAPT), pioneered at MUSC Health, and stent retrievers for thrombectomy of large-vessel clots. The other PIs for the trial are J. Mocco M.D., MS, of the Icahn School of Medicine at Mount Sinai and Adnan Siddiqui, M.D., Ph.D., of the Jacobs School of Medicine and Biomedical Sciences at the University at Buffalo.
Stent retrievers, the current standard of care for mechanical thrombectomy in patients with acute ischemic stroke, are cage-like devices that are used to "engage" and then remove the clot. ADAPT, developed at MUSC Health by Turk, fellow neurointerventional radiologist M. Imran Chaudry, M.D., and neurosurgeons Alejandro M. Spiotta, M.D., and Raymond D. Turner, M.D., uses a large-diameter aspiration catheter (ACE68™, Penumbra) to remove the clot in its entirety.
Preliminary findings from the trial were presented at the International Stroke Conference in Los Angeles in January 2018. They showed that comparable functional outcomes and revascularization rates were attained by ADAPT and stent retrievers in stroke patients with large-vessel clots. ADAPT was also shown to reduce procedure times and to be more cost effective. The full results of the COMPASS trial, including the economic data, will be presented at the annual Society of Neurointerventional Surgery meeting in San Francisco in July.
Progressnotes sat down with Turk to learn more about ADAPT and the COMPASS trial results. 
PN: How is aspiration used to remove large-vessel clots?
Aspiration is something that we happened upon back in 2013. The seminal case for us was one where we actually did a thrombectomy using a large catheter with a stent retriever through it. We pulled the stent retriever out, and there was nothing on it, but the catheter was clogged. So we pulled the catheter out, thinking that we would have to go back up and do it again, and the large clot was embedded in the end of the catheter. So a light bulb went off for us. That's what started us trying to use aspiration alone.
Before that, the company (Penumbra) sold the catheters, but they had these little wires with stoppers on the end that they used to break up the clot and then clear the end of the catheter. But that just fragmented the clot and sent more of it downstream. And we'd have to work our way through the vascular tree to open one-sized vessel, and then go to the next smaller, and the next smaller. With aspiration alone, we were able to pull the entire clot out without breaking it up the majority of the time.
So it gave us an idea — if we can just take a catheter, drive it to the clot, turn on suction and then pull the clot out, or have it get sucked out through the catheter, that would be much simpler and really a home-run way to go.
PN: Can you describe the preliminary findings of the COMPASS trial?
The COMPASS trial randomized patients with a large-vessel occlusion to either aspiration or stent retrievers as a first approach. After three attempts, any measure could be used to open the blood vessel.
The preliminary results seem very encouraging. There was a French study doing the same trial design, ASTER, which was released this past year. The ASTER investigators showed that stent retrievers and aspiration had similar outcomes clinically and that there wasn't a significant difference angiographically. From what we've seen so far, our results are almost identical. Our primary end point was functional outcome — whether the patients were able to be functionally independent (defined as a modified Rankin score of 0-2). In the ADAPT arm, about 51 percent of patients had a modified Rankin score of 0 to 2, whereas, in the stent retriever group, 49 percent of patients were functionally independent. So, there was not a significant difference between the two.
PN: What are the advantages of ADAPT?
ADAPT is very simple to do. Whether neurointerventionalists, cardiologists, peripheral interventionists or vascular surgeons — we all drive catheters over wires through blood vessels. And if the goal is just to take a catheter and drive it to the level of occlusion, and that's all you have to do to get it open, that's about as easy as it gets. So that also implies speed and safety because you're not having to deploy multiple devices. And it implies lower costs. It's just one of those common sense approaches across the board. If it's that simple, it should be the easiest way to go.
So for me the COMPASS trial was just the final, validating study that gives us Level 1 evidence that, in a head-to-head trial against stent retrievers, aspiration is at least as good. And certainly, to me, aspiration is the way to start doing a thrombectomy procedure. I say that because you simply drive the catheter to the face of the clot. You attempt aspiration a couple of times. If it doesn't work, then you add a stent retriever. If you do that approach, you'll have at least as good a success as you would using a using a stent retriever first approach, but it will be cheaper and faster.