MUSC cancer researcher appointed to national leadership positions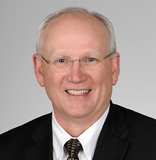 Cancer researcher Raymond N. DuBois, M.D., Ph.D., dean of the College of Medicine, was recently named to two positions in the cancer community. DuBois was elected vice chair for the Stand Up 2 Cancer (SU2C) Scientific Advisory Board, and he was named to the newly formed six-member Steering Committee for the AACR (American Association for Cancer Research) Academy.
The AACR Academy was established to honor distinguished scientists whose major scientific contributions have propelled significant innovation and progress against cancer. The AACR Academy Steering Committee will provide ongoing advice and counsel to the AACR leadership on scientific and policy topics as well as other matters of importance to the cancer field.
DuBois served as AACR president from 2008 to 2009 and was elected an AACR Fellow in the inaugural class in 2013. He is a former member of the SU2C Management Committee and is currently chair of the SU2C Catalyst Industry Steering Subcommittees and serves on the Scientific Advisory Board as a reviewer.
DuBois was also named editor in chief for Cancer Prevention Research, a journal published by the AACR, effective July 1, 2018.