Patrick J. Cawley, M.D. MHM, CACHE
CEO, MUSC Health and Vice President for Health Affairs, University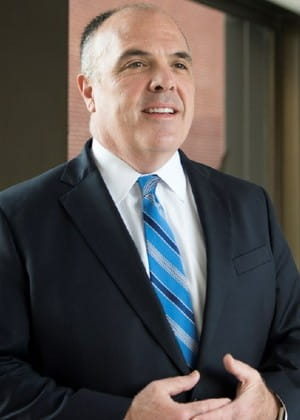 2018 was a year of breakthroughs for MUSC.
Not the least of which came when MUSC and Siemens Healthineers announced a transformational partnership that is unlike any other in MUSC's 194-year history.
As Siemens Healthineers CEO Bernd Montag observed: innovation in health care can only happen when experts in technology team up with experts in medicine. Here are some examples of that happening at MUSC.
Artificial Intelligence is taking its place along side human intelligence. Big data that represents the profiles of millions of patients is being analyzed to identify risk factors and point to treatments with much higher probability of successful outcomes.
A form of artificial intelligence known as deep learning is helping primary care physicians treat chronic liver disease earlier and neurologists predict epilepsy surgery outcomes. When trained on appropriate datasets, machine-learning algorithms being developed at MUSC are able to make precision medicine that much more precise.
Using artificial intelligence and bioinformatics, MUSC scientists have created an Instagram-like snapshot of immune system proteins that can predict cancer patients' responses to immunotherapy.
There other kinds of breakthroughs in devices, procedures and even business models.
MUSC physician scientists have developed a novel lung cancer treatment using two drugs that have never been combined in humans before.
The MUSC Zucker Institute for Applied Neurosciences has brought together the worlds of engineering and medicine to speed the translation of innovative technologies into our clinics.
As part of an expanding network, MUSC acquired four hospitals – something it has never done before – to provide quality care to communities across South Carolina.
Please read on to learn about other things happening today at MUSC that almost seem like science fiction – but are quite real.
These breakthroughs in surgery and clinical care are taking place at the intersection of technology and medicine. That's how we are changing what's possible.