Transformative Teamwork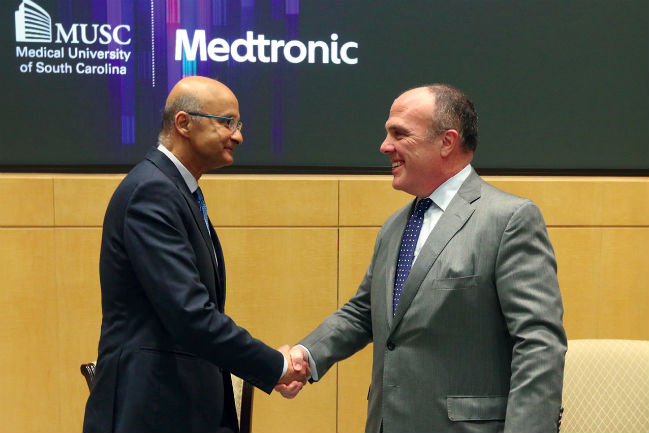 MUSC and Medtronic partnership aims to enhance care, reduce costs
by Helen Adams
Just about every week, MUSC Health vascular surgeon Ravi Veeraswamy, M.D., sees a patient with gangrene in the toes due to vascular disease that has cut off the blood supply. Sometimes, it's too late to avoid amputation.
"At that point in the disease, we don't have as many options," he said. "We underestimate how reluctant patients are when it comes to seeking medical care, especially those in rural or suburban areas. They're waiting until their condition becomes unbearable to seek care."
He's hoping that will change under a new partnership between the Medical University of South Carolina and Medtronic, one of the world's largest medical technology, services, and solutions companies. The five-year deal is aimed at identifying health problems earlier, streamlining and improving care, and simultaneously reducing costs.
It will combine MUSC's clinical and academic expertise with Medtronic's therapies, technology and operational knowledge.
Early areas of focus in the MUSC-Medtronic partnership include:
Vascular disease
Tracheostomy procedures
Respiratory monitoring after surgery.
MUSC President David J. Cole, M.D., calls the agreement transformative. "We believe this partnership will help us find new ways to deliver the best outcomes for patients at the lowest cost possible.
That's the true meaning of value-based health care."
Omar Ishrak, Ph.D., chairman and CEO of Medtronic, said health care has to move in this direction. "We recognize that the shift to value-based health care is hard work, but we truly believe this approach offers the best pathway to better outcomes and reduced costs. It requires a new way of thinking and the involvement of many stakeholders. It will take time. But we'll get there."
The leaders of both MUSC and Medtronic see the future of health care as a system where payment is based on patient outcomes, not volume. That means catching diseases early, before they escalate, and flagging people at risk for problems so they can get preventive treatment. Both believe that patient outcomes will improve and care will be less expensive as a result.
MUSC Health doctors will continue to make their own decisions about patient care but now will have more data, thanks to Medtronic, to help guide those choices. Both teams hope to develop new delivery and payment systems that can benefit the health care system as a whole, well beyond MUSC.
And since MUSC is an academic medical center, there will be opportunities for joint research and publication as well as an educational focus. The partnership will mean the development of new curricula to educate future health care providers.
Veeraswamy likes the partnership's emphasis on pushing for better results for patients. "This is a data-driven process. We take current patient demographics on things like smoking, obesity, geo-location and build an algorithm that defines their risk profile. We apply this algorithm to other patients, and as we gather more data and more outcomes, our ability to predict who is at risk for the disease will improve. Partnering with Medtronic will allow us to continuously improve the care we provide our patients."