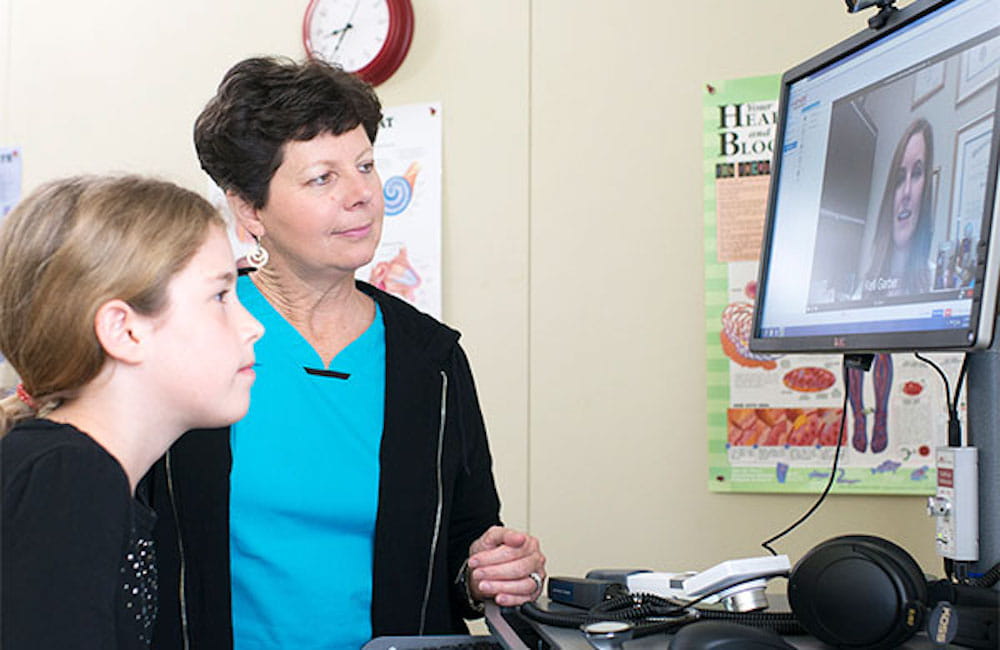 For a lot of kids, trips to the school nurse aren't what they used to be. The Medical University of South Carolina's Center for Telehealth is working with 20 schools across the state, up from just three when it started in 2014, connecting sick children with specialists at MUSC through secure videoconferencing. In other words, the kids can be examined by an expert without leaving school.
Elana Wells, program manager for School-Based Health at the MUSC Center for Telehealth, said it covers everything from rashes to ear infections to asthma. In some schools, including one in Williamsburg and several in Charleston, mental health care is being offered as well. "School-based health centers have been shown to increase health access for rural children, decrease emergency room visits, decrease absenteeism, improve chronic disease management and improve academic performance," Wells said.
Recently, an MUSC nurse practitioner who works with those schools described how it helped a boy she called J.T. (not his real name). Kelli Garber's story first appeared in the American Academy of Pediatrics' spring 2016 newsletter. 
J.T. is a 7-year-old boy who has asthma. He lives with his grandmother, along with 5 other children. His mother comes and goes and his father is not involved. 
His grandmother does her best to care for her grandchildren, but with so many young ones at home, she often directs J.T. to take his own medications with little or no supervision. He often coughs with exertion, which limits his activity, especially at recess. He also coughs at night, while sleeping on the floor with the other children in the only heated room in his house. 
Illness typically triggers significant wheezing and trips to the emergency department. But rarely does he see his primary care provider. Transportation, child care and financial barriers often get in the way.
On a recent Tuesday, J.T. went to the nurse at his elementary school with significant wheezing. With no medications on hand to treat him, she would typically have to send him to the emergency room. But thanks to the School-Based Telehealth program at MUSC, she had access to pediatric health care right in her office. 
J.T.'s grandmother had completed consent forms at the beginning of the school year, so the nurse was able to confirm consent by phone and refer him to be seen via telemedicine. Through the use of secure video conferencing technology, an electronic stethoscope and digital otoscope exam camera to check his ears, he was able to be evaluated in real time by a pediatric nurse practitioner at MUSC. 
J.T. was diagnosed with an upper respiratory infection, pneumonia and an exacerbation of his asthma and was given albuterol nebulizer treatments in the office, as well as oral prednisolone. After a period of observation, he returned to class. Prescriptions for albuterol, an antibiotic and prednisolone were called to his local pharmacy and his grandmother was informed by phone.
About the Author