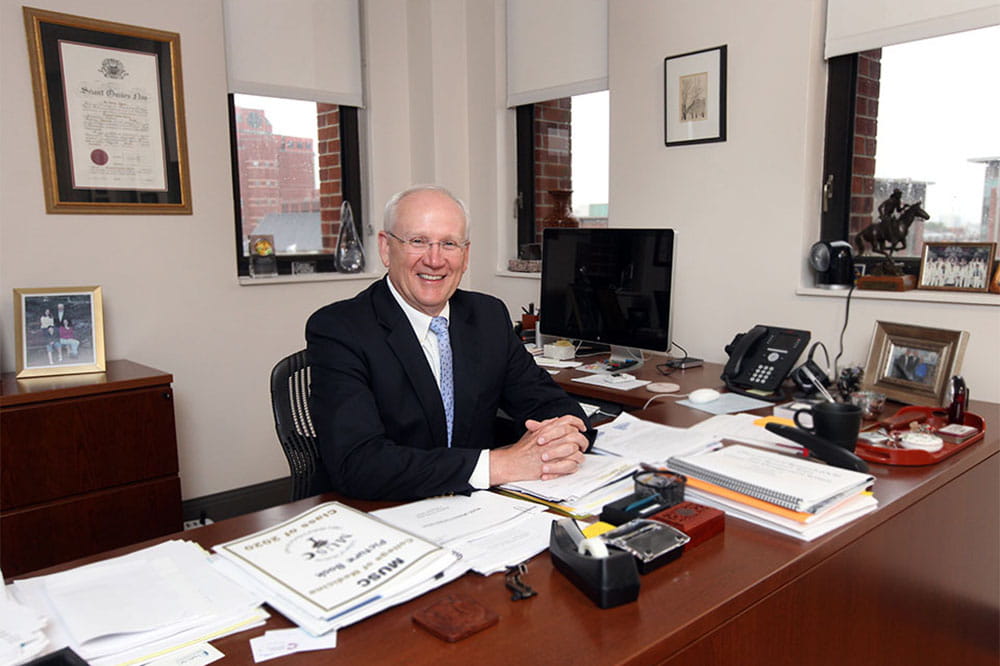 The numbers tell the scope of the project. There are 30 researchers collaborating across academic and corporate borders to roll out 10 Stand Up to Cancer (SU2C) Catalyst clinical trial projects that combine cancer treatments from nine different pharmaceutical companies.
The news announced Oct. 12 by SU2C brings a smile to the face of Raymond N. DuBois, M.D. Ph.D., researcher and dean of the College of Medicine at the Medical University of South Carolina. As a past member of the executive management committee for SU2C and chair of the donor-specific SU2C Catalyst steering subcommittees, he has been working on this effort since its inception. He praised the rollout and is eager to see how this group will influence how cancer research will be done in the future. The goal is to explore innovative approaches and accelerate cancer breakthroughs getting to patients' bedsides.
The 10 inaugural clinical trials being launched will address a wide variety of cancers, including breast, lung, melanoma, multiple myeloma, ovarian, pancreatic, hypermutant pediatric cancers, sarcoma and urothelial cancer. The focus of SU2C Catalyst clinical trials is to promote novel treatments in combinations with other pharmaceutical companies' medicines, devices and therapies as well as standard-of-care treatments.
DuBois' Q&A captures why this is such an advancement.
Q: What's your reaction to the news that Stand Up To Cancer has awarded 10 SU2C Catalyst clinical trial projects?
I have been involved in developing this program over the past two years, so I was elated that SU2C was able to provide support for these 10 outstanding projects. SU2C Catalyst projects investigate why the combinations work, not just if the combinations work. We've seen the astounding potential of immunotherapy, but it's still somewhat of a black box. We don't always know why it only works for certain people and not for others.
Q: Why is this innovative, and how will it potentially benefit the public?
These programs are truly innovative because they match academic and industry partners with significant support to test unique combinations of agents with cancer immunotherapeutics to help improve clinical responses and outcomes. The three companies involved, Merck, Genentech and Bristol-Myers Squibb, are allowing their drugs to be tested and combined with agents from other companies to determine their effectiveness. This will dramatically accelerate the process of getting these effective combinations approved for use in all cancer patients.
Q: What do you wish the public knew about these trials?
The details of each of the trials are provided online and some of these are highly innovative. For example, the combined approaches of immune checkpoint inhibition for hypermutant cancers by Uri Tabori at The Hospital for Sick Children in Toronto have shown some very dramatic responses in children whose cancers have a particular molecular profile.
Q: It's estimated the novel way the industry and academic collaboration has been set up reduces the time for SU2C to get clinical trials started by more than 75 percent. How is that possible and what does that bode for the future of how cancer research will be done?
The projects selected for funding are chosen very carefully, and only those that are truly ready to be launched are selected. Significant resources are provided so that there are no financial barriers to getting patients enrolled in the trial. In the future, cancer research will continue to be done in several ways and supported by many different agencies and foundations. At SU2C, we are most interested in accelerating the progress on those areas that have the most promise and will have the biggest impact on the clinical front.
Q: What is your role as chair of the donor-specific SU2C Catalyst steering subcommittee?
My role is to choose the members of the grant review committees, and I chair each of the review sessions. I report to the Scientific Advisory Board chair, Phil Sharp, who oversees all research activities at the Stand Up to Cancer Foundation. We first issue a research funding announcement that outlines what we are looking for and then obtain a number of applications from all over the country. We then review and score each of these applications in order to select the two to four that will be presented to the whole committee. We then allow each of the teams to present their project in person and select the teams to be funded on the same day. Once a project has been selected, we want the clinical trial to begin as soon as possible.
Q: How does this encourage researchers to be more creative?
The competition for funding is extremely high, and individual principal investigators only bring projects forward that are highly innovative and on the verge of a major breakthrough. For example, our lung epigenetics team combines two epigenetic drugs that reshape DNA with an immune-based therapy for patients with advanced non-small cell lung cancer (NSCLC). Data from this study will identify how modifications to the structure of DNA can make the tumor susceptible to immunotherapies, producing more potent treatments for NSCLC patients. In addition, the team will look for cellular markers that predict who will benefit most from this treatment. If successful, these results will not only benefit patients with NSCLC but potentially those with other cancer types. Early results indicate that some patients have had dramatic responses to these combinations of drugs.
Q: These are the first 10 clinical trials. What's next?
Some of our industry partners are interested in supporting another round of funding. There are other biotech and pharma companies interested in getting involved in this effort as well. I think that the future will depend on how successful these initial efforts are in getting effective drug combinations to the clinic. My hope is that this will be an important tool in our fight against cancer. SU2C Catalyst projects are aimed at learning how to prime people to respond and/or how to make that response last. We're not just asking if a combination works, but digging into the why, so that the results – positive or negative – drive breakthroughs for the best patient outcomes for more patients.