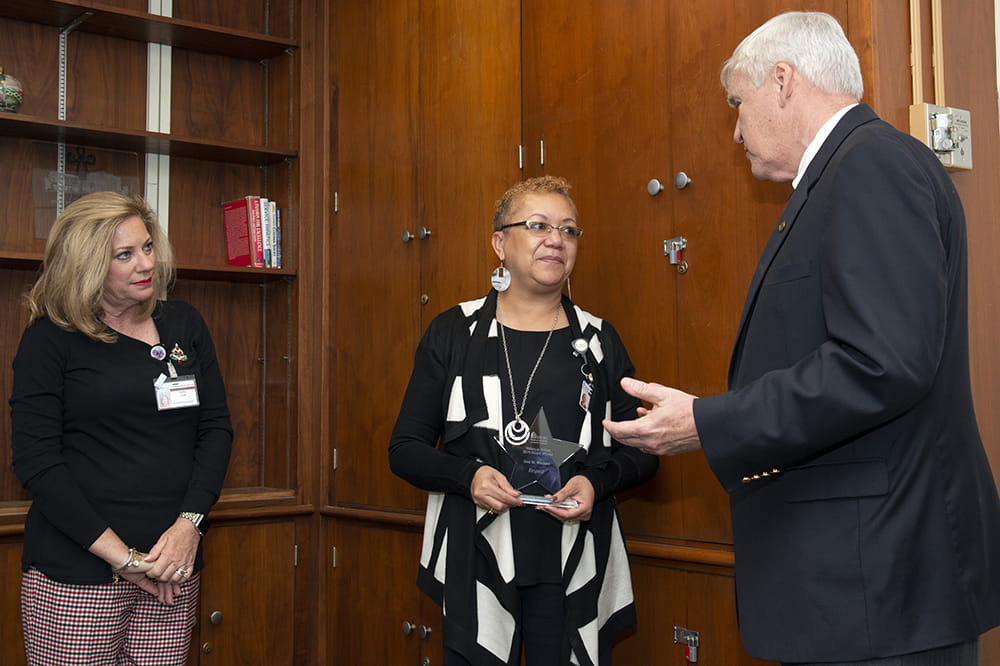 MUSC's enterprise values are at the heart of the organization.
Each day, employees embody these qualities in the care, services and work they provide across the organization and to the various communities they serve.
For the fourth year, MUSC President David J. Cole, M.D., FACS, and first lady Kathy Cole recognized exceptional employees who demonstrate one of MUSC's five values – compassion, respect, innovation, collaboration and integrity – with the President's Values in Action Award.
The award recognizes five employees who have put value to action at an institutional level throughout a calendar year (January to October) while honoring MUSC's vision statement: "Leading health innovation for the lives we touch."
This award is especially meaningful to the Coles as they are involved in every step of the process, from reviewing nomination letters and selection to personally delivering the award to recognized employees in a celebration that includes supervisors, award nominators and teams.
"It's important as an institution that all of us embrace our values. Thank you to the MUSC family and thank you for changing what's possible for the lives that we touch," said President Cole.
The 2019 winners are:
Compassion    Zeh Wellington, R.N. 
Respect           Lisa Watkins
Innovation       Marcele Guimaraes, M.D. 
Collaboration   Stephanie Iwatake, R.N.
Integrity           Tom Stever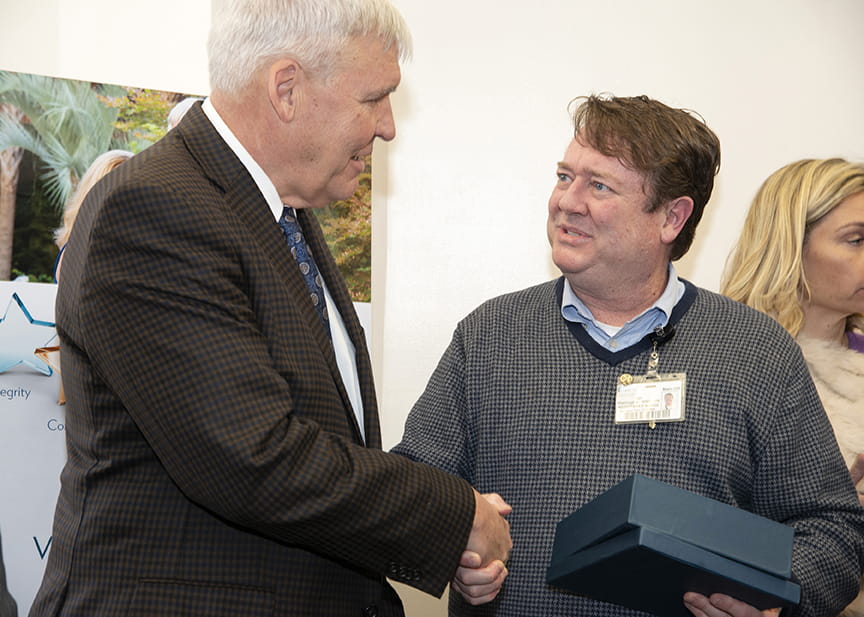 Cole presented the Values in Action Award for compassion to Zeh Wellington, R.N., interim director of the Peri-Anesthesia, Post-Anesthesia Care Unit (PACU) at MUSC Health. Wellington, who has 16 years nursing experience in the clinical environment and as a nurse leader, approaches leadership with respect, integrity, enthusiasm and compassion for his health care team members, patients and their families, wrote sponsor Andrea Coyle, R.N., professional excellence and magnet nursing program director at MUSC Health.
Wellington is a great listener, active, creative and supportive of innovative ideas shared by his health care team as well as patients and their families, Coyle said. In an effort to provide compassionate care in the PACU, he applied for and won a SHARE grant to bring a harpist into the unit to provide calm and reduce periods of stress among patients, families and care team members.
"Thank you for who you are and thank you for what you bring to our patients and what you bring to MUSC," President Cole said.
Lisa Watkins, patient and family liaison coordinator, received the award for respect. Nominated by Sheila Scarbrough and Danielle Scheurer, M.D., chief quality officer, MUSC Health Quality and Safety, Watkins was touched to receive the award from the Coles.
"This means a lot to me," she said. "It's a good feeling when someone recognizes and appreciates people's efforts. I'm grateful to Dr. Scheurer and Sheila for nominating me. Thank you Dr. and Mrs. Cole for this honor."
Often, Watkins and her small team in the patient and family liaison office are the last hope for patients and families who want to verbalize an issue regarding their health care experience. Watkins and team must be ready to listen and respond accordingly. In her nomination letter, Scheurer wrote that Watkins listens patiently to every complaint with dedication and a devotion to resolving the situation, as well as the intent to improve the care and experience for future patients and families.
"Lisa listens intently to each one and confers to them the utmost dignity and respect. She treats each person with a high level of attention and importance, which they each deserve."
"When patients aren't having a good day and are angry or upset, I do my best to let them know they're being heard. It's important that we take responsibility during the times we fall short," Watkins said.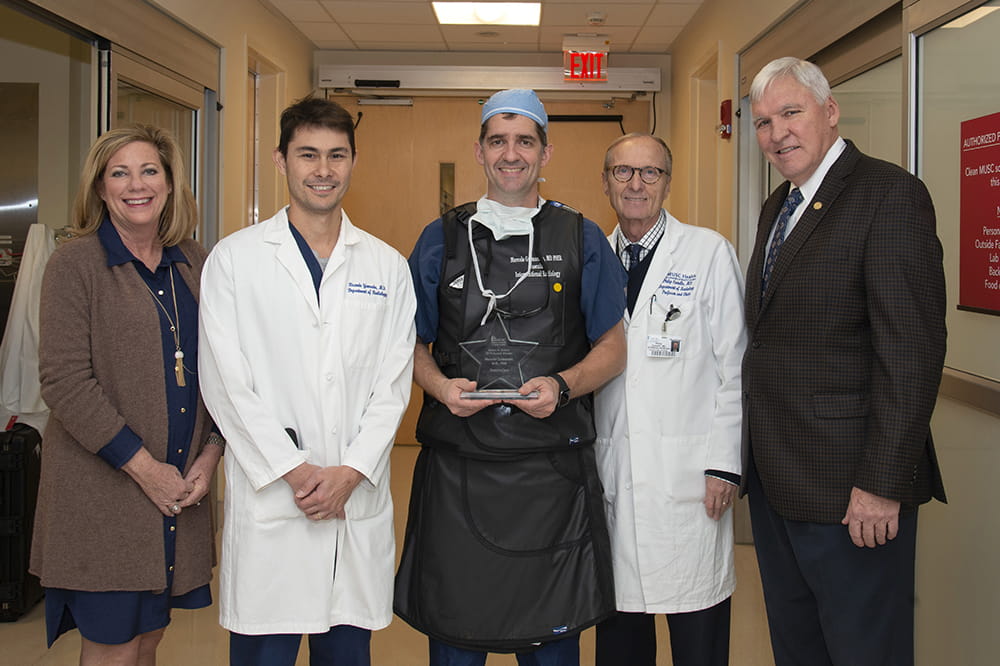 Ricardo Yamada, M.D., director of the interventional and diagnostic radiology residency program in the Department of Radiology and Radiological Science, nominated Marcelo S. Guimaraes, M.D., for the value of innovation. Guimaraes, a professor of interventional radiology in the Department of Radiology and Radiological Science, was recognized for developing a new technique to improve care and treat patients diagnosed with chronic central venous occlusion, a condition associated with chronic kidney disease. Guimaraes has also created other improvements to vascular interventional radiology procedures and operations that improve patient care.
President Cole praised the interventional radiologist. "It's important as an institution that we have values that define who we are. Dr. Guimaraes, you've done a lot for this institution through the years and I anticipate that you'll continue to do so. Thank you for being the innovator that you are at MUSC."
Stephanie Iwatake, R.N., BSN, was nominated for collaboration by Chrys Steele, information systems director at MUSC Health Lancaster Medical Center. Iwatake, who has worked at the Lancaster facility for 13 years, is the first awardee to be recognized from MUSC's four regional hospitals. She was praised for her time and commitment in helping the facility assimilate into the MUSC family.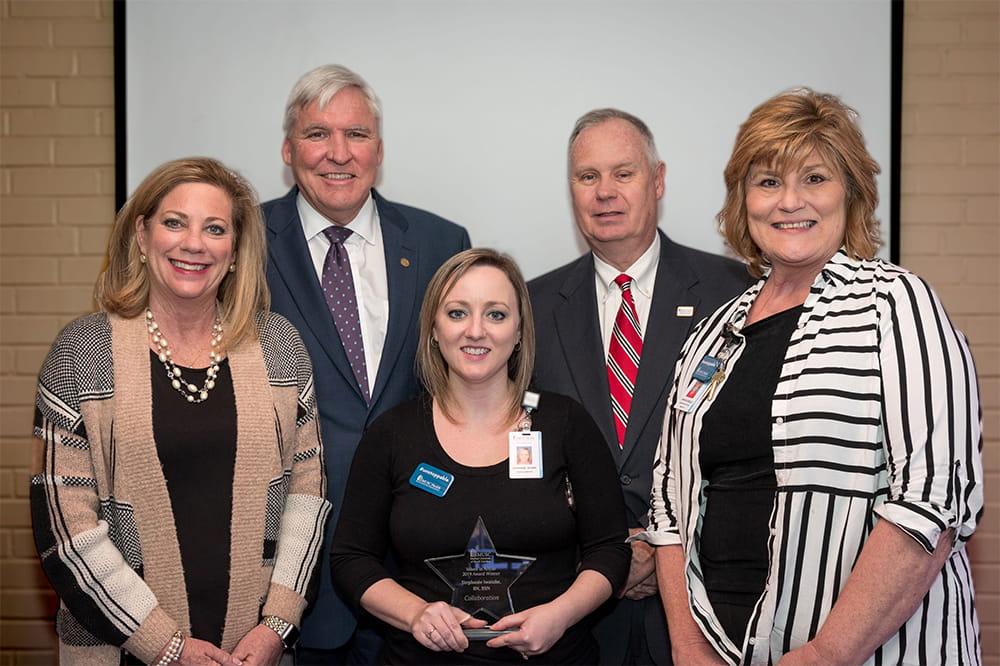 "I was surprised and honored to receive this award from Dr. Cole and MUSC. Collaboration comes in all directions. A lot of people make this work and I accept this on behalf of myself and everyone involved," Iwatake said.
Iwatake was integral to the facility's implementation of EPIC, MUSC Health's electronic health record system. She served as a clinical analyst, informatics support and staff educator for the facility and its provider clinics. She collaborated with the EPIC implementation staff, interface teams and other teams to provide data, share resources and provide support to improve best practices for the EPIC "go live" event and afterward.
Steele wrote about her colleague: "Stephanie was and continues to be instrumental in troubleshooting and assisting providers and clinicians in the use of the EPIC EHR at the facility while simultaneously working to become a credentialed instructor. She never hesitates to assist the technical and help desk with whatever she can. She worked side by side with all of her department in the last phase of hardware rollout to ensure that we met our deadlines."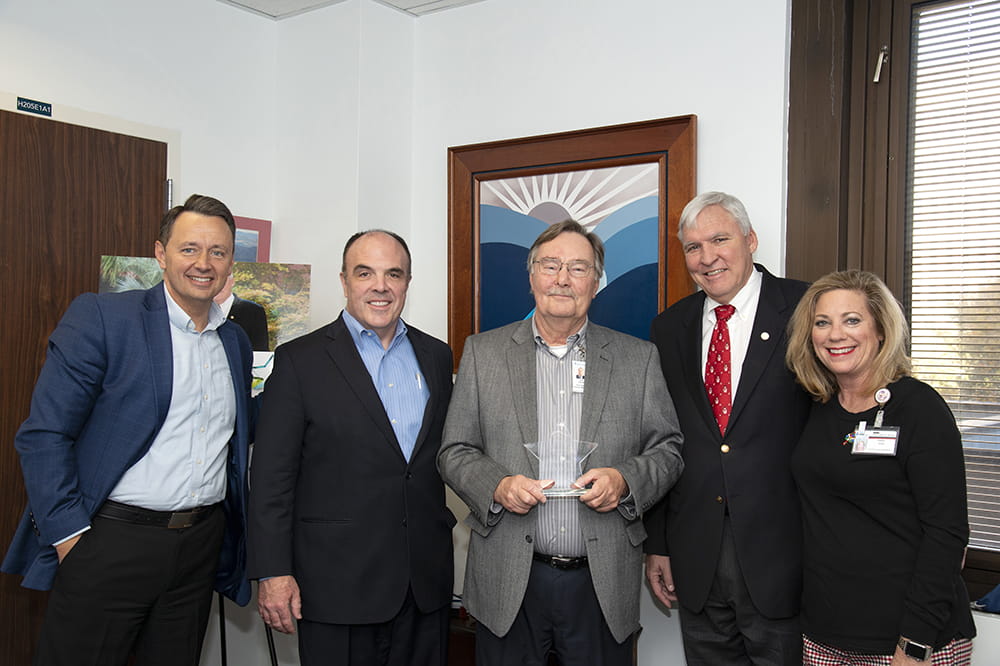 Tom Stever, planning and design manager for the Department of Facilities Management/Design and Construction Division, was recognized for the value of integrity. According to Tom Crawford, Ph.D., interim chief operating officer for MUSC Health, Stever is a campus leader who has consistently demonstrated integrity from his management of policy, procedures and state procurement perspectives.
"Stever embodies integrity through his word and actions. He treats his customers and care team members with respect and listens with great attention. He makes a difference every day through his selfless actions and contributions and for positively influencing MUSC's culture."
Happening on Facebook
Latest Tweets
Tweets by MUSCatalystNews