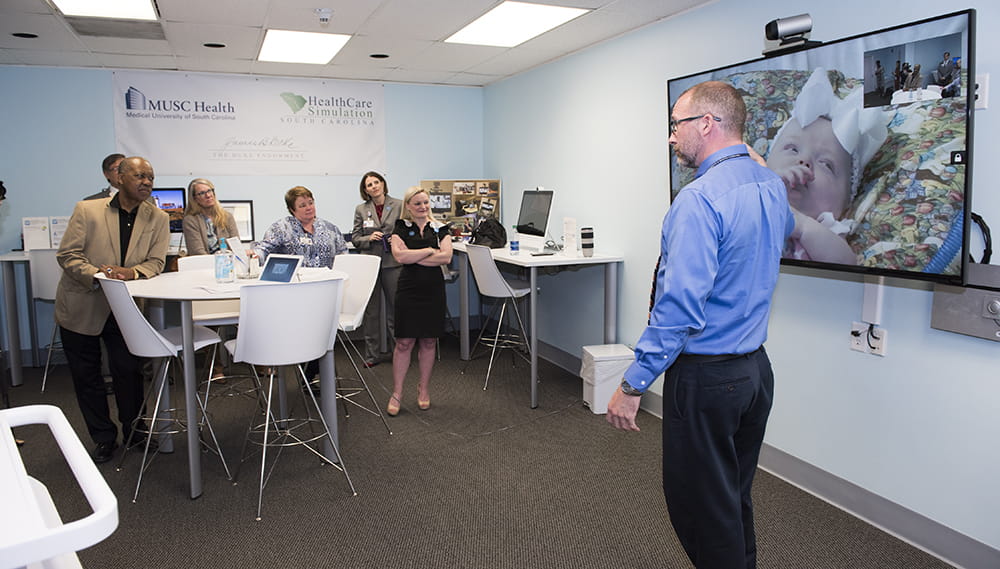 Nine-month-old Allie Martin really couldn't be any more adorable. She has a beautiful smile, and the bow on top of her head is almost as big as her face. The Horry County girl, who weighed just over a pound when she was born, is appearing live, via video, at an event showcasing the importance of telehealth in South Carolina.
Pediatric critical care specialist David McSwain is showing how telehealth technology works, but pauses to acknowledge Allie's charm: "She's almost too cute for me to continue."
It's a light moment in an event showcasing the serious progress telehealth has made across South Carolina. The Telehealth Awareness Week Demo Luncheon at the Medical University of South Carolina, hosted by the South Carolina Telehealth Alliance, is a chance to assess and look forward.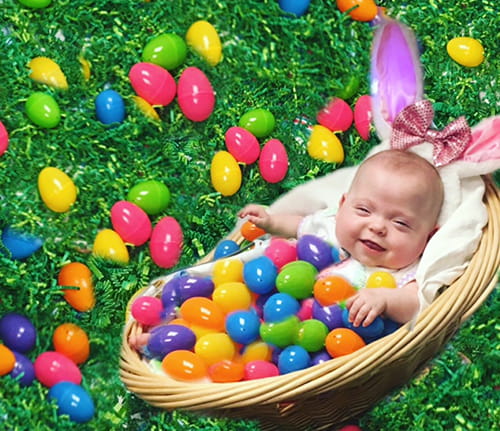 State lawmaker David Mack is among the attendees. He watches as McSwain shows how a telehealth exam would work on Allie. The little girl, born prematurely and still struggling with airway problems, is in a hospital room with a telehealth cart by her bed. It's basically a table with a camera, microphone, speaker and diagnostic equipment that can be moved wherever it's needed. McSwain, in a different building, has his own video and audio feed, along with access to Allie's records. 
"This has an eight-times zoom," McSwain says. "Wherever we call in from, we can take control of the camera" in the patient's room. "You get a really nice look at Allie. I can see she's nice and alert." He moves the camera to the ventilator that's helping Allie breathe. "She's breathing 23 times a minute," he reports. 
"I'm set up so I can call in from home and do this. I've diagnosed heart arrhythmias and respiratory failure. We've done a lot of interventions using this type of technology."
Mack, a legislator representing District 109 in Charleston and Dorchester counties who's stopped by to see the demonstration, says he'll tell other lawmakers about what he's seeing. "I'm very impressed with the detail you get to do an assessment."
That attention to detail is exactly what makes telehealth work for a growing number of people across the state, who live in communities without enough—or any—specialists. MUSC legislative liaison Mark Sweatman says state leaders have recognized how important reaching those communities is.
"Beginning in 2013, the South Carolina General Assembly committed to substantial state funding focusing on rural health care and it had immediate positive impacts for our state," Sweatman says. "As a result of this support, MUSC and the South Carolina Telehealth Alliance have improved access to specialty and emergency care across the state—all at a lower cost. For example, every citizen in South Carolina is now less than an hour away from expert stroke care. This was unimaginable five years ago. South Carolina is quickly becoming a model for telehealth across the United States."
The MUSC Center for Telehealth focuses on several key areas: neuroscience, intensive care, school-based telehealth, maternal fetal medicine, mental health, emergency care, inpatient care and trauma.
Neurologist Christine Holmstedt serves as medical director of the telestroke program and is one of the speakers at the luncheon. "In 2008, this program started with four sites," she says. "They did about 30 consults that year. Last year we ended with 3,000 consults in a year with 26 telestroke sites throughout the state of South Carolina." 
The sites are hospitals set up with telehealth equipment linking them to MUSC Health's stroke specialists. Those specialists are critically important, in part, because they can help determine if a patient should get clot-busting medicine that can make a huge difference in stroke recovery. Some ambulances have also been outfitted with telehealth equipment in Georgetown, and a stroke prevention clinic offering telehealth is opening in Orangeburg. 
Pediatrician Katie Cristaldi, medical director of school-based telehealth, speaks about her area. "We provide acute care for common childhood illnesses," she says, at more than 35 schools across the state. School-based telehealth is also being used to help manage chronic conditions such as asthma and attention deficit hyperactivity disorder.
Allie's parents say she's one of the people behind the statistics. After being released from MUSC Children's Hospital on Valentine's Day, her family headed home to Horry County. Then a medical emergency sent her to a hospital in Conway, her father says. "They had telemedicine, and we were able to take advantage of that. Her doctors here were able to help Conway with her." 
Ricky Martin says Allie has ongoing medical issues, but his family is glad that telehealth, or telemedicine, is part of their lives. "Telemedicine has been a great experience for us."