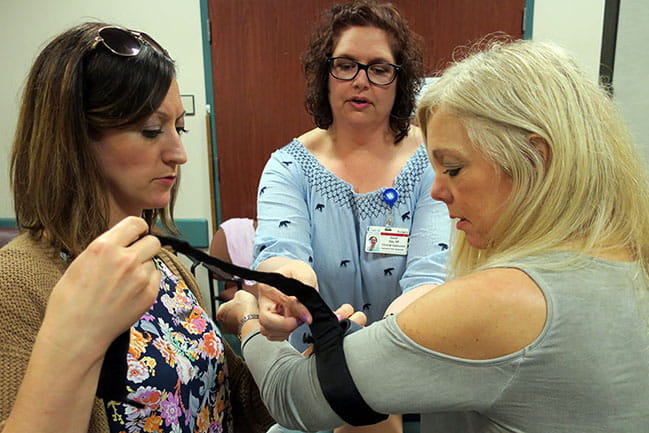 A trauma surgeon and other experts from the Medical University of South Carolina worked with fellow members of the Lowcountry Regional Trauma Advisory Council to lead a "Stop the Bleed" training today for nurses who work in Charleston County Schools. The nurses learned how to pack dressing into deep wounds and use combat-type tourniquets to stop severe bleeding.
"Why do you need this?" asked MUSC trauma-surgical critical care fellow William DeVoe, M.D., as he addressed the group of about 80 nurses at the Roper Bon Secours St. Francis Hospital, which offered a classroom for the event. "In the media, we've seen during the last couple of years a lot of mass casualties."
But that's not the only thing the training will help with, he said. "This is probably more applicable in things that happen in a real-life situation — things that happen at work, at home, this can be used in a lot of settings."
The program is part of a national effort called "Stop the Bleed," created after the 2012 Sandy Hook Elementary School shooting. Doctors from the American College of Surgeons got together with other leaders and concluded that more lives could be saved in mass casualty events if more people were trained in how to stop potentially catastrophic bleeding.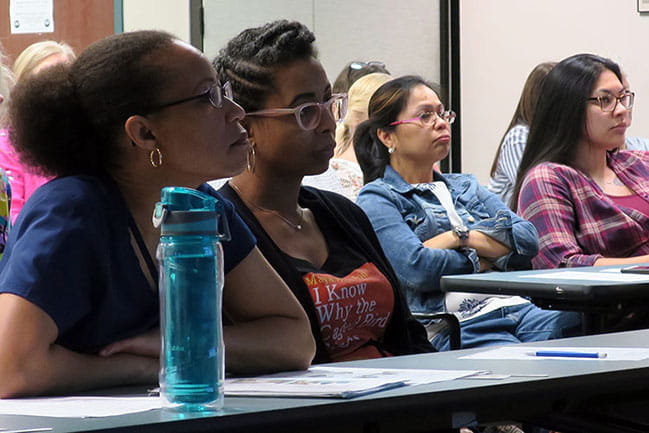 So the Lowcountry Regional Trauma Advisory Council, which includes MUSC, launched a growing effort to train people in combat-style care. The idea is to help a seriously wounded person stay alive long enough for rescuers to get to the patient and rush the person to a hospital.
Today's training was just for nurses, but tomorrow, which is national "Stop the Bleed" day, the Lowcountry Regional Trauma Advisory Council is offering free training to anybody who wants it at the North Charleston Fire Museum starting at 10 a.m. For more information about tomorrow's training sessions, contact Regina Creech, injury prevention coordinator at the MUSC Health Trauma Center. 
For the school nurses who got their training today, "stop the bleed" is part of the new reality. Ellen Nitz, nurse liaison for districts 1 and 2 in the East Cooper region, said it just makes sense to be as prepared as possible.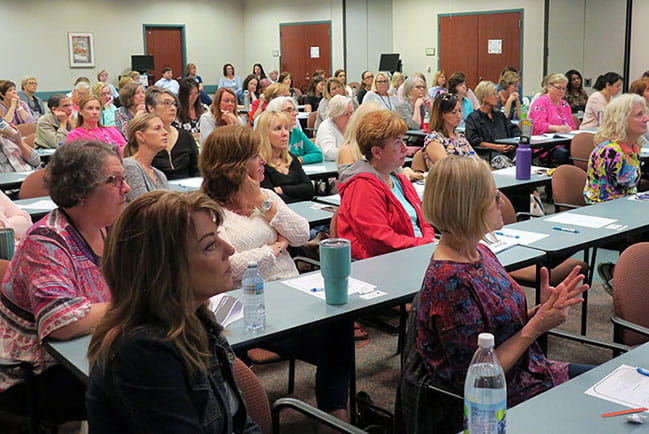 "Through our National Association of School Nurses, they've been having more and more information about 'Stop the Bleed' on the website. And through all the media, where we've seen all the tragic things that have happened, we decided it would be a great thing," she said.
"Our big thing with school nursing is, you always have to be proactive. We're always thinking about what could happen. You have to remember, most of the time you are one medical professional in an entire school building. So you could be in charge of anywhere from 500 to 1,000 lives by yourself. You really have to think about what you're going to do in that emergency situation."
Shernette Tolley, nurse for Burke High School and Simmons-Pinckney Middle School, used to work in an emergency department, so trauma care isn't new to her, but she's glad to brush up on it and see her fellow school nurses get the training as well. "It's very important that we all learn to intervene in these situations so we can save lives."
The training included hands-on time for the nurses, with wound dressing and combat-type tourniquets. Marjorie Bailey, who works at Moultrie Middle School, worked with fellow nurse Julia McElroy of Chicora Elementary to get comfortable with the equipment.
"I think we always kind of thought of using a blood pressure cuff or making something to tie off a wounded area," Bailey said. But as they learned today from DeVoe, a real tourniquet is much more effective.
Michelle Calandra, school nurse at Hunley Park Elementary School in North Charleston, said you don't need a mass shooting to see a serious injury in a school that requires immediate attention. "Kids do crazy things out on the recess yard. Accidents happen at schools, so this is appropriate for us to do this."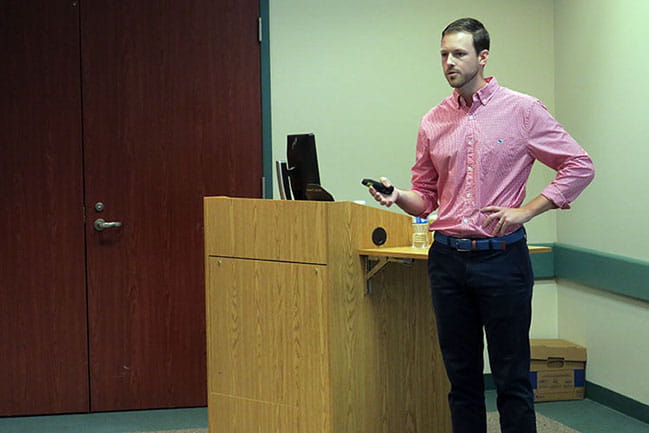 DeVoe, the trauma and critical care doctor leading the training, said his own mother used to be a school nurse. "She's retired now. Things have definitely changed."
He said it's important for MUSC and other health care institutions to go beyond their own walls to help in the community. "We really need to reach out. Our role goes beyond just treating patients. Our job is not just in the emergency room or operating room. A big part of trauma is what happens outside, before the patient comes in, and the only way to make that better is to reach out like this."