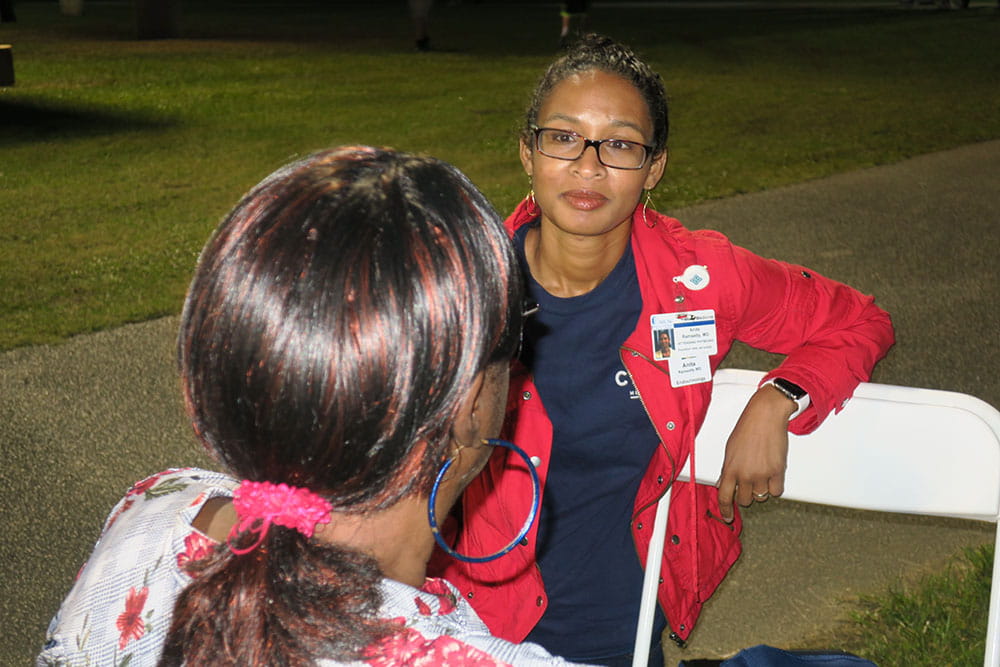 "Hey, ma'am. Feeling a little sweet, huh?"
It's Friday night at Timberland High School in rural St. Stephen, South Carolina. Anita Ramsetty, wearing a red jacket on this chilly evening, strains to be heard over the sounds of the football game on a nearby field. The Timberland Wolves are facing the Burke High School Bulldogs from Charleston.
Katherine Smalls listens closely to the doctor as she sits at a pop-up health screening table by the stadium. "I love sweet," she admits. 
It's the beginning of a conversation and, Ramsetty hopes, the start of a doctor/patient relationship. It's why the MUSC Health endocrinologist is in this resource-deprived community on a weekend with a team of students to launch a program funded by Google, which has a data center in Berkeley County.
"Your sugars today were high," Ramsetty tells Smalls, referring to a blood test she just took that checked Smalls' blood sugar level.
"I just had some soda and some Kool-Aid and an orange slice," Smalls says.
Ramsetty encourages her to come to a free, temporary medical clinic the next day in St. Stephen Middle School to talk about diabetes. Smalls heads off to watch the game.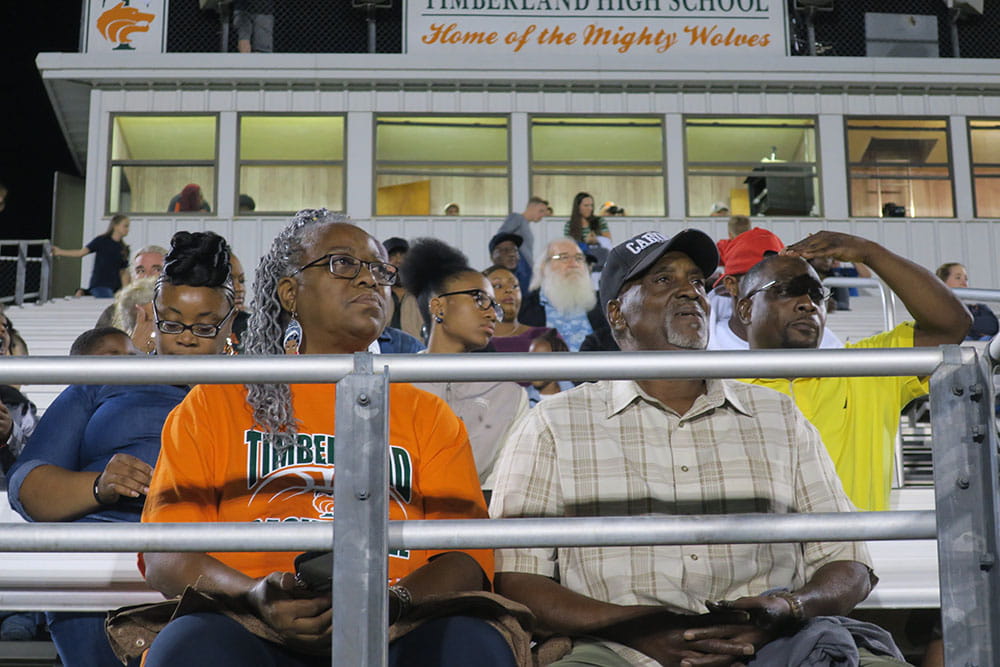 A steady stream of people stop by for blood sugar and blood pressure screenings throughout the game. Health care is usually in short supply in this town of about 1,600 people with a median household income around $21,000. Another patient at the pop-up screening, Maria Pettigrew, describes the situation. 
"As you see, in St. Stephen, we have nothing. We have nothing other than two doctors' offices. They're great, but it would be nice if we could have something to help curb problems before they lead to high blood pressure, diabetes, a stroke or a heart attack," Pettigrew says.
Leaders at Google, which employs more than 400 people in Berkeley County, noticed the lack of resources and reached out to the Medical University of South Carolina in nearby Charleston. The technology company offered to fund health care programs in Berkeley County, noting MUSC's reputation for innovation and success in rural health care initiatives
The MUSC Health CARES Clinic quickly came to mind. CARES is a student-run, free clinic for people who don't have insurance. Ramsetty serves as medical director and faculty advisor for the Charleston-area clinic. She was surprised when she was contacted about Google's offer to cover the costs if her team would work to improve health care in Berkeley County. 
"I was confused, honestly," Ramsetty says. "When I got the first email, I said 'Why? Google doesn't do health care stuff.'  Then I asked, 'Are we supposed to build something related to technology?' And then I was told they want to do something in the community. They're going to be part of the community and want to do something there. They realize there is a serious access issue."
Google is giving the CARES Clinic about $115,000 over a two-year period for the effort. The technology company is also giving the Berkeley County School District $10,000 a year to cover the cost of opening St. Stephen Middle School on a Saturday every two months for the CARES Clinic team to see patients.  
Katie Orvin Tanner, public information officer for the school district, says it's a way to get health care to people who really need it. "We appreciate the opportunity to be a part of this unique initiative and look forward to the upcoming CARES Clinics."
Goals of the CARES Clinic program in Berkeley County include:
Expanding access to health care in rural South Carolina, starting with St. Stephen.

Bringing basic health services to the public, including immunizations and contraception.

Teaching people about nutrition and lifestyle changes that can lower their risk of health problems.

Bringing healthy food to people who need it.

Using telehealth technology to reach people who have a hard time getting to a health specialist's office.
In December, there will be another free clinic day, plus a food pharmacy. People will be able to pick up healthy food, but there's more to the pharmacy than that. 
"We'll have a dietitian available to explain why certain foods are better for you. That way people actually learn. The food is important, but you need to know what to do with that," Ramsetty says.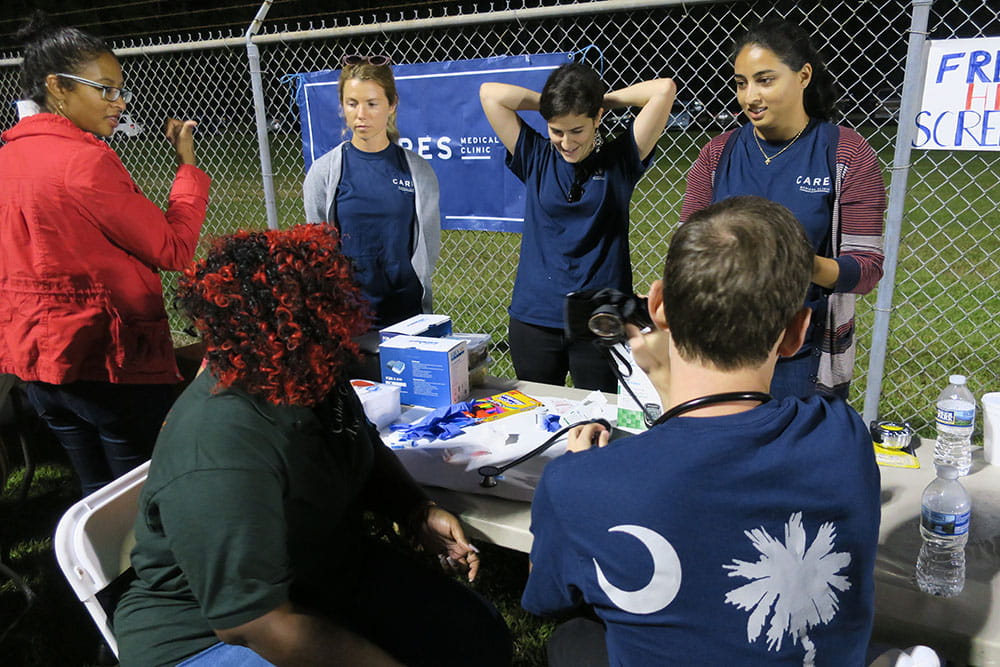 Plans are in the works for a teaching kitchen that will become part of the food pharmacy. She also wants to bring an insurance navigator to town to help people figure out how to get coverage and ultimately envisions a mobile clinic that can go where it's needed. There will be devices and hotspots to connect with patients.
"The model we're hoping to bring out there is not going to be all straightforward, traditional clinical medicine," Ramsetty says. "What we want to do is bring medical services that also address a lot of the social determinants that are really important for this community. There are too many things that impact their health care that can't be ignored and won't be fixed with us giving them pills for their hypertension."
Ramsetty says the medical students involved in the program will benefit, too, from seeing what some patients are dealing with — whether it's a lack of access to healthy food, no reliable transportation or being forced to choose between buying food or medicine because they can't afford both.  
"All health professionals need to be versed in community options that are available and know that it's important to talk about this with their patients. Patients should start expecting that." 
The football game, by the way, was sweet for the Timberland Wolves. They won 48 to 0.
---
For more information, email Anita Ramsetty or call 843-876-7097 or 843-876-2914. The next free clinic will be held on December 1st. As the lead medical partner, the CARES Medical Clinic is responsible for keeping all medical data confidential.