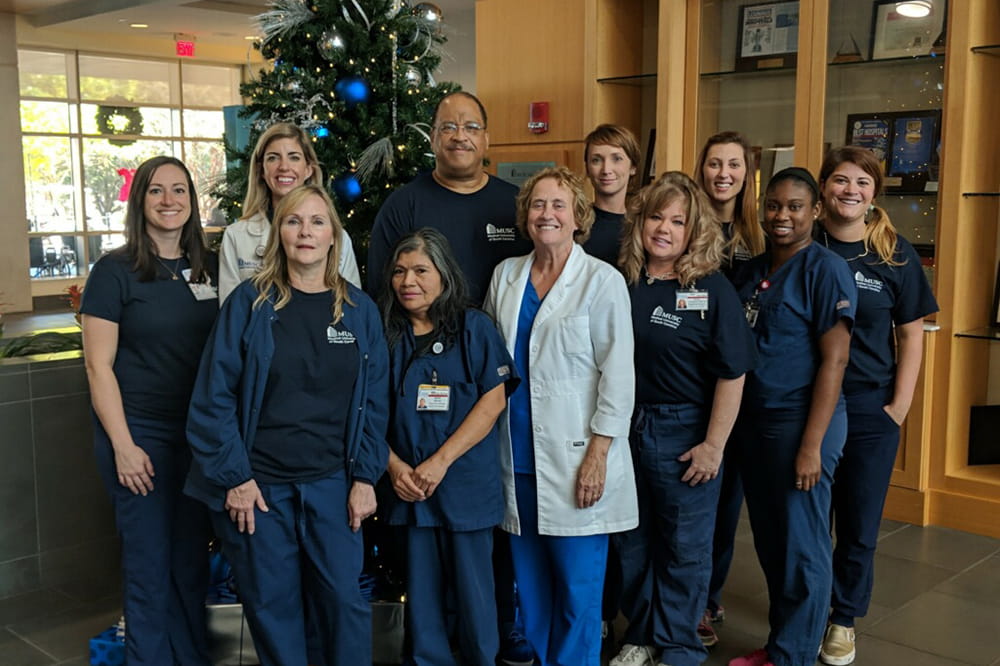 With a zero percent infection rate for central lines placed by their team and an educational outreach component that is helping decrease MUSC's overall infection rate from central lines, VAIN team leaders are proud of the team's work and eager to share its expertise with everyone at MUSC. 
The VAIN – or Vascular Access and Insertion Nursing – team consists of seven registered nurses and six patient care technicians who focus on determining the best, least invasive intravenous line for a patient. Their mission, said VAIN coordinator Paige Jordan-Chipley, RN, is "the right line the first time."
The patients who need their services aren't getting a simple IV for a hospital stay of a day or so. Instead, their patients require long-term IV therapy. They might need to get their nutrition intravenously if they can't eat. They might need it for chemotherapy, or they might require regular infusions of fluids even after returning home. There are a few types of lines to choose from, so the team assesses the best option for each patient.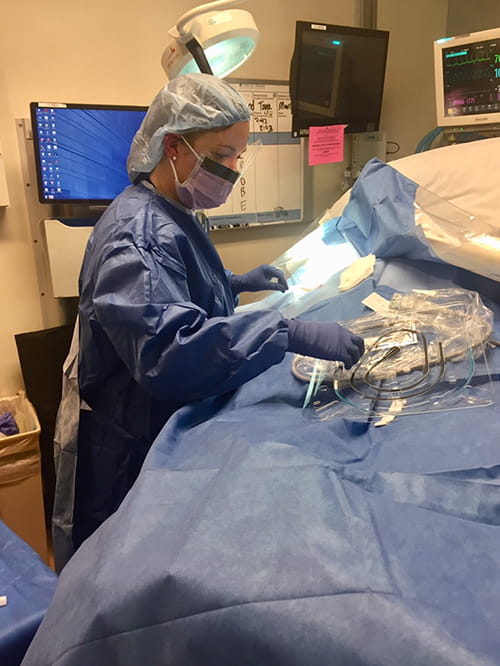 The team has been around for several years, but most of the current members are relatively new to VAIN. Jordan-Chipley has been the coordinator for eight months. She was familiar with the team's work because of her eight years as a floor nurse, where she got to know the original members. She became interested in their work and watched as they performed the procedures, but for the longest time, there were no openings on the team. When one opened up, she jumped on it.
"I was ready for a change, and this had always been a passion of mine," she said.

The nurses on the team insert the line at a patient's bedside.

"We're bringing the procedural area to the patient's room," Jordan-Chipley said.

By doing the procedure in the patient's room, the patient can stay in a familiar environment. Someone with cracked ribs or a broken hip won't be lifted onto another procedural table and then back onto the bed. An intensive care unit nurse won't be pulled off the floor to accompany a patient to interventional radiology, whose team also places central lines, and then have to wait an hour or so for the procedure while being away from her other patients the entire time.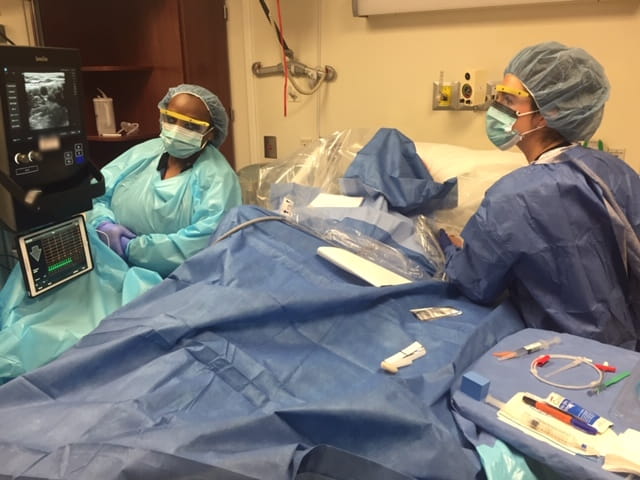 VAIN team members not only perform the procedure but also explain it to the patient, check dressings and educate the patient on how to care for the line at home.
Because the team isn't available 24/7, members also share their expertise with colleagues. So far, they've trained 50 nurses to do ultrasound-guided peripheral IV placement. Ultrasound-guided PIV comes in handy when dealing with patients whose veins aren't clearly visible due to conditions such as obesity, diabetes or sickle cell disease or because the patient is a child. They're also working with the Professional Development Department to incorporate VAIN training into the nursing residency program, Jordan-Chipley said.

Diane Whitworth, RN, manager of wound, ostomy and continence and VAIN nursing, praised hospital leaders for their support of the team, which has grown by 25 percent over the last six months. That growth will allow the team to start offering coverage on Saturdays, beginning in February, she said.

The VAIN team has achieved a zero percent infection rate for years, Whitworth said. In three of the last six months, the hospital as a whole has also reported zero central line-associated blood infections, she said.

"That's huge. The hospital's never had that before," Whitworth said. She attributed the achievement in part to the triage work of the VAIN team in determining the least invasive line necessary for patients.

Jordan-Chipley said the team also conducts research related to outcomes based on the vein used, reviews equipment used at MUSC to help improve outcomes and presents at conferences. They will have a poster at the American Nurses Association conference in April.
Suggest a Story
Have an idea for MUSC Catalyst News? Contact our editorial team and let us know.