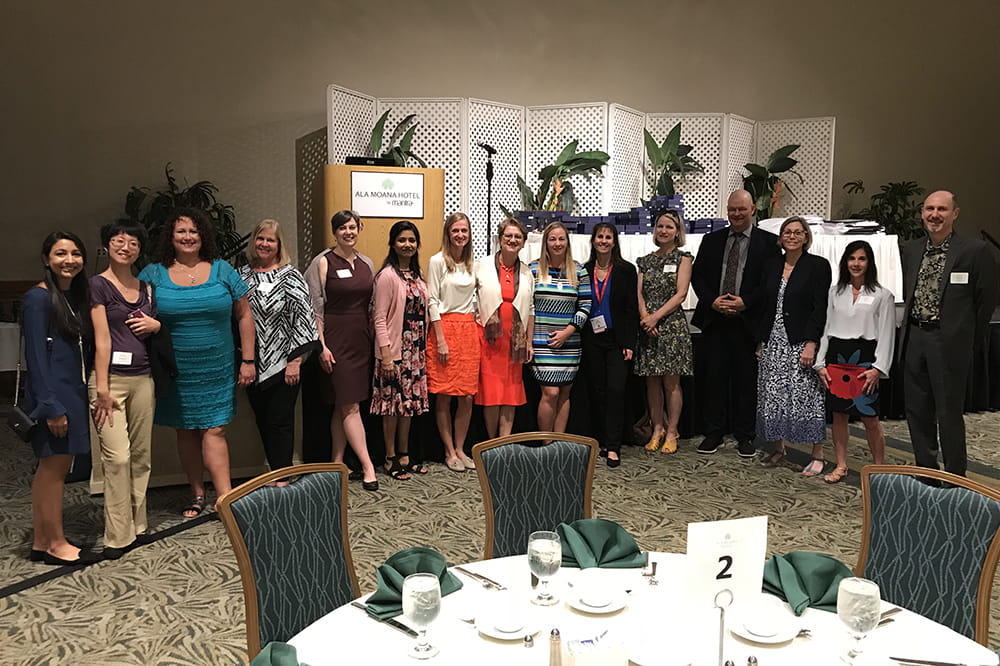 A national study has answered a much-debated question about caring for stroke patients with high blood sugar levels, clearing the way for researchers to move on to other questions, says the director of MUSC's Data Coordination Unit. 
Valerie Durkalski-Mauldin, Ph.D., served as the lead statistician and principal investigator of the Data Coordinating Center for the nationwide Stroke Hyperglycemia Insulin Network Effect (SHINE) Trial, funded by the National Institute of Neurological Disorders and Stroke. The SHINE investigators, led by study chair Karen Johnston, M.D., of the University of Virginia Health System, presented their findings during the International Stroke Conference in Hawaii last week. 
The investigators sought to determine whether keeping blood sugar in a tightly controlled range, between 80 and 130 milligrams per deciliter, would lead to better outcomes for stroke patients than the current standard of keeping it below 180. Stroke experts have long known that hyperglycemia – or high blood sugar – is common in people who've had acute ischemic strokes and is associated with worse patient outcomes, Johnston explained in an American Heart Association Science News interview after her stroke conference presentation. 
A computerized system was used to keep blood sugar within those tight ranges. The system beeps every hour to prompt nurses to check the patient's blood sugar, then calculates the appropriate insulin dose to be delivered intravenously. Nurses work with the software to start or stop an IV drip, to enter blood glucose levels or to change the targeted levels. This system was tested against the current standard of checking blood sugar levels every six hours and then giving insulin shots.  
"It's unfortunate that we haven't improved outcomes, but it's also good that we're not wasting resources by trying to implement something that doesn't work."

Valerie Durkalski-Mauldin, Ph.D.
The intuitive answer would seem to be that the computerized intravenous method would show better outcomes for stroke patients, especially considering it's better at keeping wild fluctuations in blood sugar levels in check. 
But that's not what the study found. There was virtually no difference in 90-day outcomes between stroke patients who got insulin by the computerized IV method and those who got it through injections, Durkalski-Mauldin said. And the IV method came with a risk: The IV drip reduced blood glucose levels so much in some patients that they became severely hypoglycemic.
Investigators stopped the trial early – after 1,151 patients instead of the 1,400 they intended to enroll. Durkalski-Mauldin said that's because they had built in several interim analyses and by the fourth interim analysis, there was enough evidence to show the IV method wasn't improving care.  
"It's unfortunate that we haven't improved outcomes, but it's also good that we're not wasting resources by trying to implement something that doesn't work," she said. 
"It takes a lot more resources to have a continuous infusion than it does to do the subcutaneous standard of care – which is a huge message to hospitals, because now they don't have to think about the infrastructure, because the extra infrastructure doesn't improve patient outcomes," she explained.  
Sixty-three sites across the U.S. enrolled at least one patient in the study, U.Va.'s Johnston said. The study is in its eighth year and probably would have continued for another year or two to reach the goal of 1,400 patients if the results hadn't been so clear, Durkalski-Mauldin said. 
"I think that these data fill the gap that our stroke community has been concerned about. Specifically, the American Heart Association-American Stroke Association guidelines that have called for an answer to this question. We believe these data will help the stroke community know how best to treat these patients, both in the U.S. and across the world," Johnston said in her recorded interview.  
Durkalski-Mauldin said people at the stroke conference were surprised by the results but in general were glad to have an answer.  
"Now this question is answered; let's figure out something new that could help this patient population," she said. 
Suggest a Story
Have an idea for MUSC Catalyst News? Contact our editorial team and let us know.