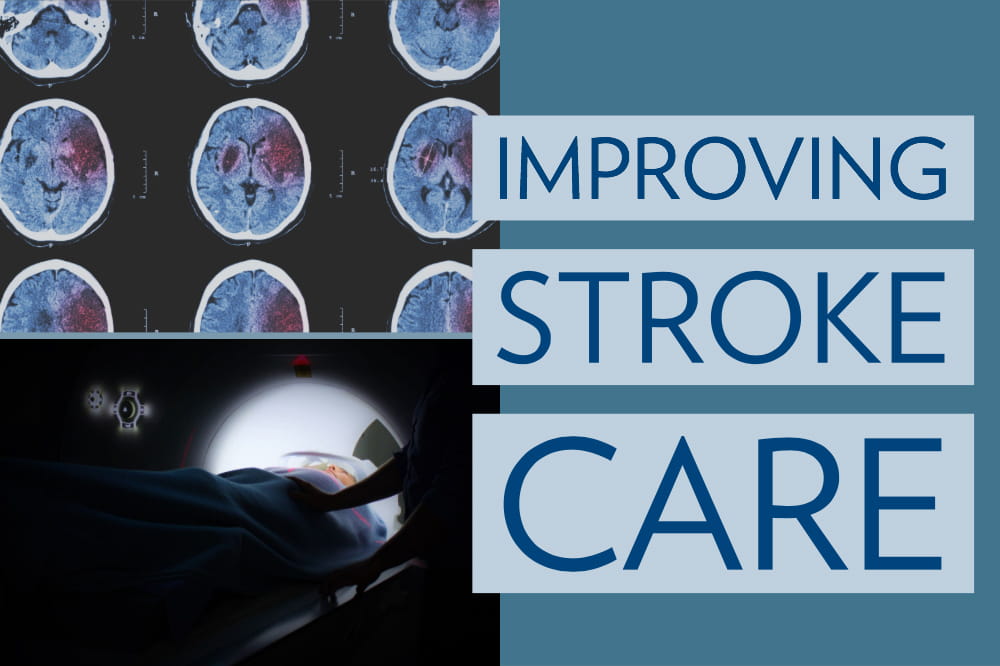 New procedures can greatly improve outcomes for certain stroke patients when performed within a short window of time, but quickly determining which patients should be transferred to comprehensive stroke centers and which can remain at community hospitals remains a challenge. 
"We're trying to find a way to better triage these patients. We can't transfer everyone to a thrombectomy-capable center, but at the same time, we need to transfer as quickly as possible those patients who would benefit," said Sami Al Kasab, M.D.
A former neurology resident at MUSC, Al Kasab is now a clinical assistant professor of neurology-cerebrovascular disease at the University of Iowa Health Care as well as a clinical instructor at MUSC who continues to perform teleneurology consults. He and his co-first author, Eyad Almallouhi, M.D., a third-year neurology resident at MUSC, along with Christine Holmstedt, D.O., medical director of Clinical Stroke Services and co-director of the Comprehensive Stroke and Cerebrovascular Center at MUSC, spoke about a paper they recently published with other collaborators from MUSC and Augusta University.

There are two main treatments for strokes caused by blood clots. Tissue plasminogen activator, or tPA, is an intravenous drug that dissolves clots. But when the clot is blocking one of the brain's main arteries, then a mechanical thrombectomy – a procedure in which a doctor physically removes the clot – is more effective.

Although studies published in 2018 showed that mechanical thrombectomy could be performed up to 24 hours after stroke symptoms appear, time is still of the essence. The faster the procedure is performed, the better the odds of long-term functional recovery. For every 9-minute delay in restoring blood flow with mechanical thrombectomy, 1 in every 100 patients had worse disability outcome, a study published in JAMA Neurology showed.

The researchers at MUSC and Augusta University, both of which have telestroke programs serving large rural populations, wanted to know how much time patients with these major artery blockages spend at the community hospital before they are transferred, and whether doing multiple tests at community hospitals affected their outcomes. Community hospitals generally perform a CT scan when a potential stroke patient arrives in the emergency room. Some will then go on to perform a CT angiography (CTA), a scan that includes a dye injected into the veins to show the flow of blood, to determine whether a major artery is blocked and the patient needs a thrombectomy.

The study found that adding on a CTA meant an extra hour and a half before stroke patients arrived at the thrombectomy-capable hospital.
"The whole goal of this is trying to maximize the number of patients who would benefit from this procedure that has been shown to give more than a 50% chance of excellent functional outcome."

Dr. Sami Al Kasab
And in a follow-up paper that Al Kasab and Almallouhi are working on now, the patients who took longer to arrive showed worse outcomes after 90 days.

"Some colleagues who run telestroke around the country insist on CTA, and I insist on not getting them, because I can see the delay," Holmstedt said. "That was anecdotally, but now it's been proven. There really is a delay, and it could really affect the outcome for these patients."

Strokes that block the major arteries are called large vessel occlusions, and they already have worse outcomes than those blocking small arteries. There are also observable symptoms, so Al Kasab said one solution could be to develop guidelines for community hospitals to immediately transfer patients meeting certain criteria for large vessel occlusion without obtaining a CTA. The delay is something he's experienced while waiting for patients.

"They would take more than an hour or sometimes two hours. I would call them back and ask, 'What happened with the transfer?' and they tell me, 'Well, we're still trying to get the CTA.'"

Unfortunately, he said, many of these patients are "fast progressers." By the time they get the CTA at the community hospital and then make the journey to the thrombectomy-capable center, the damage could have progressed so much that they're no longer candidates for a thrombectomy, he said.

"The whole goal of this is trying to maximize the number of patients who would benefit from this procedure that has been shown to give more than a 50% chance of excellent functional outcome," Al Kasab said.

Holmstedt noted that there is reason to avoid the overtransferring of patients, both to keep the stroke center from being overwhelmed and to keep patients in their own communities when possible.

But, she added, "Until we have better technology, we might have to accept extra numbers of patients transferred to make sure that that patient who really needs to get here fast, gets here as fast as possible."

Among other possible solutions the investigators proposed:

• Conduct the CT scan and CTA simultaneously.
• Conduct the telestroke consultation while the patient is inside the CT scanner.
• Improve the time it takes to interpret CTA images.
• Initiate the transfer process at the time of the telestroke consult, before the images are looked at, if doctors suspect a large artery blockage.
• Activate the neurointerventional team at the stroke center before the patient arrives.
• Take patients who had CTA at the community hospital directly to the angiography suite at the stroke center instead of repeating imaging.

Almallouhi said they're now following up by comparing the long-term outcomes of patients who arrived by ground ambulance compared to air ambulance.

The early data shows that patients who arrive by helicopter cut 40 minutes off their journey and have better outcomes, he said.

Holmstedt said MUSC has been a leader in telestroke development. Only in the last few years have studies confirmed that thrombectomy is safe and effective, but with that question answered, MUSC is continuing the process of uncovering the best way to care for patients.

"We're jumping in early and helping answer those questions. It's pretty exciting," she said.
Happening on Facebook
Latest Tweets
Tweets by MUSCatalystNews